The Recipe Box - Your Kitchen, Your Recipes
By Kathleen Tafel
Open iTunes to buy and download apps.
Description
Create, display, and manage your very own recipes with one of the best loved recipe managers in the app store. The Recipe Box is all you need to build a fantastic looking digital cookbook you'll use every day.

Developed by foodies who love their iPad, this 21st-century cooking tool helps you get your recipes into a quickly-sorted, easily shared format that can't be misplaced, covered in stains, or catch on fire. "The perfect tool for serious cooks" — @AppStore

Watch our demo video!
http://therecipeboxapp.com/demo

"Attention to small details makes The Recipe Box stand apart from its competition." — PadGadget
"The Recipe Box is easily the best cooking tool app on the market today." — AppAdvice.com
"For home cooks… a welcome addition to the iPad's kitchen repertoire" — iPad 'n Gravy
New and Notable, Staff Favorite — iTunes App Store

EASY ENTRY
• One-touch Instant Import from more than 80 popular recipe sites
(See support site for list)
• Capture data from any unsupported website quickly and easily
• Transfer recipes from any email or text document with copy and paste
• Fully flexible entry fields allow for imperial or metric units
• Use The Recipe Box Keyboard to tap in shortcuts for cooking terms
• Write notes while you cook without leaving the display screen

POWERFUL MANAGEMENT
• Swap and sync with other users or other devices with Recipe Link
• Search for multiple ingredients simultaneously
• Cross-reference recipes in multiple categories
• Sort and rate recipes
• Email ingredients as a clickable shopping list
• Email import/export and printing
• Access your recipes without an Internet connection
• Back up recipes through iTunes file sharing

BEAUTIFUL GRAPHICS
• Luscious typography and professional layout for iOS7
• Focus on ingredients and instructions with no-distractions cook layout
• Switch easily between multiple recipes while tracking the current step
• Highlight steps in the directions with a tap
• Dim ingredients as you organize them
• Recipe ingredients, instructions, and notes respond to Text Size in iPad Settings.

IN-APP SUPPORT
• Tutorials to guide you through various functions
• Feature maps
• Quickly send feedback or ask questions

Please write to us with your questions!

If you're having an issue with using the app, we're here to help. If you leave your questions here on the iTunes reviews, we have no way to write you back. Also, don't forget to check the website for our tutorials and FAQs which we are always working to improve based on your feedback!
What's New in Version 5.0
If you use the Recipe Box To Go, we're now fully compatible with iPhone 6 and 6 Plus, iOS 8.x!

Our icon, logo and interface are cleaner, brighter and 21st century retro-futuristic!

• Bug fixes for various Instant Import websites.
• Special extended keyboard now properly adapts to iPad orientation
• Faster Recipe Link functionality for some users
• Performance enhancements
• Stability improvements

Thanks to our intrepid beta testers and everyone who wrote in letting us know about bugs and other useablilty issues.
iPad Screenshots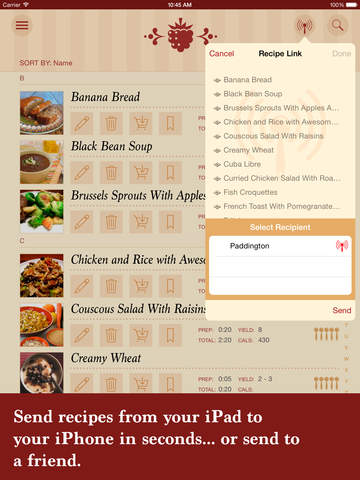 Customer Reviews
The recipe box
There is no real tech support for this app and that is a big big problem. When you contact them you get an automatic reply to " most frequently asked
Questions". If your technical problem is not one of the common ones they simply ignore you and keep sending out the same canned automatic responses. This is infuriating particularly after hours have been wasted trying to get the app to do what it is supposed to do.

May 2015: The update is here and it not only did not solve a major problem but it has created new problems....SEVERE PROBLEMS. The developers of this app seem to have reached their level of incompetence. They had a good idea but can't keep the balls in the air. After this update the app is almost useless. When you enter the app and try to pull up the recipe index the icon you use to do that now throws you entirely out of the app and back onto your home page. After many tries one can sometimes manage to stay in the app but the recipe index is blocked by a drop down box making it impossible to pull up and read any recipes. This app developer needs new software developers but apparently does not realize that or is in too deep with the current technical folks to start again. Bottom line ...the purchaser of this app loses.
After Update...So disappointing!!!
Originally I rated this app 5 stars years ago, but each review has lost a star. Sadly, it now only gets 1 star from me. I agree with so many other users that the latest update ruined this app!!! HATE the new colors and ANNOYED that the special keyboard can no longer be hidden! And now, several days after the update, it won't even OPEN!! It crashes every time I try to open it to see a recipe. I chose this app years ago because of its rich colors that made the recipes so much easier to read. And the special keyboard, while some may like using it, NOT everyone is a fan. It used to be optional, then it became only somewhat optional, and now it cannot be hidden at all. Horrible!!! I've spent countless hours getting my recipes organized in this app and use it every day. I feel cheated & wish I'd chosen the Paprika app like my friend did (I didn't at the time because I liked the dark colors of this one!!) With Paprika, I'd have the ability to add it to ALL of my devices (iPad, iPhone & iMac) and synch them in the Cloud so they all stay updated.
Great app; tech support, not so much
The good news: This continues to be one of my favorite apps that I use heavily. Theoretically it does a wonderful job of importing recipes you find in magazines along with typing in your own recipes.
The bad news: The adage, "You don't have what you obtain, you only have what you maintain," applies to this app. This app is poorly maintained and known, glaring bugs are not fixed. I've sent bug reports several times regarding major features--like importing the picture of your own recipe from your photos. The old version could do this but so far, not the new one. The feature for it is there, but because of a bug, won't work. My food pictures are piling up in the hopes the almost non-existent tech support for this app will get around to it...when they feel like it.
View In iTunes
$3.99

Category:

Food & Drink

Updated:

May 08, 2015

Version:

5.0

Size:

19.1 MB

Language:

English

Seller:

Kathleen Tafel
Compatibility: Requires iOS 8.1 or later. Compatible with iPad.
More iPad Apps by Kathleen Tafel