The Sims™ 2: Super Collection
By Aspyr Media, Inc.
Essentials
Open the Mac App Store to buy and download apps.
Description
The ground breaking classic returns to the Mac!

This updated version of The Sims™ 2 includes several enhancements exclusively for Mac:
• Native resolution support, including 4K and Retina!
• Drastically improved performance, thanks to an all new renderer.
• Gesture Support for zoom and rotate.
• Tons of bug fixes and tweaks.

In The Sims™ 2: Super Collection, take your Sim from cradle to grave through life's greatest moments. Create your own houses, neighborhoods, Sims, and even family dynasties—then watch it all come to life! You may choose to manage your Sims so they experience the rewards of a life well lived. Of course, you may also choose to neglect their needs, indulge in their fears, and see what happens… The possibilities are endless!

The Sims™ 2: Super Collection delivers all of the award winning content from the original plus the addition of 6 expansion packs, and 3 "stuff" packs never before packaged together.

• University
• Nightlife
• Open for Business
• Pets
• Seasons
• Bon Voyage
• Family Fun Stuff
• Glamour Life Stuff
• Happy Holiday Stuff

We've completely overhauled The Sims™ 2 to work with modern hardware and OSX configurations, optimizing performance with a new renderer, and we are supporting native resolutions, including Retina! We've even kept some of the old secrets, like the ability to import a neighborhood from SimCity™ 4 Deluxe, or playing around with custom content via the "Body Shop".

• Additional information about The Sims™ 2: Super Collection •

If you encounter problems playing the game, please visit support.aspyr.com. Our Customer Support team is happy and eager to help. Your feedback helps us make better games.

In order to run the game with satisfactory performance, your Mac must meet these minimum system requirements: 2.2 GHz CPU Speed | 4 GB RAM | 10 GB free disk space | (ATI): Radeon HD 3870; (NVidia): GeForce 8800 | (Intel): HD 3000 | 256 MB VRam

NOTICE: The following video chipsets are unsupported for The Sims™ 2: Super Collection

•ATI RADEON HD 2600 and older
•NVIDIA 8600m, 9400 and older
•Intel Integrated GMA 950
•Intel Integrated x3100

NOTICE: This game is not supported on volumes formatted as Mac OS Extended (CaseSensitive)

© 2017 Electronic Arts Inc. Electronic Arts, SimCity, EA, EA GAMES, the EA GAMES logo, Maxis and the Maxis logo are trademarks or registered trademarks of Electronic Arts Inc. in the U.S. and/or other countries. All Rights Reserved. EA GAMES™ and Maxis™ are Electronic Arts™ brands. Published and distributed by Aspyr Media, Inc. "Aspyr" and the Aspyr "star" logo are federally registered trademarks of Aspyr Media, Inc. Mac and the Mac logo are trademarks of Apple Computer, Inc., registered in the U.S. and other countries.
What's New in Version 1.2.3
• Minor bug fixes
Screenshots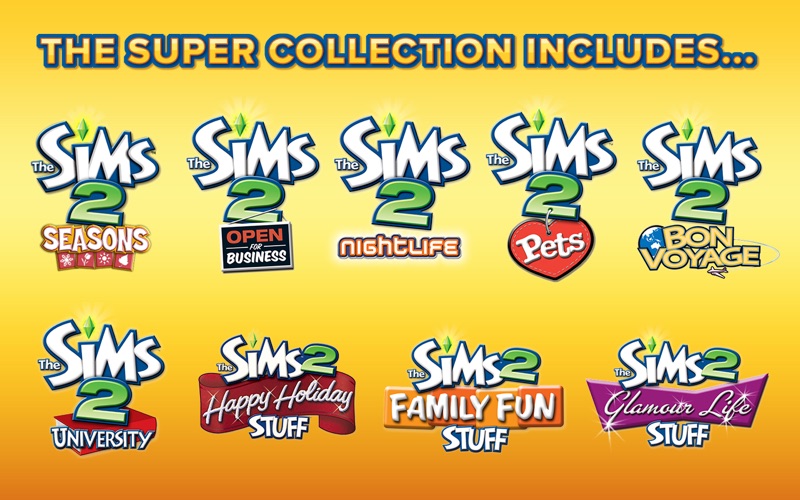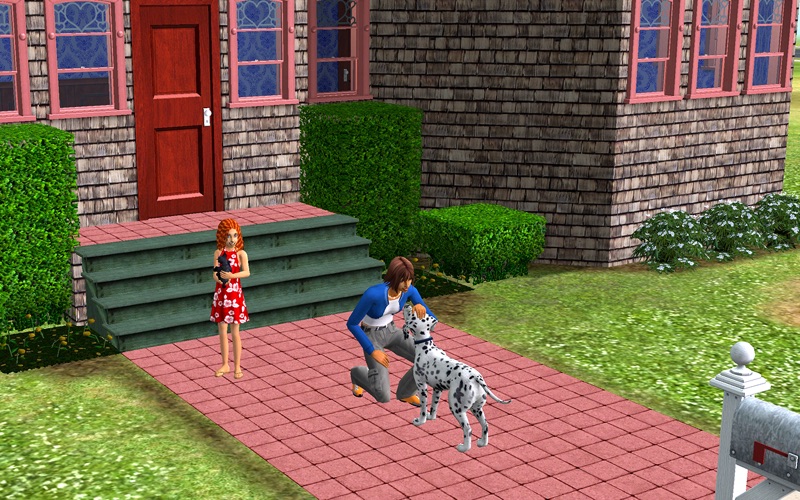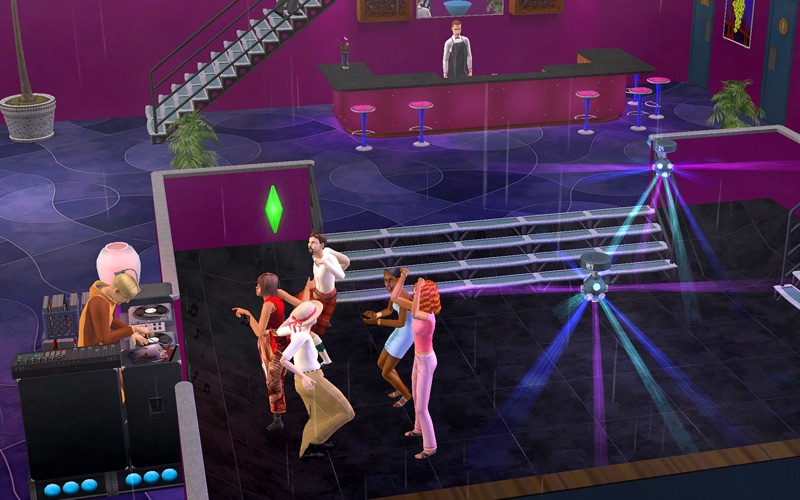 Customer Reviews
Awesome but incomplete.
I'm going to beat the dead horse a couple more times, just because I am hoping that Aspyr will read these reviews and see what a market there is to complete all of the expansion packs. I found this game after getting a new Macbook Pro for Christmas and then considered it a dorky dream come true. Been playing for 10 years on an old PC version on an old MacBook Pro on it's last leg. I would love to throw that computer away. I finally got this all installed and I couldn't believe how fast it loaded, how quickly I could add destinations. But I agree with so many other in that I would love to have the complete pack. It's how I've been playing for so long, and to revert without a few key packs is very difficult because you get so used to those features, the stuff, even the hairstyles associated with those packs. If anyone from the software company is reading this, I would be willing to pay lots of simoleons to complete this package. Finding this super pack for only $15 is awesome, but honestly I'd have been just as excited to pay full price. PLEASE MAKE IT HAPPEN!
GET IT!!!!!!
if u are reading this to know to get or not I think you should! I was VERY sad when my sims 3 game stopped working, i baught it fir the wii but the sims 3 evperience just wasnt the same! ive played the sims 2 on friends computers before I HATED IT, after playing the sims 3 it fells dull and idiotic, but i thaought for it being on sale right now for only 15 dollars it would be better then sims on the wii, i downloaded it, and because of the fact that mac is constantly upgradaing this game, it is amazing. Ive played the sims 4 but the sims 2 now has way BETTER GRAPHICS then the 4th game. I was blown away by the ADORABLE NEW PETS that were added, the pools and new age groups it is just like the sims 3 but better, i didnt like the sims 4 because there is no toddlers or any of my favorite functions from the sims 3, it also giver less in the base game. basiclly the sum of this is if u wannna upgrade from the sims 3 without having the stupide annoying thins on the sims 4 this is oddly the way to go!!!!! sorry bout the typos!!
Awesome game!
I got a new macbook about Christmas time. I loved playing sims free-play, and i was excited to see that there is sims 2 collection. I suggest this game to any sim lover. I was also happy I got it for half off. This game is much better than sims free play only because you can speed up time, send your sims off to college, you can get your charaters jobs, your children can go to school, and you can have pets.

The only down side about this game is your sims can get the flu ,and you can be visited by the Grim-Reaper, or the Social worker if you dont take care of your sims properly. Or your pets can run away, but I still enjoy the game. If you get Blue Water Village you will see that there is shops, restraints, markets, and there is Lead's gym. But, I was kind of especting this and I would still recomend this game. I hope this review helped you, and I hope you enjoy the game if you get it.
View in Mac App Store
$29.99

Category:

Games

Updated:

Nov 19, 2015

Version:

1.2.3

Size:

7.53 GB

Languages:

English, French, German, Italian, Japanese, Spanish

Seller:

Aspyr Media (iDP)
Compatibility: OS X 10.9.2 or later