The Weather Channel: Alerts, Forecast & Radar
By The Weather Channel Interactive
Open iTunes to buy and download apps.
Description
The Weather Channel App for iPhone is your best option for accurate forecasts and timely local weather alerts. Make confident decisions this fall, whether you are planning for the day, the entire week or the next 15 days!


KNOW THE WEATHER ANYWHERE, RIGHT NOW
• Forecasts: Hourly, daily, weekly, weekend and 15-day forecasts.
• Dynamic Home Screen: Changes based on your current location, weather, and time of day, so you get your current conditions plus the weather info you need most.
• Detailed Current Conditions: Get "feels like" temperature, humidity, wind speed, and more.
• Weather Maps: Fast-loading radar maps show past and future doppler radar.
• Severe Weather Alerts: Stay safe with real-time National Weather Service notifications of severe weather including severe weather warnings about lightning, hail, flooding and severe storms.


PLAN YOUR OUTDOOR ACTIVITIES WITH CONFIDENCE
• Need weather information to help plan for road trips, picnics, camping or hiking? – this app lets you track and read detailed weather information in multiple locations around the world.
• Dress, pack and plan appropriately – know the rain and wind forecasts, tides, sunrise and sunset times, phases of the moon and even pollen counts!
• Ski season is upon us! Our Ski forecast shows nearby ski resort conditions including snow forecasts, number of open trails, snow base depth and more.
• GoRun Forecast: Like to run? Now you can create a personalized GoRun Forecast to help you answer questions like "When should I run?" "What should I wear?" "How far should I go?" Scroll to the Outdoors module in our app to try it out, and let us know what you think at iphonesupport@weather.com.

FREE DETAILED WEATHER PROGRAMMING & FEATURES 24/7
• Watch our morning show "The Lift": a 6-minute weather show that airs first on your app. Join Domenica Davis as she covers breaking weather, cool science, and amazing nature clips first thing in the morning. Available on your home screen weekdays from 6-11 a.m. Great for people on the go!
• Weather News: From severe storms to straight-up bizarre weather occurrences, we'll keep you up to date.
• Stunning Imagery: Amazing background photos match your current weather conditions.
• Sponsors allow us to bring you The Weather Channel app for free


AD-FREE VERSION
For those of you who want an ad-free version of our weather app, it is here! Our iOS app includes a $3.99 in-app purchase to remove all ads for 1 year. Simply go to the Settings menu in the app to complete the purchase.


WEATHER ALERT APPLE WATCH INTEGRATION
• Get precise weather updates, rain and lightning alerts and more of your favorite features right from your Apple Watch.
• Watch Glances: To activate The Weather Channel Glance, open the Apple Watch App on your iPhone, go to the "Glances" section, click "edit," and add "The Weather."


To activate the new The Weather Channel watch face complication, press firmly on the watch face that displays the time and tap "customize." Then browse to the complication showing an umbrella icon.

THE WEATHER CHANNEL ON THE WEB AND SOCIAL MEDIA
Forgot your phone? Access many of the top app features on the web, wherever you go: find us at weather.com, like us on facebook.com/theweatherchannel, and follow us on Twitter @weatherchannel.

PRIVACY
We respect your privacy! Please check out our Privacy Policy, which can be found here: https://weather.com/en-US/twc/privacy-policy and our Terms of Use, which can be found here:http://www.weather.com/common/home/legal.html

FEEDBACK
We love feedback! If you love our weather app, please rate and review us in the App Store. If you have questions or suggestions, please email us at iphonesupport@weather.com with any suggestions or questions.
What's New in Version 8.9
• The Weather Channel for iMessage is now included! Message your friends and family with mini forecasts, make weekend plans and more.
• We've added additional radar map layers including wind speed so you can plan your outdoor activities with even more confidence.
• Performance enhancements and bug fixes.

As always, we appreciate your feedback. Please email us at iphonesupport@weather.com with any suggestions or questions. If you like these changes, please let us know by rating and reviewing us in the App Store!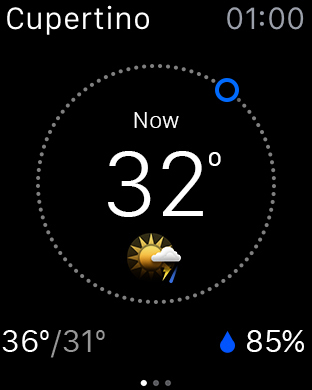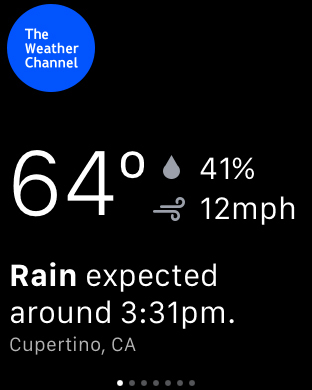 Customer Reviews
One idiotic error.
The app works pretty well. I'm not seeing the things being complained about in other reviews. For whatever it's worth, I have an iPhone 6+. However, years after my first complaint, the app still has one basic error in elementary-school science.

The US does not and never did use the Imperial System. The Imperial System was developed in 1824, long after the independence of the United States, and it is not the same as the US Customary System, which is what the US uses. Both systems are based on the old English units that evolved in the middle ages from the units of the Roman Empire, but many US and Imperial units have different values, some substantially different, and they aren't even always related to each other in the same way. A US Liquid Pint, for example, has 16 US Fluid Ounces, but an Imperial Pint (the Imperial System doesn't have two different pints depending on whether it's strawberries or cream that you're measuring) has 20 Imperial Fluid Ounces.

This is stuff that you should have been taught along with percentages, and should have learned over again the first time you looked at the "Handbook of Chemistry and Physics". (And if you're unacquainted with the latter, how can meteorology seriously claim to be a science?)
Horrible and pathetic! Don't fall for the ratings!
I've used this app since 2010 and before that. back then forecasts were freakishly accurate and videos were cool. I don't even know what to say this app has become so pathetically inaccurate your better off licking your finger and testing the wind. Several times they have gone from 80% chance of rain to 20% chance then back to 80% again! Who's writing these forecasts?!! They need to be fired!! Several times it's rained when they said no rain or its been sunny when they said rain! Going to switch to another app after nearly 7 years of use! The videos are depressing, horrific, and sometimes disturbing there was one of a bald eagle attacking and killing a bunch of baby birds! Really that was one of them! I DONT WANT TO SEE THAT ON A WEATHER APP!!!!! The titles are misleading and often have nothing to do with the videos and are just to get you to click on an add! Do your self a favor don't use this app!
UPDATE: I'm now randomly warped to a random website every ( exploit) time I try to use it!!!
UPDATE: app continues to crash every single time I try to use it for more than 20 seconds. The app lags and freezes constantly but on the bright side the advertisements seem to load without issue!
Pop up ads now???
I've loved this app and has been very accurate. It crashed every now and then but with the pluses that doesn't usually bother me. I'm a weather nerd and geek out over being able to see the radar weather for the whole world! The videos used to be good and informational and I loved them, but now the majority are stupid and pointless with misleading titles. I was annoyed with this downgrade (seemed like they were trying to appeal to middle schoolers with these) but just decided to ignore these annoyances and continue to use the other great features of the app. However, today pop-up video ads started showing up all over the place. As I scrolled down the page to view weekly weather or the radar or what not videos pop up. Just now 3 popped up all at once while I tried to scroll to radar and I had to exit each one individually. Really, who likes these? What made you think adding them would be a good idea and would make people like your app more Now I don't even want to check the weather with this app. Please turn these off!
View in iTunes
Offers Apple Watch App for iPhone
Free

Category:

Weather

Updated:

Mar 16, 2017

Version:

8.9

Size:

197 MB

Apple Watch:

Yes

Languages:

English, Arabic, Catalan, Croatian, Czech, Danish, Dutch, Finnish, French, German, Greek, Hebrew, Hindi, Hungarian, Indonesian, Italian, Japanese, Korean, Malay, Norwegian Bokmål, Polish, Portuguese, Romanian, Russian, Simplified Chinese, Slovak, Spanish, Swedish, Thai, Traditional Chinese, Turkish, Ukrainian, Vietnamese

Seller:

The Weather Channel
Compatibility: Requires iOS 9.0 or later. Compatible with iPhone, iPad, and iPod touch.
Apple TV:
Yes
Top In-App Purchases
Remove Ads$3.99
More iPhone Apps by The Weather Channel Interactive