The Weather Channel App for iPad – best local forecast, radar map, and storm tracking
Por The Weather Channel Interactive
Imprescindibles
Abre iTunes para comprar y descargar Apps.
Descripción
Make confident decisions based on the most accurate, precise forecast available. Favorite app features:

KNOW THE WEATHER ANYWHERE, RIGHT NOW
• Forecasts: Hourly and 10-day forecasts.
• Detailed Current Conditions: Get "feels like" weather, humidity, wind speed, and more. (Access them by tapping the circle on your main screen).
• Weather Maps: Fast-loading radar maps show past and future radar.
• Push alerts & badges: Know about severe weather in your area. To set your alerts, tap the magnifying glass to open your favorite locations. Then, tap the information icon next to your location of choice. From there, you can activate your severe and pollen alerts.

DEEP DIVE INTO YOUR WEATHER
• Weather News: From severe storms to straight-up bizarre weather occurrences, we'll keep you up to date.
• Severe weather mode: During a severe event, we'll activate a severe ticker at the top of your App.
• Seasonal Tools: Use our pollen counts to help plan your outdoor activities.
• Travel destination weather (airplane icon): Get everything you need to plan your next trip, such as average temperatures and precipitation, forecasts, the best time to visit, maps, and details to understand how the weather feels compared to your hometown.
• Stunning Imagery: Amazing background photos match your current weather conditions.

THE WEATHER CHANNEL ON THE WEB AND SOCIAL MEDIA
All the weather, wherever you go: find us at weather.com, like us on facebook.com/theweatherchannel, and follow us on Twitter @weatherchannel.

FEEDBACK
We love when you provide us with feedback. If you love our weather app, please rate and review us in the App Store. If you have questions or suggestions, please submit them to feedback@weather.com.

PRIVACY
You may be interested in our Privacy Policy, which can be found here: https://weather.com/en-US/twc/privacy-policy and our Terms of Use, which can be found here: http://www.weather.com/common/home/legal.html
Novedades de la versión 4.5.1
- Back by popular demand: pollen counts!
- Performance enhancements and bug fixes.

As always, we appreciate your feedback. Please email us at feedback@weather.com with any suggestions or questions. If you love our app, please let us know by rating us in the App Store.
Capturas de pantalla del iPad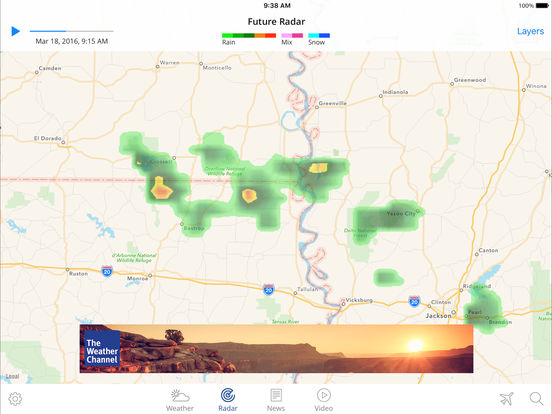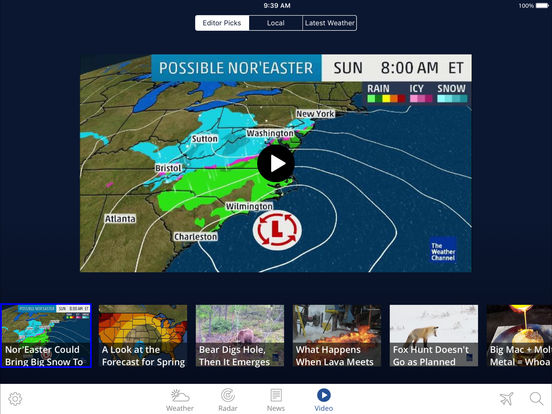 Reseñas de usuarios
Such potential!
I used to love my iPad version of the Weather Channel App! It was big and beautiful, to fill my iPad's larger screen; and I could opt to upgrade, at a price, to remove ads! Now, the ad-free upgrade has been yanked out from under me, and I cannot find how to restore it, or purchase it anew. It really bugs me to lose that option. Furthermore, the badge icon for the app always shows "1" notification--regardless of what is going on with the weather. I cannot get rid of the "1" on the badge icon; for there is no alert to view to make it go away. If there is an alert, the notification for that alert goes away after viewing the alert; but the renegade "1" stays there still. This badge icon has had this bug for probably a month or more; but I've finally decided to write a review about it (and about the ad-free option being removed--even though I paid for it on my iPhone). Please fix both of these two problems--thanks! Then, I will be able to resume visually enjoying checking my iPad Weather Channel App once again!
-Sincerely,
A Weather Buff :-)
Love it, but bugs need to be fixed
I have used the app for a long time and love it, but it has a number of bugs on my iPad. When it opens on the Forecast page, it doesn't update. You have to switch to the Current page for it to update and then switch back to the Forecast page. In fact, lately when I open the app, it shows no location and no temperature. It shows the standard circle for the Current weather page, but it's blank. It's necessary to go to one of the other pages, such as the radar page, then go back to weather to get information. This is very frustrating and annoying and was never an issue with earlier versions. I have several locations saved in Favorites, and swiping between them is slow and clunky, with a pause in the middle of the transition. Also, I can only swipe in one did now, and I used to be able to swipe in both directions, which I found more useful and practical. I've resorted to simply using magnifying glass in the lower right corner to choose another of the locations in my favorites. Seems like IBM, which now owns this, could do better.
Love it...when it works
I live in the Seattle area, where looking for sunshine in the forecast helps me get through long periods of rain and gray skies. I really need to be able to see my forecast so that I can look forward to a sunny day or decide which movies to watch on those rainy, pajama day weekends. I used to start each day with the Weather Channel, but for the last few months it has become very buggy. It stubbornly locks up on launch and randomly shuts down. I don't know what's happened, but TWC can't seem to keep up with or adapt to iOS updates. I notice the screen now says "An IBM Business" (maybe it always did, but I didn't notice; however, I'm now seeing it far too often with all the restarts); perhaps Big Blue just doesn't have a knack for weather or apps? Now I'm on a hunt for a reliable weather forecast app that isn't so buggy, sluggish, doesn't bombard me with advertising (I'm willing to pay a few bucks for a good app) and isn't invasive. Where are you my ideal weather app??
Ver en iTunes
Gratis

Categoría:

Clima

Actualizado :

20/04/2016

Versión:

4.5.1

Tamaño:

48.2 MB

Idioma:

Inglés

Vendedor:

The Weather Channel
Compatibilidad: Requiere iOS 8.0 o posterior. Compatible con iPad.