Theodolite
By Hunter Research and Technology, LLC
This app is only available on the App Store for iOS devices.
Description
***** 40%-OFF SALE ***** Theodolite is on sale for 40%-off to celebrate its seven year anniversary! ***** As seen in Apple's Special Event Keynote, Theodolite is a multi-function viewfinder for iPhone and iPod touch that combines a compass, two-axis inclinometer, rangefinder, GPS, map, nav calculator, tracker, and geo-tag photo/movie camera into one indispensable app. Uses are endless, and the app is great for hiking, boating, hunting, golf, outdoor sports, sightseeing, navigation, and finding your way around. Theodolite is used extensively by surveyors, geologists, architects, engineers, competitive sportsmen, first responders, military personnel, and search and rescue workers around the world.

Theodolite lets you take geo-tagged camera images, screenshots, movies, and screen movies directly from the app, with 2X and 4X digital zoom and fast buffered saves. You can choose to overlay geographical data, time, date, and custom notes directly on photos and movies for later reference.

View your current position on the built in map view, with optional new Outdoors maps that include topo contours (feet or meters), roads, trails, landmarks, campgrounds, ski lifts, and more. Custom "live" map markers continually update distance/heading relative to the current location. Share map markers and nav calculator points with other users of Theodolite and Theodolite HD via SMS text messages and e-mail. This powerful capability opens up a wide range of collaborative uses which include team land surveying, accident investigations, spotting of wild fires, triangulation of landmarks, and advanced tactical observation and targeting operations.

Theodolite includes features for serious users like a reference angle mode, a nav calculator, data logging, e-mail export with KML, system-wide clipboard integration, percent grade display, mil compass readout, optical rangefinders (including a mil-based reticle, sniper-style stadiametric graphs, and a variable 4X-24X scope), and colored lens filters to improve use in dark conditions and preserve night vision. The app can provide location in military grid reference system (MGRS) coordinates, universal transverse Mercator (UTM) coordinates, British/Irish National Grids, US National Grid, and six latitude/longitude formats.

Optional US State Plane coordinates include SPCS27 and SPCS83 zones covering all US States. The optional Datum Pack adds over 230 geodetic datums to the app for more accurate position and altitude computation from GPS data, covering regions and countries on all continents around the world.

With an optional in-app purchase to enable team tracking, you can share location with up to 20 people on Theodolite's map. Team tracking was developed in conjunction with search and rescue teams to offer a good balance between simplicity and performance.

Theodolite has been featured several times in iTunes in "Rewind: Hot Trends in Apps", "The World Around You", and "New and Noteworthy". It has been a #1 selling Navigation app in App Stores around the world. Since its introduction in 2009, Theodolite has defined augmented reality navigation. The app continually introduces new technologies, pushing the limits of iOS app development.

Find out why Apple named Theodolite one of the most amazing apps available and showed it being used to explore the Great Wall of China. Where will you take it on your next adventure?

Theodolite requires an iPhone or iPod touch (see the Theodolite HD app for use on iPad or iPad mini). Note: GPS and compass requires an iPhone. iPod touch devices do not have GPS or compass hardware.
What's New in Version 5.0
Theodolite 5 is our biggest new release ever, with many new features and improvements. Here are some of them:

* Fully compatible with iOS 10, iPhone 7, iPhone 7+
* In-app purchase for offline Outdoors maps with topo contours (feet or meters), roads, trails, landmarks, campgrounds, ski lifts, and more.
* In-app purchase for US State Plane Coordinates. SPCS27 and SPCS83 are included for all US state zones.
* Addition of US National Grid position formats with 10/100/1000 meter precision.
* New datums added to Datum Pack: GDA94, GGRS87, JGD2000, ETRS89, NZGD2000.
* Distance/heading to active selected map marker show on main display along with aim indicator arrows (lower left).
* Sweeping azimuth sight line added to map pointer.
* Status indicators for position and altitude now blink to indicate GPS activity and glow steady to indicate GPS lock.
* Hardware status screen now updates accuracy numbers in realtime.
* Position activity/lock indicator (spinning wheel) shown on current location map pin.
* Smoother location updates on map screen.
* Revised map marker popups for more display area to show long coordinates/names.
* Added search format selection buttons to map search bar.
* Improved finger tracking response of 4X-24X variable rangefinder reticle.
* Revised floating crosshair reticle target to track horizon (previously was a pendulum).
* Addition of camera tags to KML when using main screen mail export.
* Dramatically sharper optical quality on main screen when using zoom.
* Option to add note to a log entry.
* Added datum code to log entries.
* Fixed UTM position search issues.
* Corrected behavior of UTM and MGRS coordinates when legacy datums (NAD27) are used.
* Added description of datum to photo/movie data overlay.
* Fix for bug in altitude computations affecting some datums.
* Improvements to rangefinder rendering.
* Addition of photo EXIF tags including app name and elevation/horizon angles.
* Dual usage of WGS-84 coordinates for proper compatibility with map content and data export formats when running an alternate datum.
* Dozens of interface tweaks and improvements throughout the app.

Thanks to our amazing customers whose feedback and suggestions over the past seven years have helped make Theodolite a great app! We appreciate your support. We're finalizing the next version of Theodolite, due out in the fall of 2017 after iOS 11 is released. If you have any feature requests, feedback, or suggestions, please contact us. Thanks!
iPhone Screenshots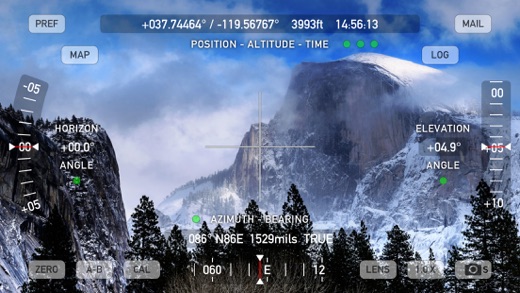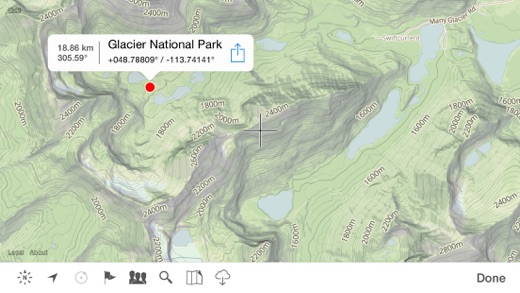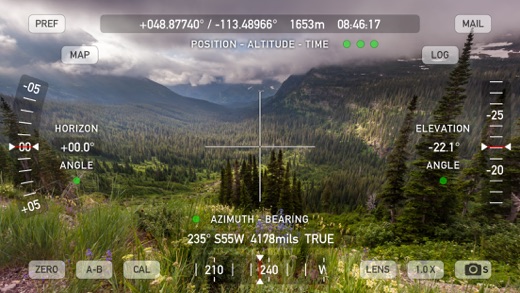 Customer Reviews
Theodolite
This is my favorite app. I most recently used it to find a Forest fire that had gotten within 3.1 miles of us. I took photographs at various places in the burnt area and then plotted the location on a Quadrangle map.

But my main use is to record the location of petroglyphs in remote ( and not so remote sites) in the far west of the U.S. And Canada. Of course in some places satellite connection cannot be made but most of the time it can be. Not only do I get the time and the longitude and latitude and elevation, but also the azimuth. This latter is important because by adding 180 degrees to the reading I can tell what direction the petroglyph is facing. By placing a measuring graphic near the subject the theodolite photo also displays the size of the petroglyph. The theodolite record is redundant because I usually take more photographs with
a camera, which includes the time and sometimes the coordinates, but never the azimuth or elevation. This along with iPhone Notebook allows me to travel lighter and scramble in the rocks more safely.
Fascinating application
Theodolite Pro is a fascinating application showcasing some of the abilities the iPhone is capable of. Whether playing around and curiously experimenting, or seriously putting your iPhone to work, it's surprising to find quite a few uses limited only by one's imagination.
So far the application has worked flawlessly and been extremely accurate.
Great job!!
Version 5 continues the excellent experience from previous versions. This app would be a great gift to a student learning geometry, or an outdoors person with a curious nature, or just someone who likes to experiment. I've seen lots of articles and apps about compasses , levels, protractors , and similar devices. None that I have read about or used can match Theodolite.
Additionally, Theodolite is a well thought out app with a great user manual. I haven't had an issue or crash using Theodolite on a 3GS, 4S, and 6 Plus on their various IOS versions. This is one app that will stay on my device.
UPDATED: NOT a Total Ripoff after all
Update on my complaint about in-app purchases back in January: wow, major kudos to HTR. I just got a personal response from a developer regarding my review - that's never happened to me before and shows that these guys really do read these reviews and respond to customers. They explained the in-app purchases and why they need to do it that way (no, they're not just hitting you for more money).

I have to change my review from one to 5 stars. Customer service goes a long ways, especially personal responses. Obviously this app is awesome and does lots of cool things. I was frustrated about the in-app purchases that didn't seem clearly explained, but HTR got it right. Again, major kudos and you guys get 5 stars. Thanks for taking the time to explain. 👍🏻👍🏻👍🏻👍🏻👍🏻
View in iTunes
$5.99

Category:

Navigation

Updated:

Sep 12, 2015

Version:

5.0

Size:

6.6 MB

Language:

English

Seller:

Craig Hunter
Compatibility: Requires iOS 7.0 or later. Compatible with iPhone, iPad, and iPod touch.
Top In-App Purchases
Datum Pack$2.99
5,000 Map Tile Credits$0.99
Team Tracking$0.99
20,000 Map Tile Credits$3.99
10,000 Map Tile Credits$1.99
US State Plane Coordinates$19.99
50,000 Map Tile Credits$8.99
200,000 Map Tile Credits$27.99
100,000 Map Tile Credits$15.99
More iPhone Apps by Hunter Research and Technology, LLC