ThessFest
By CERTH-ITI
This app is only available on the App Store for iOS devices.
Description
ThessFest is the official iPhone app for the Thessaloniki International Film Festival and the Thessaloniki Documentary Festival. The app is free and features the complete film schedule, as well as real-time updates from Twitter on what happens in the Festival.

More specifically, the first version of the app offers the following features:
- Browse the updated Film Festival schedule by category and date.
- Search movies by keyword.
- See details of Festival movies and directors.
- Easily create and update your own screening schedule.
- Get directions on how to reach the Festival venues.
- Easily rate, tweet and comment movies.
- See real-time ratings, comments and tweets made by other users for each movie.
- Follow the Festival tweet stream.

************ ΕΛΛΗΝΙΚΑ ***********

Το ThessFest είναι η επίσημη εφαρμογή για το Φεστιβάλ Κινηματογράφου και το Φεστιβάλ Ντοκιμαντέρ Θεσσαλονίκης. Η εφαρμογή διατίθεται δωρεάν και περιέχει το πλήρες πρόγραμμα προβολών, καθώς και ενημερώσεις σε πραγματικό χρόνο μέσα από το Twitter για τα τεκταινόμενα στο Φεστιβάλ.

Συγκεκριμένα, η πρώτη έκδοση της εφαρμογής προσφέρει τις ακόλουθες δυνατότητες:
- Περιήγηση στο πρόγραμμα προβολών με βάση κατηγορία και ημερομηνία.
- Αναζήτηση ταινιών με λέξεις-κλειδιά.
- Λεπτομέρειες για τις ταινίες και τους σκηνοθέτες.
- Εύκολη δημιουργία και επεξεργασία του προσωπικού σας προγράμματος προβολών.
- Οδηγίες για πρόσβαση στους χώρους προβολών από το σημείο που βρίσκεστε.
- Εύκολη βαθμολόγηση, σχολιασμός και tweeting για τις ταινίες.
- Παρακολούθηση σε πραγματικό χρόνο των σχολίων, βαθμολογιών και tweets.
- Παρακολούθηση του Twitter stream του Φεστιβάλ.
What's New in Version 2.2.9
- Διόρθωση λειτουργίας myFilms. Απαιτείται επανεγκατάσταση της εφαρμογής για να λειτουργήσει σωστά.
iPhone Screenshots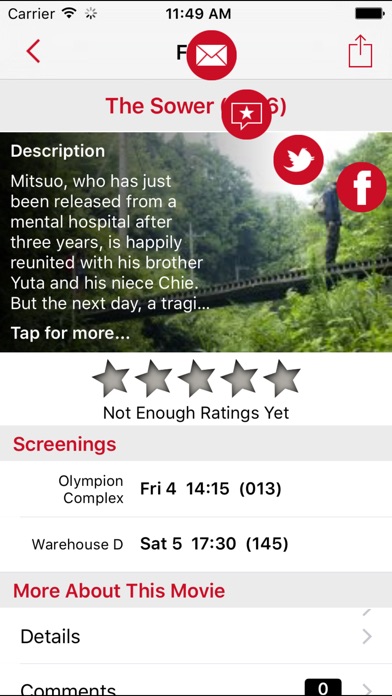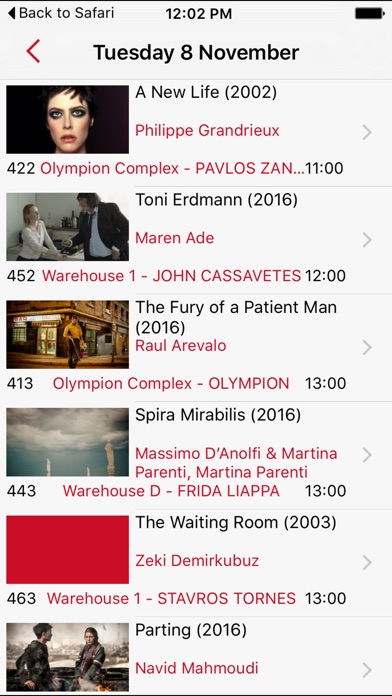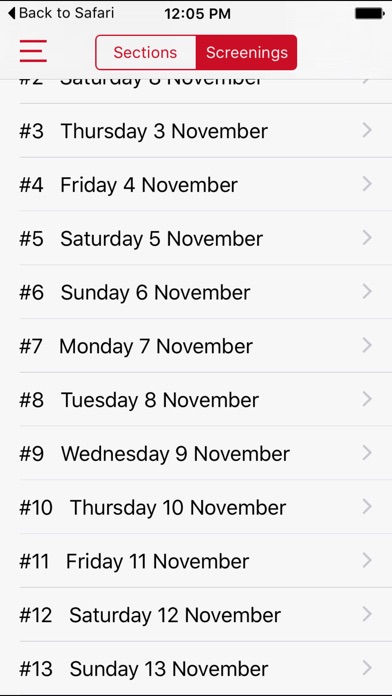 View in iTunes
Free

Category:

Entertainment

Updated:

Mar 07, 2017

Version:

2.2.9

Size:

12.8 MB

Language:

English

Seller:

Centre for Research and Technology Hellas
Compatibility: Requires iOS 6.0 or later. Compatible with iPhone, iPad, and iPod touch.