Things 3
By Cultured Code GmbH & Co. KG
Editors' Choice
Open the Mac App Store to buy and download apps.
Description
Meet the all-new Things! A complete rethinking of the original, award-winning task manager – with a perfect balance between simplicity and power, incredible new features, delightful interactions, and a timeless new design.

*** APPLE DESIGN AWARD WINNER 2017 ***


HERE'S HOW THINGS WORKS

If you're new to Things, this is the basic workflow:

1. Collect Your Thoughts
Get things off your mind quickly: no matter what app you're in, a keyboard shortcut instantly reveals Quick Entry. Type your thoughts and save them to the Inbox. Or just talk to Siri on any device ("Remind me to...") and import from Reminders.

2. Get Organized
Create a project for each of your goals, then add the steps to reach them. For clarity, add structure with headings. Then group your projects by areas of responsibility, such as "Family", "Work", or "Health". Review these regularly to stay on top of things.

3. Plan Your Time
See your calendar events alongside your to-dos and plan your time effectively. Create repeating to-dos for things you do every few days, weeks, or months – Things will remind you on the right day.

4. Make the Most of Your Day
Every morning, grab a coffee and prepare your list for "Today": review previously planned to-dos and make quick decisions on what to tackle. Pick some more steps from your projects and then get going. The Today list is the only place you'll need to look for the rest of the day.

5. Customize Your Workflow
Use tags to categorize your to-dos or add context. For example, tag places like "Office" or "Home", or tag all your "Errands", or everything you're working on with "Kate". You can easily find everything you've tagged via filtering or search.


HERE'S WHY WE THINK YOU'LL LOVE THINGS

1. It stays out of your way.
As you start using Things, you'll quickly notice how seamlessly all the features fit together to give you an uncluttered, focused experience. There are no unnecessary frills. No pointless gimmicks or useless controls. In fact, you'll hardly notice the app – it's just you and your to-dos.

2. Everything revolves around your to-dos.
In Things, each of your to-dos are special. In a list, they simply show a checkbox and the title of your to-do. But when you open them, they extend into a beautiful white piece of paper that's ready to hold your thoughts. Additional details (checklists, tags, reminders, deadline) are nicely tucked away in the corner until you need them.

3. It's got a touch of magic.
Things removes friction in magical ways. As an example, take Type Travel, a remarkable new way to navigate your lists. You just start typing where you want to go – the name of any project, area, or to-do – and instantly you're transported there. Or look at the Natural Date Input – just type "Tom(orrow)", "Sat(urday)", "in fou(r days)", "Au(gust 1)"., and it will jump to all the right conclusions.

4. It's got all the power of macOS.
Things is fully integrated with all the latest macOS technologies: Touch Bar, Today Widget, Calendars, Siri & Reminders, Share Extension, Handoff, and AppleScript.

5. And much more...
Everyone's got their favorite feature, it's impossible to list them all. See what our users love about Things – visit our website at: thingsapp.com


WHAT'S NEW?

This is a truly incredible update, with dozens of powerful new features. See the "What's New" section below for a full list.


STAY PRODUCTIVE ON THE GO

Get Things for iPad, iPhone, and Apple Watch and stay productive on the go (sold separately). The apps all stay updated via Things Cloud – the push sync service that we custom-built for Things.


QUESTIONS?

If you have any questions, or run into any trouble – please contact us. We provide world-class, professional support for Things, and we'll be glad to help you.
What's New in Version 3.2.1
Things 3.2 delivers full compatibility with macOS 10.13 High Sierra, plus these changes:

• Renamed the Siri preferences pane to Reminders, and modified its content.
• Minor tweak to the contents of the tutorial project.
• Fixed an issue where, if a to-do or heading was currently being edited, Cmd+N would insert a new to-do at the wrong place in a list.
• Fixed a crash that could occur when deleting a tag that was selected in the tag filter bar.
• Fixed a crash that could occur when collapsing to-dos after editing them.

—— New in 3.2.1 ——

• Improvements for link detection in to-dos' notes.
• Added support for linking to Evernote items via Quick Entry with Autofill.
• We now use plain-text links inserted via Quick Entry with Autofill, or by dragging into the notes field/dock icon.
• Some tweaks for the German localization.
• Fixed an issue where windows would maximize when the title bar was double-clicked, even though a different behavior was set in System Preferences.
• Fixed an issue on macOS 10.13 High Sierra where the label for the When button inside to-dos wouldn't update properly sometimes.
• Fixed a glitch on macOS 10.13 High Sierra with Things Cloud's on/off switch.
• Fixed a sporadic issue where rescheduling to-dos might not work.
• Fixed a sporadic crash that could occur while editing a to-do's notes.
• Fixed a sporadic crash that could occur on app launch.
• Fixed a memory leak.
Screenshots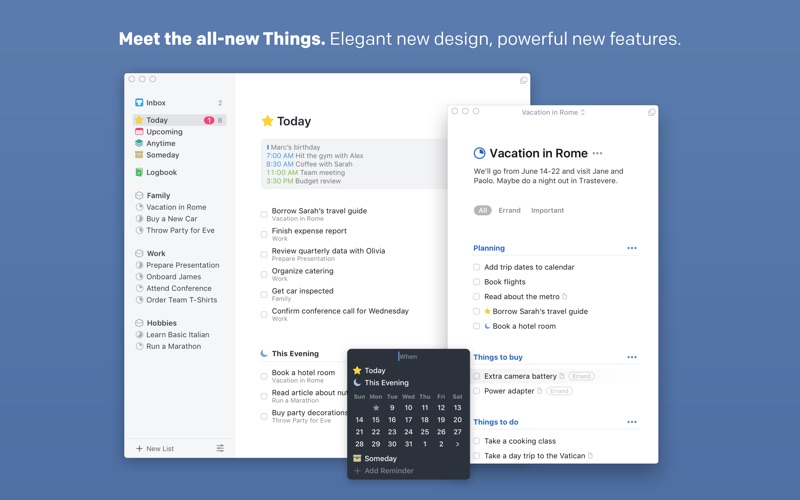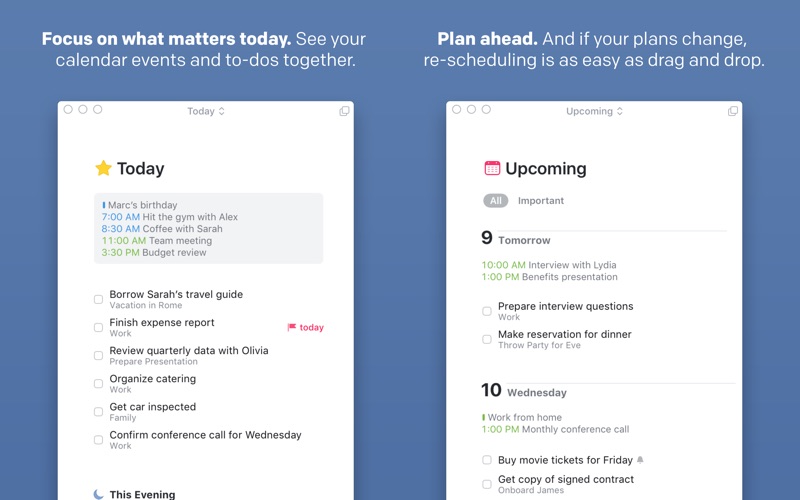 Customer Reviews
My Favorite Productivity App
I have tried all sorts of systems and apps to better organize my to do's and organize my life. Things3 is robust and super easy to use. No instruction manuals to read, just get started. It's a beatifully designed piece of software. Sure it's expensive but well worth it for somethng that I use every day. Thanks to the developers and UX designers for doing such great work.
Loved Things before, Love T3 even more!
I've used Things for a long time, and while Things 3 was a long time coming, I'm very happy with where it is now. I'd been finding it harder and harder to use as the information presentation became more gummy with age, and it's become clear again to my mind. Very happy!

There are a few things I'd still like to see: I unexpectedly love the new Headings, which let me do some organization without separation, and they're so useful, I'd love to see Headings in Areas too, rather than just in Projects.

I'd love to see a few basic (please don't go crazy, just a few) text formatting options in a To Do's notes (or in a Project's or an Area's): just bold, italic, or maybe Heading/Body/Comment pre-canned styles, as well as a list format (sometimes I want to organize in a list with - or • delimiters but a full checklist is too much).

And I'd love to be able to see an overview of all Areas at once, which would mean some form of show/hide detail of Projects in Areas so I could expand one at a time if I wanted to. I find I'm getting things accomplished on the Areas near the top far more than the areas near the bottom, because when I go to set up my day, I start at the top, and then fill my day before I get to the middle or bottom. Out of sight, out of mind, right?

These are things that I'm confident they'll address somehow, and none are currently show-stoppers. It works well, it's quick, syncs fast and reliably between my iPad, Mac, and iPhone… core feature set is awesome!
View in Mac App Store
$49.99

Category:

Productivity

Updated:

Oct 18, 2017

Version:

3.2.1

Size:

15.3 MB

Languages:

English, French, German, Italian, Japanese, Russian, Simplified Chinese, Spanish, Traditional Chinese

Seller:

Cultured Code GmbH & Co. KG
Compatibility: OS X 10.11.0 or later, 64-bit processor