ThirdEye: Empowering the Blind and Visually Impaired with Object Recognition
By Rajat Bhageria
This app is only available on the App Store for iOS devices.
Description
Featured in Forbes, Techcrunch, HuffingtonPost, SIRIUSXM, New Scientist, TEDx, Mother Nature Network, PhillyVoice, and WHYY; at ThirdEye, we believe in empowering the visually impaired.

ThirdEye restores autonomy to visually impaired persons' lives by enabling them to recognize everyday objects. All the user has to do is touch one button and our technology verbally returns back whatever object the user is looking at within seconds (for example a "5 US Dollar Bill" or an "Ibuprofen bottle").

We have a database of millions of images that is being updated every day and thus our product is able to recognize a wide array of images very specifically.

ThirdEye is currently free to download!

Reviews:

"Thank you for developing such a wonderful app. Reading text would be so beneficial to my children, who are all in High School & primary. It is so hard to get pdf versions of some text books, which means we are constantly scanning pages or taking photos of pages for magnification." ~ Deanna

"I just installed this app and used it a couple of times. So far I like it, thank you." ~ David

"Very cool. One helpful help" ~ Victoria

Features:
• Press the "Recognize This" button while holding your phone in front of an object you want to recognize, and then wait a couple of seconds for ThirdEye to return the object to your ear. The button is large, and occupies half the screen so it's easy to find and press.
• Press the raise volume button on the side of your phone while the app is on to Activate the "Recognize This" feature.
• Every time you press a button, ThirdEye will read aloud the button you pressed (to ensure that you pressed the button you wanted to).
• Returns a Alert Message warning you if the item you recognized could be potentially dangerous (such as medicine) and to ask for help before taking the medicine. (Note: Please note that this alert message will be triggered on every potentially dangerous item simply because of the sheer number of potentially dangerous items; we have done our best to try to add as many objects as we think could be dangerous, but you should use your own judgement)
• Read text on books by pressing the "Read This" button

Terms of Service:
Please use ThirdEye's recommendations with your own consent. We are not responsible whatsoever for any wrong response (verbal or text based) that ThirdEye returns; please use caution especially when using ThirdEye to recognize medicine or anything that is potentially deadly. ThirdEye, ThirdEye's shareholders and founders, or anyone associated with ThirdEye is not responsible for any injuries or death caused by the use of ThirdEye. Please read the full Terms of Service for ThirdEye at http://thirdeyeglass.com/terms-service/

Mission:
We really hope that ThirdEye is able to improve the lives of visually impaired patients at least 10x.

Platforms:
ThirdEye is available for use on Google Glass as well! All the user has to do to activate our Glass app is simply say "Okay Glass, Recognize This" and ThirdEye will return back the object he/she is looking at. Although our app is still in beta mode, we will gladly provide you with a demo APK if you want: simply email us at support@ThirdEyeGlass.com

Privacy Policy:
Read our privacy policy at http://thirdeyeglass.com/privacy-policy/

Around the Web:
You can visit us http://ThirdEyeGlass.com
If you like ThirdEye, be sure to like our Facebook page at https://www.facebook.com/ThirdEyeApp
and Follow us on Twitter at https://twitter.com/thirdeye_glass

Support and Feedback:
You can email us at support@thirdeyeglass.com. Send us any questions and feedback you have so we can make your experience better!

Developed by ThirdEye Technologies Inc.--http://ThirdEyeGlass.com
All Rights Reserved 2014. Copyright 2014.
What's New in Version 1.25
Fixed crashing bug when "no labels found" for 6s+. Removed double click to activate.
iPhone Screenshots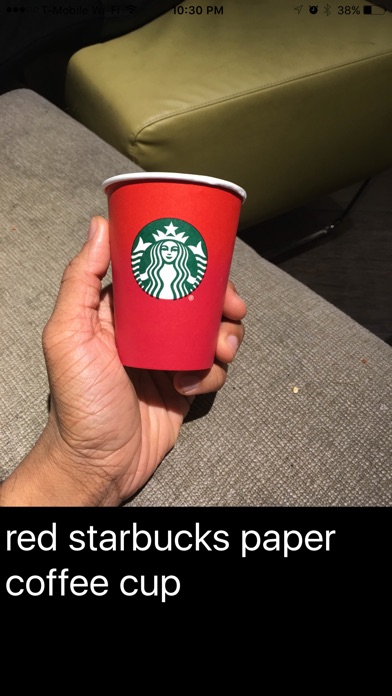 Customer Reviews
Someone's toy app
Takes a photo and probably submits it to a third-party for object identification. Feels like "my first app".
Does not work.
Utterly useless.
View in iTunes
Free

Category:

Medical

Updated:

Feb 09, 2016

Version:

1.25

Size:

9.4 MB

Language:

English

Seller:

Rajat Bhageria
Compatibility: Requires iOS 9.0 or later. Compatible with iPhone, iPad, and iPod touch.