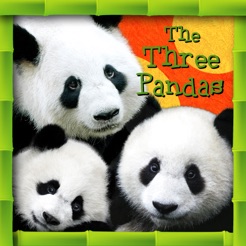 The Three Pandas Animated Storybook
4+
Description
*** A modern take on "Goldilocks and the Three Bears" features a charming style of animation and a lovable family of pandas. - Kirkus Reviews *** If you or your child are interested in pandas, this app is most certainly for you! - Padgadget *** My child especially liked the interactivity of this book. You get to tap on the pandas to see them react to each room of their home. - Digital Storytime

Featured in the App Store's "What's Hot" & "New & Noteworthy" Books

Experience "Goldilocks and The Three Bears" like you've never seen before - with three cuddly panda bears living in the bamboo forest! What happens when a little girl named Mei Mei finds their bamboo house? Watch her drink Baby Panda's porridge and help her find the MOST comfy chair.

10% of app proceeds are donated to the nonprofit Pandas International to support panda conservation programs. Thank you for helping us donate 8500 bamboo plants to panda nature reserves!

Designed for the iPad and compatible with iPhone 3GS or above, and iPod Touch 3rd Gen or above.

FEATURES
- Tickle the characters to see them move!
- Over 60 touch animations in 30 richly illustrated storybook pages
- Beautiful orchestral score and musical sound effects
- Choose "Read to Me" with narration or "Read Myself"
- Record your own voice too
- Auto-Play Option for automatic page turning
- Learn Panda Facts
- Language Options: English or Simplified Chinese (with accompanying voiceover).

Please note: A beginner-level Chinese language ability is required to read the Chinese version.

Watch The Three Pandas video trailer here: http://www.seeherestudios.com/videos

Explore other captivating children's book apps from See Here Studios:
- The Wrong Side of the Bed 3D! - What happens when you wake up on the wrong side of the bed? An award-winning topsy-turvy story viewable in both 3D & 2D.
- The Tortoise and the Hare: REMATCH! - A retelling of the classic fable that answers the question: What happens AFTER the Tortoise and the Hare's famous race?
- Fam Bam: Got To Have Music - A musical story featuring celebrity vocals by Brandy, Ray J, Sonja and Willie Norwood.
- Twinkle Twinkle - A Twinkle Twinkle Little Star storybook & music video developed with educational favorites Super Simple Learning.
- Snow Globes 3D! - A holiday activity book viewable in both 3D & 2D, featuring interactive physics-driven snowflakes that move with the tilt of the iPad.

FOLLOW US for special deals and books news!
http://facebook.com/seeherestudios
http://twitter.com/seeherestudios

About Pandas International
The Giant Panda, one of the most delightful and captivating of animals, is also one of the most endangered. The mission of Pandas International, a nonprofit organization, is to ensure the preservation of the endangered Giant Panda. Learn more at pandasinternational.org.

For free panda wallpapers and to join our Tickle Book Club, visit www.seeherestudios.com

>>>>>>>>>>>>>>>>>>>>>

If for any reason the app does not work properly, please restart your device by holding down the "Home" (circular) button and pressing the button on the upper right side simultaneously. The device will prompt to be powered off. Then, press the button on the upper right side again to restart the device. This will clear the device's memory and should solve any performance issues. For further support, please contact us at: support@seeherestudios.com.

>>>>>>>>>>>>>>>>>>>>>

See Here Studios is a member of Moms with Apps, a collaborative group of family-friendly developers seeking to promote quality apps for kids and families.
Recommended Ages: 4-7
Categories: Book, Classics, Reading
Video: http://youtu.be/piJv2aSfrfQ
- Updated storybook audio based on user feedback (softened music).
Thank you for your reviews & comments!

Ratings and Reviews
Superb!
This is a beautiful book! Very well done and captivating. As a Speech-language Pathologist, it is definitely an app I will be using with my students. I also tried it out with my 12 year old middle-school daughter and she gave it a 2 thumbs up! It's one of the best I've seen- and with almost 400 apps on my IPad, that's saying a lot. Thanks for making such a wonderful book!
Loved it!
love this app! The pictures are beautiful. There is some animation, but the focus is still on the story. The story and narration are very good. My one suggestion would be to have hi lighted words and an option to tap a word to hear it within the read to self option. This would help emerging readers independently read while they are building reading skills.
The Three Pandas
Love this remake of The Three Bears and Goldilocks. It is my favorite story and will be a great way to introduce the zoo animals to my Kindergarten class before we go to the San Diego Zoo in May. I'm sure they will ask their parents to download it at home if they have an IPAD or IPhone. I will be looking for more great books like this soon.
Information
Seller

See Here Studios LLC

Size

122.8 MB

Category

Compatibility

Requires iOS 4.0 or later. Compatible with iPhone, iPad, and iPod touch.

Age Rating

Rated 4+

Copyright

© 2011 See Here Studios LLC

Price

$1.99
Supports
Family Sharing

With Family Sharing set up, up to six family members can use this app.