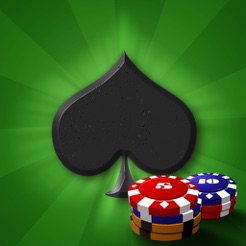 THTouch - Texas Holdem Poker
12+
Description
THTouch brings the joy of Texas Hold'em Poker to your iPhone and iPod touch.

It gives you a clever interface that never obscures the view at any of the facts on the table and is incredibly easy to use.

With the unique wheel-like finger interface that always shows you a context sensitive amount of options to select from with a single swipe to the appropriate direction you'll learn to play the game blindly in a matter of just a few minutes.

Don't let those AI players fool you. You can beat them :)


FEATURES:
------------------------

→ play against up to 9 computer controlled players
→ swipe your way to the golden poker chip
→ bets are made in a most natural way, by actually building stacks of chips (again, using easy swipes or simple taps)
→ look up the winning order of hands at any time
→ resume your game at any time (autosaving))
→ enjoy awesome graphics and animations
→ get a hint of your own chances to win a hand


(The selection of the games language is automatically made based on your iPhone or iPod language settings. Many more languages to come.)

INSTRUCTIONS:
------------------------
Please, read about details and instructions on the games webpage.
I assume you already know the rules of Poker Texas Hold em style.

http://thtouch.leberwurstsaft.de/gameplay.html


REVIEWS:
------------------------

27 Oct 2008: http://www.frapstr.com/2008/10/27/premium-spotlight-thtouch/

23 Oct 2008: http://www.iphonegamenetwork.com/thtouch-review

24 Oct 2008: http://www.spaziocellulare.com/ispazio/appstore/2008/10/24/thtouch-giocate-a-texas-holdem-sul-vostro-iphone-ed-ipod-touch/ (Italian)

21 Oct 2008: http://apfelblog.ch/iphone/thtouch-gibt-es-jetzt-auch-im-app-store (German)


CONTACT:
------------------------

If you wish to, please contact me via email, using the address on my website. Thank you!
Ratings and Reviews
Best Texas Hold'em for iPhone/iPod
I played this on my iPod when it was in the Installer - and I loved it. I played the $4.99 Texas Hold'em game and I like this one better still. Here are a few things that could make this a 5-star. 1. You said you can get a hint of the strength of your cards, how? 2. When I click on the settings icon while in-game and then click on either instructions or hands overview, there's not a way to get rid of them to continue your game. 3. It would be nice to have an All-In option when betting. 4. It would also be nice to be able to scroll through the little log under the community cards in the middle. 5. This would be a luxury, not really needed - it would be nice to be able to set the time to auto-deal. I think it's 2 seconds or something, it would be nice to set that anywhere from 1-10 seconds or something like that. Once a few of these gets addressed, I'll change my 4-star to a 5 :) Great App!

Most of the issues that I listed above have already been resolved with the release of the guide. Please read the guide if you have any questions on playing this game. With this in mind, I changed my rating from 4 to 5 stars!
Good looking, but seems a bit simple
I really like THTouch, although I confess I have put in only a little bit of time. I'm not much of a poker fan, but I do like to play when there's no real money involved. The interface took a little getting used to, but once I know the gestures it became natural for me to move through play with screen swipes. The only real issue I had was I felt the AI was a little weak. Too many times I had mediocre hands, but aggressive bidding round after round would see the computer opponents fold rather than challenge me. Given how often this happened, I'm not sure it was consistently poor hands for my opponents, but it is possible I just had a long run against AI with weak hand after weak hand.

I did have fun with the game, and think anyone who enjoys having card games available whenever they want to play can enjoy this. But I'm not too sure how strong an opponent you will find in this game.
Deserves more credit than it gets! Great Game!
This game is very good! It deserves more credit than some of the reviews I've seen. If you are pondering on whether or not to buy this due to the reviews you've seen and are looking for a good Texas Holdem game, look no more! This is a fantastic app, I've looked all over for a decent TH game that is playable offline and this is the best I've found. It has intuitive controls that actaully make sense, contrary to some of the reviews others have made. Just a touch of the screen brings up the wheel that teaches the player the controls over time and it becomes a breeze! The gameplay is fantastic. Nice job! Highly recommend for those looking for a great Texas Holdem game at a low price! Keep it up!
Information
Seller

Pit Garbe

Size

2.4 MB

Category

Compatibility

Requires iOS 2.1 or later. Compatible with iPhone, iPad, and iPod touch.

Languages

English, French, German, Hebrew, Italian, Norwegian, Russian

Age Rating

Rated 12+ for the following:

Infrequent/Mild Simulated Gambling

Copyright

© 2008-2015 Pit Garbe

Price

$1.99
Supports
Family Sharing

With Family Sharing set up, up to six family members can use this app.