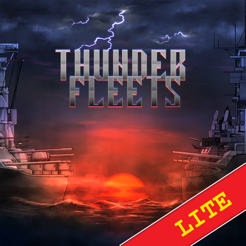 Description
Build and command your naval forces and engage in massive sea battles in this World War II real time strategy game. Thunder Fleets uses detailed historical ships, from small patrol boats to the largest battleships that were ever put to sea.



You will face a challenging single player campaing as either US Navy or Imperial Japanese Navy as well as multplayer battles against human oponents or skirmish missions with artificial intelligence.



Game uses action packed gameplay with a region-control based economy model. You will have to plan your attacks carefully, picking regions of the map that are more strategically important for you. In time you will be able to build your own fleet of ships. Your skills as a commander will be tested in combat and in your abbility to compose a winning fleet, as every ship has strong and weak points.



***Minimum System Requirements***

You need to a computer capable of displaying 1024x768 or higher screen resolution.

We suggest using mouse to play this game. Right clicking is used for issuing orders to units. If you are playing on a laptop that has no mouse you will need to control+click to issue an order.
Customer Reviews
RE: Great Game, but… how do you command your fleet??
I love the fine detail of this game, and yet, the instructions aren't entirely clear to me. How do you order your fleet to move to a target?

**UPDATE**
With your mouse or track pad, 'select' your ship(s) by clicking on them or dragging the curser around them. Once they're selected (a blue circle appears around them) you can choose their destination by holding the Command button, then clicking any distant location. You can alter the course to avoid torpedoes or the gun range of the enemy ships by selecting nearby spots.
Once I got used to the controls (and the deceptively slow game play) I was hooked! Still am.
Good game
good game, reminds me of command and conquer. My only complaints would be that it is only a demo and there is only one level to play. Also the magic mouse is really annoying while playing because i end up accidently zooming in or out when I don't want to.
Absolutely worthless
The game does not provide a tuitorial, it does not provide instructions, and as far as I can tell, there is simply no game to play. You let the game build ships--with the speed of an old 286 from the 80s. I don't get it. Perhaps this is designed for people who "just know" how to manipulate computer games. The support page does not help, either.
Information
Seller

Marcin Lotecki

Size

12 MB

Category

Age Rating

Rated 12+ for the following:

Infrequent/Mild Realistic Violence

Infrequent/Mild Cartoon or Fantasy Violence

Copyright

© Orator Games Marcin Lotecki

Price

Free
Supports
Family Sharing

With Family Sharing set up, up to six family members can use this app.