Time Out - Break Reminders
By Dejal Systems, LLC
Open the Mac App Store to buy and download apps.
Description
You deserve a break. Easy break reminders, with flexible customization if you want it.

It is very easy to fall into bad habits when using a computer for hours on end. You care about what you are doing, so can sometimes push yourself too far, or over-strain yourself. The human body isn't built to sit in one position for endless hours, gripping a mouse or typing on the keyboard. Dejal Time Out is here to help. It will gently remind you to take a break on a regular basis.

Time Out comes with two kinds of breaks: a "Normal" break, typically for 10 minutes every hour, so you can move about and relax, plus a "Micro" break: a very brief pause of typically 15 seconds every 15 minutes, so you can remember not to tense up too much for long periods. You can change, disable or remove either kind of break if desired, and add new kinds of breaks, e.g. fixed lunch or afternoon breaks.

You can configure how long each kind of break lasts, and how long between breaks, and the breaks can be set to count backwards when you take a natural break, e.g. when you go away from your computer.

Version 2 features customizable break themes, with several variations to show during breaks. These themes can be edited if desired, using standard HTML.

While in a break, a progress bar shows how long till it is over, and buttons are available to postpone or skip the break if you can't be interrupted right then.

What's more, you can optionally perform various actions before, during or after breaks. You can display a notification, play a sound, speak some text, run a script, and more.
What's New in Version 2.2.1
- Fixed schedule adjustments after waking from sleep (it was incorrectly adding the sleep duration to the due time).
- Fixed handling of an Available range when the frequency is daily or longer (e.g. for a daily lunchtime break).
Screenshots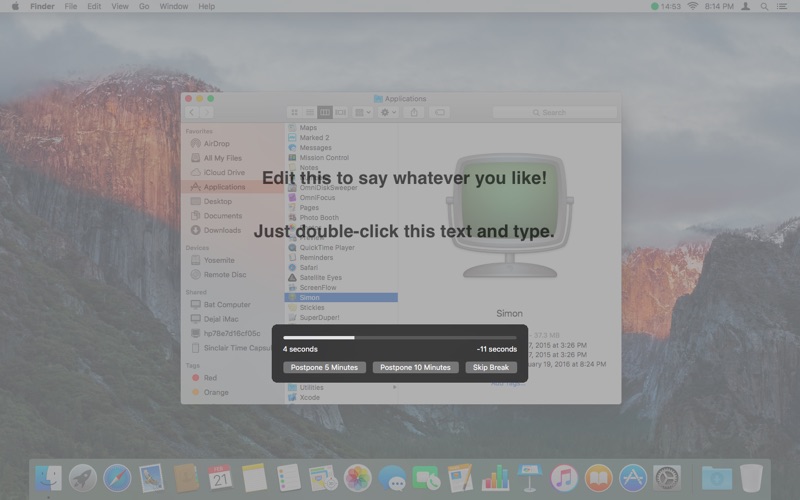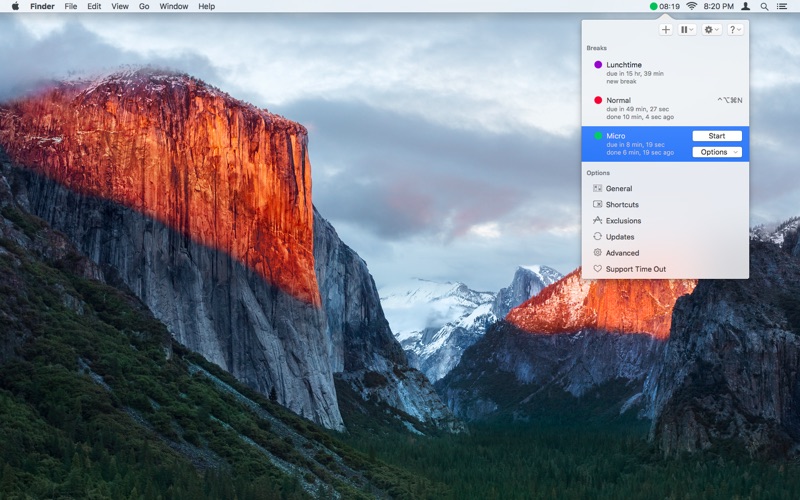 Customer Reviews
Excellent design, simple app
There's been a lot of recent health research proving that taking frequent breaks is necessary for those who spend significant time in front of a computer. If you neglect or forget to take your eyes off the screen or get up to move around a bit, this app is for you!

I'm super-critical of software design, and I'm impressed with Time Out. It fixes all the things wrong with all the other break timers I've tried, plus adds a lot of extra features without cluttering the UI. One of the best things not mentioned in the product description is that there are well written instructions in the app for all the features; there's no guesswork.

The subscription model is unique. I like it. I'd like to see more of this because it's a good compromise between the old method where you buy an app and pay for major upgrades at a discount, and the new renewing subscription model that forces you to pay for upgrades whether you want them or not. The free version is ad-free and the app is pretty good without the extras that expire without a subscription. I subscribed. The extras are easily worth the price!
This app runs my life...
…or at least the 70% of my life I spend in front of a computer screen. This app reflects the simplemindedness the world needs a lot more of. There is no attempt to be everything anybody ever imagined. It has one task and it does it well with an appropriate amount of grace and charm. I especially like the developer's pricing philosophy: use the basic product as long as you like at no charge. If you feel it's worthwhile, send along a modest sum and get a few extra features. If you don't feel it's worth paying for don't pay. You won't get harassed with regular "suggestions" to pay, and you won't see ads. If nothing else this shows the developer's confidence in the value of what he's offering.

This is a good piece of software.
Indispensable
I recently had some kind of bug that kept Time Out from automatically logging in on one of my computers. I soon found out that I had to stop working after a couple of hours; my body wouldn't keep functioning without the regular stretching and eye resting that Time Out prompts. I contacted David, the developer, and he not only responded immediately, but continued corresponding with me to sort out the problem. This app is a gem, far more valuable than the negligible (and entirely optional) amount David suggests users contribute.
View in Mac App Store
Free

Category:

Health & Fitness

Updated:

Mar 18, 2017

Version:

2.2.1

Size:

9.3 MB

Language:

English

Seller:

Dejal Systems, LLC
Compatibility: OS X 10.10 or later, 64-bit processor
Top In-App Purchases
3-Month Supporter$2.99
12-Month Supporter$9.99
6-Month Supporter$4.99