Timepassages Pro
By AstroGraph Software
This app is only available on the App Store for iOS devices.
Description
Gorgeous color charts with insightful interpretations make TimePassages Pro the most advanced astrology app available. Great for beginners as well as experienced astrologers, TimePassages Pro now makes astrology more accessible than ever before. Using the same powerful engine behind our award-winning desktop software, we've condensed all the following features into one great app:

Current Astrology
* Up to the minute chart of the current astrology is a finger tap away.
* Using your phone's GPS, the app can optionally center the chart on your current position.
* Moon phases and upcoming Mercury retrograde periods are placed on the home screen for easy reference.

** Unlimited Birth Charts **
* Quickly create charts with insightful interpretations of each feature
* Interact with professionally accurate color charts using pinch zooming.
* Allows you to enter and save your profiles with pictures for friends & family.
* Create as many birth charts as you like with no additional purchase.
* Instantly share your charts with friends via email or Twitter.

Unlimited Transits & Progressions
* Compare your birth chart to the current transits or progressions in a bi-wheel.
* Enjoy complete interpretations for transiting or progressed planet positions & aspects.
* Provides date ranges for each transit so you can find windows of opportunity.
* Optionally include parallel and contra-parallel aspects to natal positions.

Compare with Friends
* Our new Compatibility Meter scores the relationship between any two profiles.
* Find out your potentials in romance, money, communication and more.
* View the comparison bi-wheel chart and list of fully interpreted aspects.
* Discover the unique chemistry between any two people with insightful interpretations.

Amazing Interpretations
* The only app available that provides such penetrating accuracy.
* Includes over 2500 paragraphs for every planetary position & aspect, including Chiron.
* Uses the same acclaimed readings that you know and love from our desktop software.

Free Daily Horoscopes
* Read accurate & insightful personalized horoscopes every day.
* Unlike most horoscopes, ours are generated specifically for your unique birth chart.
* Provides the most accurate reading possible using the current day's transits.

Many More Features
* Aspects are organized from strongest to weakest so you can prioritize your reading time.
* In-depth glossary of zodiac signs, planetary bodies, moon phases and other astrological terms.
* Review previous transit data associated with each chart.
* Categorize your charts into friends, family, events, and more.
* At a glance, see how close each aspect is, in terms of degrees.
* And much more!

Reviews
"A breakthrough in astrology apps. It's technically advanced enough to satisfy a professional astrologer while packed with interpretations that are perfect for students and astrology fans. The text and technical quality are top notch." - Jeff Jawer, Professional Astrologer

"This is a dynamo of an app. It's packed and comprehensive. It works really hard for you and makes your smart phone even smarter." - Dorothy Oja, Professional Astrologer

"'If you're an iPhone user, then you're in luck, because you can do quite a lot with TimePassages Pro." - Sasstrology.com

With TimePassages Pro, you have access to the most advanced astrology features available on a mobile device, truly putting the wisdom of the heavens into the palm of your hand!
What's New in Version 1.94
Sunrise Chart switch not working in some cases, now resolved.
Other minor bug fixes.
iPhone Screenshots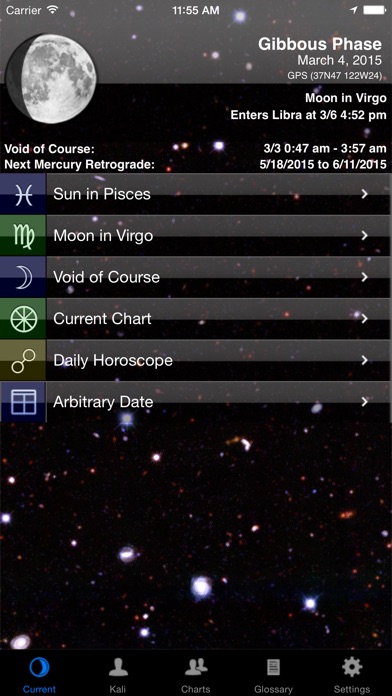 Customer Reviews
WOnderful to have this in your pocket!
I love this app and use it daily. I've studied and used astrology for over 4 decades and remember the days that we had to calculate charts by hand with a big ephemeris book aside. To have charts of many kinds pop up in seconds is miraculous. I find the interpretations very accurate with a humanitarian depth that is both microscopic and macroscopic at the same time, they have the insight of life experience.

This app has enabled me to do readings on the fly and I when I read his interpretations they mirror mine and add aspects that broaden my understanding. I also own the desktop version as my go to work software of 6 that I have. This app packs a lot os information for $30 which only buys you a nice lunch. It's a small price to pay for so much profound information and attention to the growth of human consciousness. I thank you deeply for this gift.

I only hope you are working to update this version as the new iOS 10 says that it will not work on the coming iOS 11. I'd love to see it able to be used in landscape position too! Thank you for sharing your profound knowledge.
Errors everywhere
I rarely write a review but since I paid $30 and I'm not happy here I am. I'm finding a lot of aspects do not have descriptions for or they have the wrong description. One example my partner and I share sun conj Moon. Under their description for this aspect is sun squ moon. Another example with the progressions soon I'm going to be going through a Prog MC opp Pluto and it's not showing up at all when I enter the date of this happening which from my point of view they are not showing all aspects and this is an important progression which should be shown. Another example I'm about to start Tr. Neptune trine Venus. The description I'm getting is the same for Tr. Neptune squ Venus. Yes, same planet but not the same type of influence. If I was a beginner this would be really confusing. There are a couple other aspects I have ran into on this app that don't even have a description. If the app isn't finish then don't change $30 for it. I want my money back but at the moment I can't find who I need to contact for this. I'm very unhappy. My two stars are for the design/graphics of the app, which is very appealing and easy to read.
♒️loves it
this app is amazing. I try to avoid buying new age stuff because I hate the concept of "buying spirituality," my purchases are carefully decided and this was definitely worth it. very handy, works without internet connection, and honestly the most accurate (and quite specific) interpretations of my own chart I have come across. my suggestions for improving the app would include...
-when you're reading a particular section of the app and leave to go to another app, it brings you back to a main page instead of the page you were just on, even if you don't totally close the app
-putting in information for your birth chart isn't difficult but I feel like it could be done better, also. -the glossary should include information about the four elements in their own section.
-more details about the reasoning for the rating part of the compatibility section (like why someone's long term is so high, for example) would be cool as well.
View in iTunes
$29.99

Category:

Lifestyle

Updated:

Nov 19, 2015

Version:

1.94

Size:

140 MB

Language:

English

Seller:

AstroGraph Software
Compatibility: Requires iOS 8.0 or later. Compatible with iPhone, iPad, and iPod touch.
More iPhone Apps by AstroGraph Software