TimePassages
By AstroGraph Software
This app is only available on the App Store for iOS devices.
Description
The award-winning astrology program is now available as a free app! Great for beginners as well as experienced astrologers, TimePassages makes astrology more accessible than ever before. Enjoy free daily horoscopes and discover the meanings behind your Sun sign, Moon sign and Rising sign. Learn even more about the planetary bodies with the app's comprehensive astrology glossary. Plus, gorgeous color charts with insightful interpretations can be purchased for only 99¢ each. Read below for the many free and pay-as-you-go features:

Free Feature - Daily Horoscopes
* Read accurate & insightful personalized horoscopes every day.
* Unlike most horoscopes, ours are generated specifically for your unique birth chart.
* Provides the most accurate reading possible using the current day's transits.

Free Feature - Calculation of Sun, Moon and Rising Sign
* Allows you to enter and save your profiles with pictures for friends & family.
* Sun sign as well as Moon and Rising sign information and daily horoscope is always free.
* Includes detailed descriptions as well of the house position for Sun and Moon in your chart.

** Free Feature - Current Astrology **
* Up to the minute chart of the current astrology is a finger tap away.
* Using your phone's GPS, the app can optionally center the chart on your current position.
* Moon phases and upcoming Mercury retrograde periods are placed on the home screen for easy reference.

Birth Charts
* Create colorful and meaningful chart graphic plus analysis, for just 99¢ each.
* These are professional level charts, with insightful interpretations of each feature.
* Gives access to more than 25 pages of text on natal planets in signs and houses, plus aspects.
* Instantly share your charts with friends via email or Twitter.
* Unlimited Birth Charts feature is only $9.99 - create and view as many charts as you like.

Acclaimed Interpretations
* Includes hundreds of paragraphs for every planetary position & aspect, including Chiron.
* Uses the same acclaimed readings that you know and love from our desktop software.
* The only app available that provides such penetrating accuracy.

Compare with Friends
* Compare the charts between two people with a compatibility meter, comparison bi-wheel and aspect list for just 99¢ or $9.99 for unlimited access.
* Our new Compatibility Meter helps you discover potentials in romance, money, communication and more.
* Discover the unique chemistry between any two people with insightful interpretations.

Transits
* Your birth chart compared to current transits in a bi-wheel for just 99¢ each, or $9.99 for unlimited access to transit charts.
* Provides date ranges for each transit so you can find windows of opportunity.
* Enjoy complete interpretations for transiting planet positions & aspects.
* Optionally include parallel and contra-parallel aspects to natal positions.

Progressions
* Compare your birth chart to the current progressions in a bi-wheel for just 99¢ each.
* Unlimited pass for progressed charts or Solar Arc progressions is $9.99 each.
* Enjoy complete interpretations for progressed planet positions & aspects.

Glossary
* In-depth glossary of zodiac signs, planetary bodies, moon phases and other astrological terms.

Many More Features
* Aspects are organized from strongest to weakest so you can prioritize your reading time.
* Review previous transit data associated with each chart.
* Categorize your charts into friends, family, events, and more.
* At a glance, see how close each aspect is, in terms of degrees.
* And much more!

Reviews
"A great way to learn about astrology and the effect of the planets on our personal lives."
- beliefnet.com

"This is a dynamo of an app. It's packed and comprehensive. It works really hard for you and makes your smart phone even smarter." - Dorothy Oja, Professional Astrologer
What's New in Version 1.94
Sunrise Chart switch not working in some cases, now resolved.
Other minor bug fixes.
iPhone Screenshots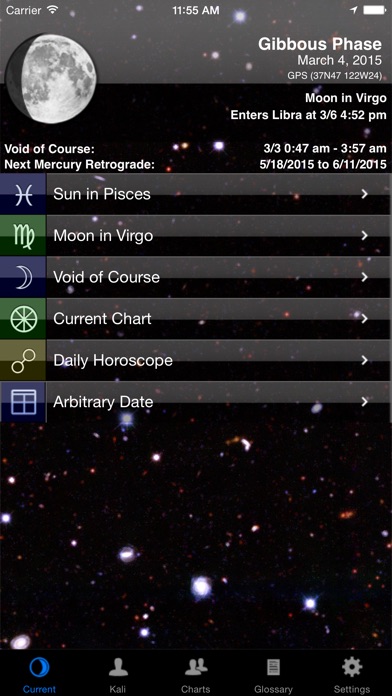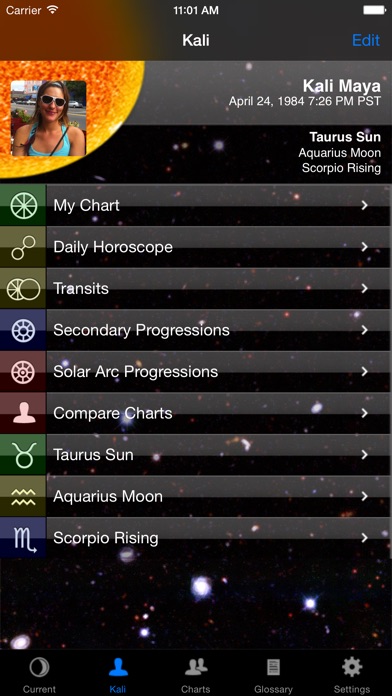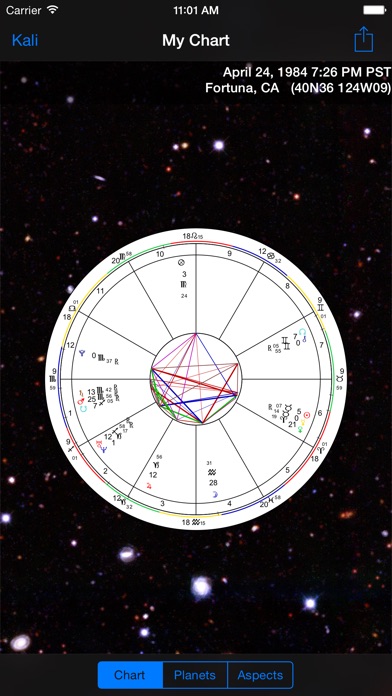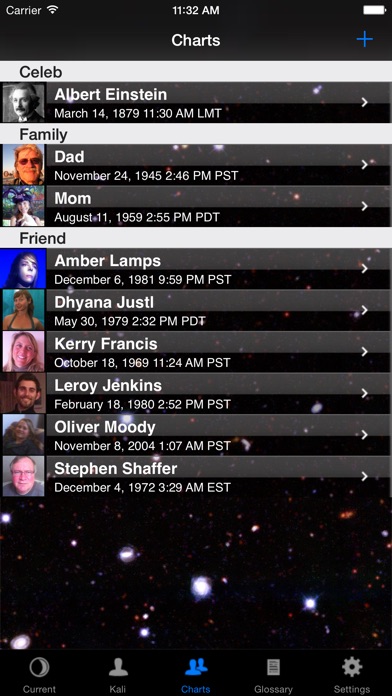 Customer Reviews
Best Astrology App Out There!!!
I absolutely love this app! It is my go to app every single day! The charts are so detailed and they offer the best explanations of any astrology app I have used yet - and they are often dead on when it come to the predictions of the energies and planetary patterns and aspects in day to day life.

I would definitely recommend this app to anyone interested in astrology - from the very beginner to the advanced - even those charging for chart readings! I look forward to further exploring their program for PC/Mac.
A few issues.
I downloaded this app a few months ago. I haven't used it on much of a regular basis because the free version is kind of limiting. Not to mention I tried to use an in app purchase to unlock another feature and nothing ever happened.
Right now I'm questioning the accuracy of this app. Today, July 20th we've got a full moon in Capricorn, moving into Aquarius on July 22. When I look at the app it tells me tonight's full moon is in Aquarius and it will be moving to pieces on the 22nd. I'm not sure if the pay version is any more or less accurate but I probably wouldn't spend money on it and frankly probably won't keep the free version much longer either.
Wish I had a tablet or larger smartphone....
...cause these colorful charts are hella detailed & can make for some small print when trying to get an overview of the entire chart. Aspect & planet info is tailored to persons already familiar with Astrological chartography, however main themes & characteristics will still resonate with beginners & enthusiasts. App keeps all chart info for reference/comparisons. Purchase any chart you create ala carte (so far $.99/each) or subscribe for unlimited & other perks. Excited to explore more.
View in iTunes
Free

Category:

Lifestyle

Updated:

Nov 24, 2015

Version:

1.94

Size:

144 MB

Language:

English

Seller:

AstroGraph Software
Compatibility: Requires iOS 8.0 or later. Compatible with iPhone, iPad, and iPod touch.
Top In-App Purchases
Natal Chart - single purchase$0.99
Comparison Chart - single purchase$0.99
Transit Chart - single purchase$0.99
Progressed Chart - single purchase$0.99
SA Progressed Chart - single purchase$0.99
Pass for Unlimited Natal Charts$9.99
Pass for Unlimited Comparisons$9.99
Pass for Unlimited Transit Charts$9.99
Unlimited Progressed Biwheel Charts$9.99
Pass for Unlimited Solar Arc Progressions$9.99
More iPhone Apps by AstroGraph Software