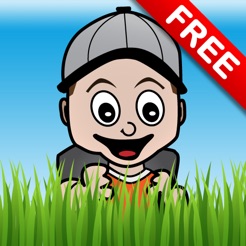 Timmy's Preschool Adventure Free - Connect the dots, Matching, Coloring and other Fun Educational Games for Toddlers
4+
Description
★ ★ ★ ★ ★ Top 5 iPad and Top 20 iPhone Educational Game for the US ★ ★ ★ ★ ★
Help Timmy get to school and have fun developing your child's fundamentals. Created in partnership with a teacher, Timmy's Preschool Adventure focuses on the basic skills for your preschooler: Matching, Patterns, Counting, Numbers, Letters, Colors and more. Win stickers along the way to place in your virtual sticker book. Then once you reach school, participate in the day's activity.

~~~~~~~~~~~~~~~~~~
4 different mini-games to practice basic skills
~~~~~~~~~~~~~~~~~~

• Connect the dots - There's a river to cross and the only way is by connecting the dots to form a way over the water

• Key Match - The fence is locked. Match the right color key to open the lock and get through

• Pattern Bridge - Crossing the river is hard when there are planks missing. Choose the right color plank to fix the bridge.

• Color by Shapes *NEW* - Timmy's hungry. Match the shapes to paint in the picture and reveal the fruit he needs to give him energy to finish his walk to school.



~~~~~~~~~~~~~~~~~~
A fun school activity to help enrich your child's creativity
~~~~~~~~~~~~~~~~~~

• Coloring - use crayons to color in the drawings, or get a blank piece of paper and have fun creating your own masterpiece



~~~~~~~~~~~~~~~~~~~
What is the game like? What can I expect?
~~~~~~~~~~~~~~~~~~~

- The game starts outside Timmy's house. Tap on the School sign when you're ready to start.

- Timmy will need to complete 3 mini-games on his way to school.

- At the end of each mini-game, you'll win a special sticker for that level. You can place the sticker anywhere you like on your sticker sheet before going to the next game. There's 9 stickers to win!

- Once Timmy reaches the school, he'll walk right in and start coloring. Choose your crayon colors, the paper you want to use and get going!

~~~~~~~~~~~~~~~~~~~~~
Do you have feedback?
~~~~~~~~~~~~~~~~~~~~~
We love seeing your reviews, but if you have a complaint or feature request, please let us know directly. There's no way for us to write you back if you leave a review. We want to make our games better, what you think is really important to us.

Facebook - http://facebook.com/TantrumApps
Twitter - http://twitter.com/TantrumApps
Direct - http://TantrumApps.com/contact
Fixed a bug which was causing a crash on pre-iOS4 devices
Ratings and Reviews
Love it
My sister loves it but this is all for games that teaches you stuff you should not have to pay to get apps it's not like it's a day care u should not have to pay I would love to get full versions of apps but my parents HATE PAYING for apps you should get it free you need to learn that stuff for a life time if people stop paying all the children will not know anything so I say you don't have to pay for full versions because my little sister is so sad that she can not play the rest of the game and it says get the full version the kids push it goes to the app store they can get a ton of games but that I think the is so cool even I like sometimes playing it I would give you guys 5 stars if we don't have to pay for the full versions
Thank you very much
Aminah
Fantastic and differentiated game.
Most games are too simplistic in nature. This one uses spatial and pattern recognition that I have yet to find for my 3 year old. These are things that are important for brain development but are not generally present in games yet.
Terrible app.
Free version does not have true defined purpose or learning tool. You touch objects and they go into a "bank" I assume in the character's backpack. I am really uncertain of its purpose. 1st task was to trace a letter. 2nd task was to chose the proper color in a sequence. Then character walked to a school where player could color 3 small pictures. That was all for free version. Not much app without purchasing full version. I deleted it.
Information
Seller

Lawrence Ingraham

Size

9.9 MB

Category

Compatibility

Requires iOS 3.1 or later. Compatible with iPhone, iPad, and iPod touch.

Age Rating

Rated 4+

Copyright

© Tantrum Apps

Price

Free
Supports
Family Sharing

With Family Sharing set up, up to six family members can use this app.