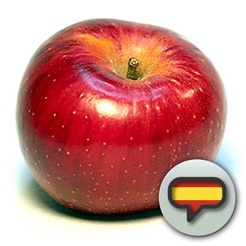 Toddler Spanish: Hola, Hola!
4+
Description
¡Hola, Hola!



From the developers of the best selling Toddler Tapping Zoo now comes, Toddler Spanish. This app helps toddlers learn basic Spanish words in a fun and entertaining manner; but more importantly, it helps toddlers become familiar with basic Spanish sounds.



Languages are made up of a short basic sounds (called phonemes). We have carefully selected objects making sure that each and every distinct sound in the Spanish language is represented in familiar words and objects.



With this carefully crafted app, your child's little ears and tongue will get accustomed to Spanish sounds, making it easier for them to learn the language formally latter on.



Studies all over the world show that language skills are established early in life, given the amazing learning abilities young children have. Later on, as we all know, it's so much harder!



In this app your little one will find:

- entertaining and eye-catching images

- Spanish words' sounds for common objects easily applied in everyday life activities (see list below)

- words spoken by a friendly native speaker

- a manageable list of words crafted for toddlers with limited attention span and a great love for repetition

- easy navigation through arrows and intuitive finger slide for them to be in control

- easy activation



Suggestion on how to use this app: Help your child identify and match the objects with ones you may have at your house. Encourage them to say them out loud, and later on, try to include Spanish words into their daily routine a few words at a time.



Ball - pelota

Teddy bear - osito

Tricycle - triciclo

Balloon - globo

Train - tren

House - casa

Shoes - zapatos

Guitar - guitarra

Book - libro

Dog - perro

Cat - gato

Rabbit - conejo

Butterfly - mariposa

Cloud - nube

Flower - flor

Milk - leche

Apple - manzana

Orange - naranja

Cookie - galleta

Egg - huevo

Spoon - cuchara

Plate - plato

Bicycle - bicicleta

and 5 more!



If you child likes 'wheels on the bus' or toddler flashcards, he/she will love our app!



--

Tipitap Apps provides interactive fun for babies and toddlers. Your little ones will expand their horizons through eye-catching images and amusing sounds. They learn to distinguish sounds, associate sounds and images and fine tune their motor skills. Enjoy Tipitaps together while you spend quality time or use them in an "emergency" to keep them happy in a restaurant or check-out line.



For more information or to share your experience: www.tipitap.com



Or contact us by email at: hello@tipitap.com



--

Check out our other apps:



Toddler Learning Colors with Chuck

Toddler Tapping Zoo

Toddler Counting Kittens! 1 to 100

Toddler Car, Ship & Rocket: Sights & Sounds

Kid's Art Puzzle: Sliding Slices

Toddler Music JukeBox



And many more on the way!





Tipitap

Learning fun. Fun learning.
More objects!

New catalog.

Improved stability.
Ratings and Reviews
ipad users beware
installs upside down and doesn't adjust with movement.
Mexican American children need this.
As a Mexican mother of 3 (oldest is 6) I am convinced that children assimilate too quickly into the English culture and forget Spanish (my hubby is American). It is so important that they be exposed to all the basic Spanish sounds at this age -- a full language immersion until they hit school. What better way to do it than through technology that they love so much. We all enjoyed to play with this app..we pass it around and repeat the words. :-)
Professional grade Spanish
Can you pronounce "Galleta" with a perfect Spanish pronounciation? It's hard! No wonder why we gringos sound so clumsy when speaking Spanish. No real training... I am so happy my daughter is getting used to a second language this early in life. The pictures are lovely and the sound is perfect. The voice-over talent articulates and enunciates the words just right. Worth the $0.99 every single day! Thank you!
Information
Seller

Tipitap Inc.

Size

2.1 MB

Category

Compatibility

Requires iOS 3.0 or later. Compatible with iPhone, iPad, and iPod touch.

Age Rating

Rated 4+

Copyright

© 2010 Tipitap

Price

$0.99
Supports
Family Sharing

With Family Sharing set up, up to six family members can use this app.