Top Girl
By Crowdstar Inc
Open iTunes to buy and download apps.
Description
Are you addicted to shopping? Do you dream of being a supermodel? Love to date guys?

Become the TOP GIRL!

Do gigs, shop, dress, go clubbing, and flirt with HOT guys! Create FABULOUS outfits and have fun with your new boyfriend. Kiss him, buy him gifts, and go on exciting dates! Capture and save photos of all your special moments together!

Features:
- GET THE PERFECT LOOK with 600+ unique shoes, purses, accessories & clothes!
- FLIRT WITH & DATE 250+ hot guys of your choice!
- STRUT YOUR STUFF and kick off a blazing hot modeling career!
- GO OUT & PARTY at over 20 fabulous parties and clubs!
- JET SET from LA to NYC to VEGAS!

***VIVA LAS VEGAS!
Explore the city that never sleeps! Splurge on luxury fashions in exclusive new stores and invite your friends to join using Facebook Connect!

iOS 5 NOTE: If you upgrade your device to iOS 5, please choose to back-up your app data. If you do not, all of your progress in Top Girl will be lost.
__________________________________________

Notes:
-Requires iOS 4.0+
-Compatible with iPhone 3GS, iPhone 4, iPod Touch 3rd and 4th Generations, iPad 1 and 2
-3G or Wi-Fi access is required for In-App Purchasing
-To vote for friends on the runway, log into Game Center and make sure you have 3G or Wi-Fi access
-This game can be played offline (In-App Purchasing not available)
__________________________________________

Payments FAQ:

Does Top Girl allow in-game payments?
Top Girl is a free-to-play game, but like many games in the App Store, there is the option of purchasing in-game items using real money. Turn off in-app purchases on your device if you'd like to disable this feature.
__________________________________________

Addicted to Top Girl? Give us five stars!
Contact Support: topgirl@crowdstar.com
Twitter: @topgirlgame
Facebook: www.facebook.com/topgirlgame
Visit Crowdstar: www.crowdstar.com
__________________________________________
Privacy Policy:
http://www.crowdstar.com/privacy
Terms of Service:
http://www.crowdstar.com/tos
Acceptable Use Policy:
http://www.crowdstar.com/aup
What's New in Version 5.22.00
- Randomly show a new video ads button on the main street for more FREE CASH!
- Fix musics in New York
iPhone Screenshots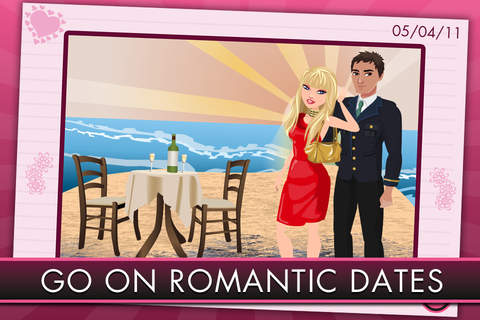 Customer Reviews
It's an awesome game
I love the game but you guys might want to Do an update where you can go way more places meet more hot guys at the club and do updates for more clothes and have more jobs that would make this game more of a success even have an option to get married and also have an option to get a divorce and it would also help if you can make videos where you can earn 1 cash or Maby even 5 cash a video would help a lot for people who can't afford buying the cash its just an idea plus if you add a get married button after dating you get more gifts when married like the dating where you get 3 gifts and you can hit. Divorce button it's just a thought this game is great but can you add more cloths please and more options and more jobs and stuff and this has been driving me nuts okay your suppose to add a friend option or something like when I open the salon it says who you want to customized and it says deism but it says coming soon please this game is great I love it but it needs more updates more stuff and more options please also this drives me nuts too when someone makes a video game and don't finish it it's like why I hate that I can understand if it takes time and money to put the effort into a video game but this game has been out for so long now and no updates have happened I feel like you guys gave up if we're you I continue it as possible and try thanks for reading hope for more updates please
Best app ever.....Sorta?
I wish I could give this a 5 star rating but u can't. The reason I can't is because there are a few flaws to this almost perfect app. So my first complaint is that when you buy cash it doesn't ask for a password so this should not be an app for unsupervised kids. My other complaint is that before I bought cash, I couldn't unlock anything else. There should be an alternative way to get cash besides tasks and real money. I don't care if it means 10,000 coins for 1 cash. I just don't want to be stuck!! And this app has lots of flaws about the energy. The energy takes way too long to refill. 3 minutes for 1 energy at most is good. And energy capacity is pretty small too. Maybe 50 energy would be good.
So after all my rambling on about the bad things, lets get onto the good things.
This app is awesome. The boyfriends are a great part of the app. They give you something to do while you are waiting for stuff. Las Vegas was a huge hit. I love it so much. The runway is kinda iffy. I only ever get like 15 votes and my friends get over 50. But judging is an easy way to make money. Overall, this app is my favorite and i can't wait to see it grow. Take it from me, you won't be disappointed.
It can be good, It can be bad
I'll go with the bad news of this game, first of all, I played this game when I was probably about 5/6/7 (those are my ages) And I got far into it then I stopped. Then when I thought of it magically, I was thinking, Yay!, I'll see a brand new fun game that will be so much fun!! Then I got in the game and everything was the same, No new clothes no new lounges or new worlds same things. The glitches need fixed real bad such as the kicking off game and to where it stops playing then you realize you completely wasted time on this game to level up. And then I really would like to make my players face more pretty with make up and lush lips. I really think in the beginning when you make your character you should be able to have a choice of makeup like in other dress up games and make the clothes in the beginning nicer. And one thing I don't get at all, is when they give out really nice freeking clothes and they give the crappy dresses and shirts and pants, skirts for like 36$. Now for my good news, I love the ideal fact of this game, I love competing against models to get votes. And I love judging. then I love leveling up opening more stores and getting hot outfits to show in the run away. Well that's enough to say hope CrowdStar reads it!
View in iTunes
Free

Category:

Games

Updated:

Apr 22, 2013

Version:

5.22.00

Size:

21.9 MB

Language:

English

Seller:

Crowdstar Inc
Compatibility: Requires iOS 4.3 or later. Compatible with iPhone, iPad, and iPod touch.
Top In-App Purchases
16 Cash$1.99
42 Cash$4.99
320 Coins$1.99
88 Cash$9.99
840 Coins$4.99
230 Cash$24.99
1760 Coins$9.99
1000 Cash$99.99
480 Cash$49.99
20000 Coins$99.99