Topo Maps for iPad
By Phil Endecott
This app is only available on the App Store for iOS devices.
Description
* The iPad is a fantastic map viewer, and Topo Maps for iPad gives it access to over 70,000 USGS and Canadian topographical maps. * Ideal for hiking and other backcountry activities. * Map downloads are FREE! * More than 4 million maps downloaded so far! * Users write:

" I've bought all the topo map apps and I like this the best "

" Scans are gorgeous ... the interface is exceptionally clean "

" Downloading maps is easy and fast ... Map displays beautifully and zooms flawlessly "

* Includes Alaska (at 1:24,000 and 1:63,360) and Canada (at 1:50,000), plus Hawaii, Puerto Rico and the U.S. Virgin Islands.

* Locate the maps you need on the satellite view. To install a map, touch for about half a second. Touch again to view it.

* Search by name for over a million towns, peaks, lakes, parks and other features.

* No network connection is needed once the maps have been installed.

* Mark waypoints, and import and export waypoint files in GPX, KML and CSV formats.

* Touch the "current location" button to see where you are, and the compass button to align the map with the ground.

* See coordinates in NAD27 or WGS84 degrees, degrees minutes and seconds, UTM, or MGRS formats.

* Measure distances (miles, feet and km) and bearings (true and magnetic).

Coverage: this app makes available more than 70,000 maps covering the United States, including Alaska, Hawaii, Puerto Rico and the U.S. Virgin Islands, and Canada.

The Maps: This app uses high-quality scans of the traditional USGS and NRCan topographic maps which have been the definitive resource for hikers and other backcountry users for many years. You can make the terrain stand out with hill shading, using simulated sunlight from the direction of your choice. This app does not use the new "US Topo" maps because they do not show hiking trails and lack other details: please see the web site for more details.

Downloading: US maps are around 8 MB in size and download in a few seconds on a typical home broadband connection. Canadian maps are larger. Both cellular data and WiFi can be used, though WiFi is likely to be more reliable in most cases.

- Do please visit http://topomapsapp.com/ for complete instructions, so that you don't miss any features.

We have many ideas for additional features to add to future versions of this app; if you have ideas or other questions or comments, contact details can be found on the website, http://topomapsapp.com/. The website also has more screenshots and other information.
What's New in Version 1.16
This is a minor update for improved compatibility with newer iOS versions and iPad hardware.
Unfortunately support for some older hardware, including the original iPad, is now lost.
iPad Screenshots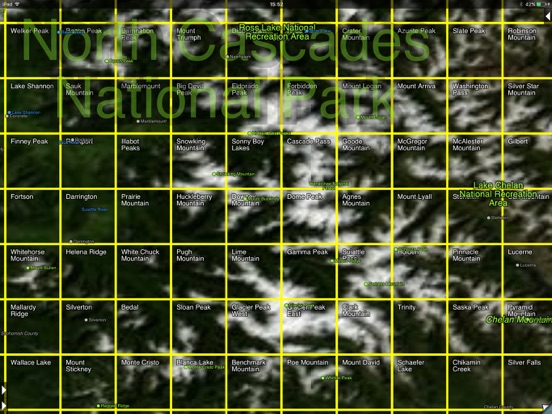 Customer Reviews
Excellent App
This app combined with a bluetooth Bad Elf GPS Pro works perfect on my wireless only iPad. An always on option would be helpful because it currently requires the user to go to settings and change the Apple display auto-lock setting to never, which I seem to forget to do before I open this app, then of course you have to remember to change the setting back once you stop using the app. All in all though this app is highly recommended for back-country driving in areas with no cellular/wifi service, as long as you have a GPS and have already downloaded your topo maps or offline maps. I use the same app on my phone as my primary backup (and hard copy maps as a second back-up). I do use Avenza Maps too as it offers more map options, especially for kayaking but my primary back-country vehicle navigation app is this one.
Best map app ever!
If you ever liked playing with topo maps, this app is a must! GREAT features allow you to measure distance and compass heading between points. Awesome feature allows you to see the view-shed from any point - fantastic for real estate analysis. I bought my mountain property based on this app. Perfect balance between government provided maps and beautiful 3rd party software that makes this one of my all time favorite apps!
Fantastic App
I have been using this app on both an iPhone 4 and iPad for over a year now. I have downloaded about 4000 topo maps, 16 gigs worth. I use it when exploring huge areas on my ATV here in Idaho. Plus I downloaded 25 maps for a hog hunt in California and another 50 or so for a fishing trip to Oregon. If I read about a place that sounds like I might want to explore it I download the relevant maps and check it out. I have retired my Garmins. This app has better maps and is easier to use with better displays. It is also extremely accurate and fast. To cover a single 20 mile loop could take over 50 paper maps. No problem with this app.

I use the zoom in and out feature constantly as well as the waypoint and search feature. I also use the map elevation to calibrate my Garmin GPS wrist watch frequently. I use the distance ruler occasionally as well as different units capability (UTM and Lat/Long). I rarely use the other features. I usually just want to see the blue dot where I am standing and the names of the surrounding features and the waypoint marking camp.

My only caveats are: some of the underlying maps are outdated - obviously not the fault of the app. Moving waypoint files between devices is a pain. And downloading a maximum of 20 maps at a time is a minor inconvenience. The program occasionally hangs when I launch it. I haven't figured out if this is a communication problem with the Apple GPS code or a bug it the app. A force abort of the app and a relaunch fixes it so it is a minor annoyance.

All in all this is in my top three most used and enjoyed app. If you have a GPS equipped Apple device and spend time outdoors, especially off the beaten track, this app is spectacular.

Update: Dec 2017

I continue to use this app extensively and love it. Over the years the app has been improved in important ways. For example I just upgraded to iPhoneX from my old iPhone6. Apples iTunes save/restore failed to work properly. Fortunately I had backed up my extensive waypoint files using that feature of this app. I had to manually reload all the topo Maps into the iPhoneX, but was able to reload all the waypoints from the back up file effortlessly. This is really great real world functional app.
View in iTunes
$7.99

Category:

Navigation

Updated:

May 17, 2017

Version:

1.16

Size:

119 MB

Language:

English

Seller:

Philip Endecott
Compatibility: Requires iOS 8.0 or later. Compatible with iPad.
More iPad Apps by Phil Endecott