Topo Maps
By Phil Endecott
Open iTunes to buy and download apps.
Description
* View over 70,000 USGS and Canadian topographical maps on your iPhone or iPod touch. * Ideal for hiking and other backcountry activities. * Map downloads are FREE! * More than 4 million maps downloaded so far!

- iPad owners, please see the app "Topo Maps for iPad".

* Users write:

" I've bought all the topo map apps and I like this the best "

" Scans are gorgeous ... the interface is exceptionally clean "

" Downloading maps is easy and fast ... Map displays beautifully and zooms flawlessly "

* Includes Alaska (at 1:24,000 and 1:63,360) and Canada (at 1:50,000), plus Hawaii, Puerto Rico and the U.S. Virgin Islands.

* Locate the maps you need on the satellite view. To install a map, touch for about half a second. Touch again to view it.

* Search by name for over a million towns, peaks, lakes, parks and other features.

* No network connection is needed once the maps have been installed.

* Mark waypoints, and import and export waypoint files in GPX, KML and CSV formats.

* Touch the "current location" button to see where you are, and the compass button to align the map with the ground.

* See coordinates in NAD27 or WGS84 degrees, degrees minutes and seconds, UTM, or MGRS formats.

* Measure distances (miles, feet and km) and bearings (true and magnetic).

Coverage: this app makes available more than 70,000 maps covering the United States, including Alaska, Hawaii, Puerto Rico and the U.S. Virgin Islands, and Canada.

The Maps: This app uses high-quality scans of the traditional USGS and NRCan topographic maps which have been the definitive resource for hikers and other backcountry users for many years. You can make the terrain stand out with hill shading, using simulated sunlight from the direction of your choice. This app does not use the new "US Topo" maps because they do not show hiking trails and lack other details: please see the web site for more details.

Downloading: US maps are around 8 MB in size and download in a few seconds on a typical home broadband connection. Canadian maps are larger. Both cellular data and WiFi can be used, though WiFi is likely to be more reliable in most cases.

- Do please visit http://topomapsapp.com/ for complete instructions, so that you don't miss any features.

We have many ideas for additional features to add to future versions of this app; if you have ideas or other questions or comments, contact details can be found on the website, http://topomapsapp.com/. The website also has more screenshots and other information.
What's New in Version 1.15
This is a further update for improved iOS 8 compatibility.
iPhone Screenshot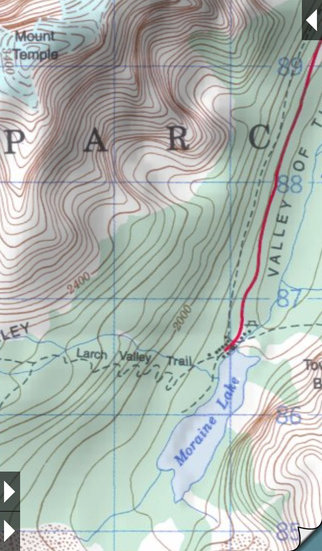 Customer Reviews
Extremely useful app
I've used this app for backpacking in the Yosemite back country, on and off trail, for 4 years, plus day hiking in many other areas, and I have found it extremely useful. The maps can be downloaded and used as part of the pre-trip planning, and icons placed on the intended route and for identifying features you might be interested in. Since I am off-trail much of the time, this was useful. The maps are stored on the device, so no WiFi or internet connection is needed. The GPS feature also is quite useful, and accurate as well. The button has 2 settings. If you tap it, it will find you and lock to that location on the map, but if you tap the button once, it allows you to move the map around, but the unique locator icon remains on your location. If you tap it again, it turns the GPS locator off. Unfortunately, one reviewer wasn't aware of this feature and gave the app a bad review. It uses official U.S. Geologic Survey 7.5 minute topographical maps with 40 foot contour intervals. I mention this because one reviewer gave it a bad review because they weren't "topo maps!" Unfortunately, the USGS doesn't update them anymore, and while the terrain may not change much, towns and roads do. For the backpacking I do, on and off trail, this has never been a problem. For me, it's an excellent and very useful app.
Phenomenal !!!!
To those who say that the map data is a old, you have to understand that this app uses USGS data maps, and is only as current as those maps, it is a fantastic app. There is an easy workaround for maps that Havel data, once you open the topple map, it will let you convert that map to satellite based terrain, or Google maps, orOpenStreetMap. So like anyone ought to, before you head into the backcountry you should always check your maps against current data, this app gives you all the tools to do just that. The ability to "stitch" maps together is a great asset. No more do you get to the edge of one map and have to find your location on the next one, just stitch the next map to your map and the data flows seamlessly. Download times on Wi-Fi are only a few seconds per map. It will even "shade" the maps which turns them into a visual terrain identifying tool. I'm taking this tool into a nine day trip in the Allagash in Maine in September. I will report more on how well it works afterwards. Get this app, learn to use it, you will not be disappointed.
Excellent app for hikers and backpackers
I just returned from a backpacking trip and used this app to assist with navigation and trail finding. The ability to download the topo maps for free from within the app is huge!! The GPS function is great and works in airplane mode. We needed 4 maps for this trip and fortunately adjacent maps can be stitched together. Sometimes some of the printing from the margin will still be visible when maps are stitched but that is a relatively minor complaint. Ignore the reviews that complain about the old maps. The reason for using the 1970s maps is the greater detail and more trails, as explained thoroughly in the app details and on the website. The complaints are mostly from people that didn't read the documentation and probably don't know how to use topo maps anyway. This app is highly recommended
View In iTunes
$7.99

Category:

Navigation

Updated:

Oct 31, 2014

Version:

1.15

Size:

69.6 MB

Language:

English

Seller:

Philip Endecott
Compatibility: Requires iOS 5.0 or later. Compatible with iPhone, iPad, and iPod touch. This app is optimized for iPhone 5.
More iPhone Apps by Phil Endecott