Tower of Fortune
By Game Stew
This app is only available on the App Store for iOS devices.
Description
===== Tower of Fortune is being chosen one of the "Best iPhone and iPad Games of 2012: Arcade" by Toucharcade =====

People say
- A surprise gem of RPG - by Missattha
- Excellent Slot/RPG game with unique art and addicting gameplay - by BazookaTime
- Fun, Addictive and stylish - by Anne Packrat
- Classic retro game - by Shaolean
- Terrific RPG hybrid - by Retr0spective
- Amazingly addictive - by Won'tgetfooledagainson
- Old school with a twist - by Ricepirate Mick Lauer
- I'm hooked - by Monster Party
- Deeply engrossing game - by David Magallon
- Highly enjoyable - by Pyong

Review
- A Reel Good Time For RPG Fans - by Toucharcade, 4/5
- ... it's a hard game to put down once you've mastered its secrets - by AppSpy, 4/5
- ... it's just really freaking addicting and clever - by 148Apps, 4/5

Appstore Customer Ratings
Average rating for all versions: 4.5/5

-----------------------------------------------------------
Tower of Fortune is a retro-style slot machine/RPG. You play as a retired hero and lived with daughter peacefully. Until one day, an unknown power from the mystic tower took her away. This force the hero to draw the sword again and fight for his daughter.

Features
- One button gameplay, easy to learn and no tutorial needed
- Retro pixel graphics and funny animation
- RPG mechanics such as combat, powerful equipment from defeated boss, level up and skill upgrade system, hero transform and much more...
- 4 slot machine game: Combat in the tower, Treasure in the chest, Fight the scum family, and Rest in the tavern
- Customize your camp with various options such as dungeon scene, cauldron and mystic mascot
- 39 kind of enemies want to stop you to find the truth
- 37 powerful equipment from the ancient god to collect
- 39 random combat quest and 12 random tavern quest to challenge
- 3 different game ending to discover
- Endless spin and fun!

-----------------------------------------------------------
Facebook
http://www.facebook.com/TowerofFortune

Gameplay Movie
http://youtu.be/eFcrbURiJrI
What's New in Version 2.0.2
- iOS 11 compatibility improvement.
- Add new game info.
iPhone Screenshots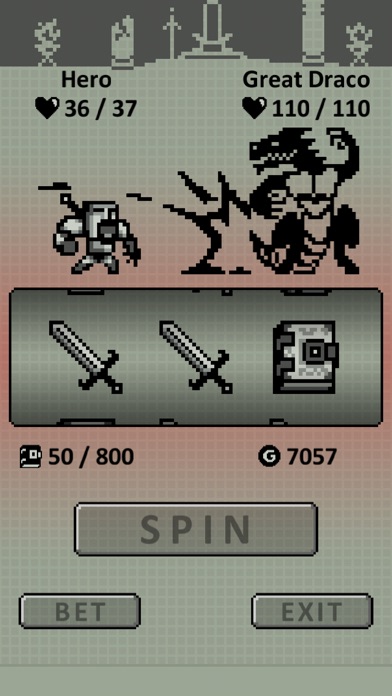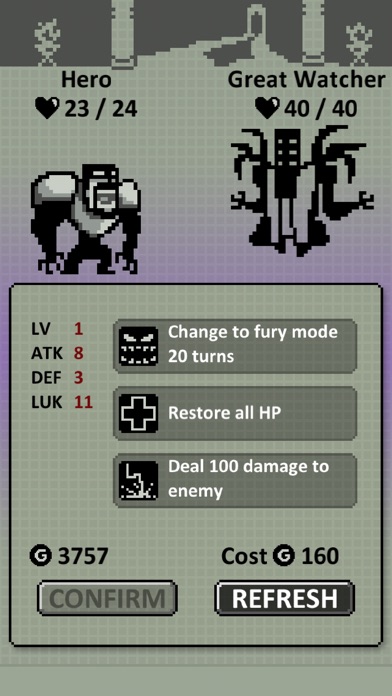 Customer Reviews
Not bad, good on the go or on the toilet
I'm currently lvl 96 on ToF but and bosses at this point just not do-able. All the bosses have one-hits, high stun chances, or reflect full damage back?!!?!! Like what the point in DEF it does seem to do much and it doesn't help that the lowest stats you get in the beginning. LUK does double damage but it caps at 60 but it doesn't seem to do much. My problem is the lag of weapon choices at certain point (FLAME SWORD all day) and DEF just doesn't seem to protect as much. LvL up isn't that rewarding less these ( +1 AllStats, +Match2, +Match3, +MaxHp) and these are in order of best to least. Individual Stats are ( +DEF, +ATK). LUK doesn't even matter but to easily assessable so lvling that is waste of time. At this point investing in high hp stack would be great to help avoid against being 1-shot.
Really?
I'm amazed that anyone would find this 'game' fun. It's a soup sandwich. And that's putting it kindly. Perhaps those that have rated it so highly, and are enthralled by its simplistic and repetitive play, are the same million monkeys on the internet that are tap-tap-tapping out the grandiose works to match Shakespeare? Whatever the case, Tower of Fortune is dull, tedious, and a rip-off. I got it for free, and I want my finite time returned that I spent laboring over its odiousness.
not bad but lil bit monoton
nice idea but a lil bit improvement in gameplay would be great
View in iTunes
Free

Category:

Games

Updated:

Oct 02, 2017

Version:

2.0.2

Size:

13.3 MB

Language:

English

Seller:

GUAN LING WU
Compatibility: Requires iOS 6.0 or later. Compatible with iPhone, iPad, and iPod touch.
Top In-App Purchases
10000G$4.99
3000G$1.99
30000G$9.99
1000G$0.99
60000G$14.99