TranscriptPad - Review and Annotate Transcripts
By Saurian
Open iTunes to buy and download apps.
Description
Read and review legal transcripts more efficiently than ever before with TranscriptPad. TranscriptPad has set the bar for the best in transcript review, and is the number one rated transcript review tool on the App Store. Highlight, underline, flag, add notes, and create issue codes. Then, put all your work into a report to share now, or save for later. TranscriptPad puts powerful, easy to use transcript software in your hands for efficient review, anytime, anywhere.

TranscriptPad users agree that it is a unique and invaluable transcript review tool. At last, powerful software can be had without a large investment, and it's also easy to use! With all the powerful transcript review features you wish you could get from desktop software, TranscriptPad has made transcript review simpler, faster and better.

Beyond reading and annotating, TranscriptPad allows transcript digestion and collaboration, including the creation and assigning of issue codes, and a powerful search tool. And, you can carry and reference hundreds of transcripts right from your iPad.

Some of the powerful features TranscriptPad offers:

Full Text Search – As you review, you can search for key words through hundreds of transcripts in mere seconds. All results appear in context, and are easy to navigate and organize. You can easily create an issue code and generate a report from your search results.

Issue Codes – Creating issue codes is fast and easy in TranscriptPad. Your custom issue codes can be applied to a single transcript or used across an entire case.

Exhibits – Exhibits are easily stored and accessed in TranscriptPad so that you can review them without losing your page or your thought process.

Organization – When TranscriptPad imports your transcripts it automatically folders and organizes according to deponent name and date, making it easy to locate a transcript. You can still create your own custom folders and organize them by issue or witness.

TranscriptPad is simply the best transcript review tool available. Read hands-free, flag or create color-coded designations based on user generated issue codes, then generate reports to email or print.

• Carry all your transcripts in one app.
• Search across an entire case, one witness, or a single deposition.
• Easily view exhibits as you read the transcript without losing your place.
• Create a designation and assign an issue code in three simple "taps".
• Create unlimited color-coded issue codes.
• Flag and add notes to important sections.
• Highlight and underline key testimony.
• Print or email detailed or summary reports in PDF, TXT, or Excel formats.
• Send a marked up transcript or entire case to an associate or expert for second-pass review.

No subscription fees, no registration required, no hosted service to pay for. No per seat or storage charges. No more weekends handcuffed to your computer, or juggling mountains of paper in a cramped airline seat.

Created by the legal professionals that brought you the amazing TrialPad for iPad.

INFORMATION ABOUT FILE TYPES:
The universally accepted file format for transcripts created by court reporters/stenographers is an ASCII file which is delivered in TXT format. Transcripts MUST be in TXT format to work in TranscriptPad (exhibits can be in PDF format).

INTERACT WITH US
Website: www.litsoftware.com
Email: support@litsoftware.com
LinkedIn User Group: http://linkd.in/litsoftware
Twitter: @LitSoftwareApps

Designed, coded, and supported in the United States.
What's New in Version 2.2.1
• iPad Pro resolution support.
• New User Guide embedded as PDF file that you can email or print.
• Addressed Transporter connectivity issue.
• Many other minor new features, improvements, and fixes.
iPad Screenshots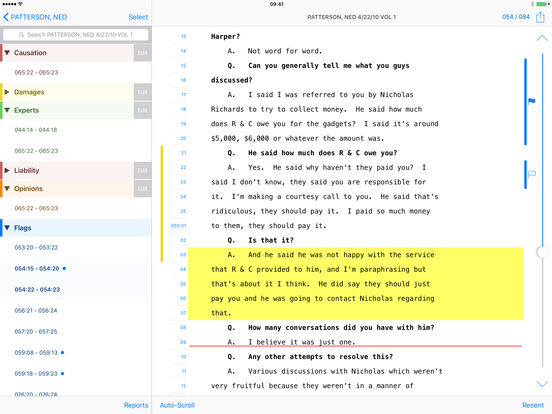 Customer Reviews
Needs more syncing options
This entire software bundle is great but until the software offers an option to sync with a real time server-based office, it's not of use to me. I use ShareSync which updates in real time. Dropbox does not sync to a server. So every time my file changes I have to move it back to Dropbox and then wonder if I've lost anything. I own this and TrialPad and I won't purchase the updated versions unless this company adds a link to ShareSync,which is a great piece of software for paperless Attorney's and attorneys who want real time file access without having to carry a huge file with them everywhere they go.
Revolutionized Transcript Review and Digesting
Transcript digesting is a crucial part of my trial prep process. It was difficult to prepare the digests when we just worked with paper transcripts, desktop/laptop software made it better, but with TranscriptPad you have the read-anywhere flexibility of a paper transcript, with the convenience and power of digital digesting and reporting tools. This is professional grade software for your iPad and it offers tremendous value for a very reasonable price.
Wonderful for its main purpose, frustrating at the margins
This application is wonderful for its core purpose, reviewing and summarizing transcripts. It is so good at these functions that I feel as though it should receive six stars, with one star subtracted for the extremely frustrating interface problems at the margins.

The application can be as simple or (almost) as complicated as necessary or desirable.

It allows me to review transcripts by highlighting, underlining, flagging, and tagging with issue codes depending upon the substance of the excerptor the purpose for which I will use it. So, my transcripts can be organized at several levels. Reports for each can be generated for each method of organizing the transcript.

Or, I can just underline excerpts without regard to any other way of sorting them to keep it simple.

The problem is with this application or at the margins. Getting to the task of reviewing transcript is frustrating.

This application appears to have been developed very early in the development of the iPad and the iOS environment. It does not appear to have been updatedto take advantage of the general progress in the iOS environment in two ways.

First, the way in which files are organized within the application does not feel intuitive. To begin reviewing a transcript requires a lot more steps and actions in nonintuitive ways than most other applications. At certain points, I have been positively mystified about how to call up the transcript to review. I can figure it out, but only by touching portions of the screen, almost randomly. That being said, once I actually have the transcript in front of me, the application is a joy to use.

Second, it does not take advantage of iCloud or other cloud services that are now ubiquitous, but were rather novel in the first few years of the iPad's existence. The work I do on a transcript is confined to a particular iOS device. For idiots like me who have spent way too much money on way too many iPads, that can be a slight annoyance.
View in iTunes
$89.99

Category:

Business

Updated:

Mar 14, 2016

Version:

2.2.1

Size:

44.1 MB

Language:

English

Seller:

Saurian Communications, Inc.
Compatibility: Requires iOS 9.1 or later. Compatible with iPad.