Trello - Organize Anything
By Fog Creek Software
Open iTunes to buy and download apps.
Description
Organize anything, together.

Whether you're managing a team of freelancers, writing an epic screenplay, or just making a list of stuff, Trello makes sure you're organized and on top of it all.

Like a whiteboard with super powers, Trello is simple to use and infinitely flexible. You'll know exactly what needs to get done, who's going to do it, and what's coming up next. Plus, everything you do is synced and saved instantly to the cloud so that all your devices are always up to date.

With Trello, you can create boards to organize anything you're working on. Use them solo — or invite colleagues, friends, and family to work together.

Write your ideas down on Trello cards and arrange them in lists on your boards. Add details to your cards such as

• Checklists to keep track of to-dos;
• Comments to update your co-workers;
• Photos, videos, and PDFs;
• Or just who's working on it currently.

But wait there's more. This app supports the Apple Watch, for instant wrist access to getting things done, in addition to a Today widget for creating cards from your notification center. The app also comes with full support for Apple Handoff, so you can go from creating a board on your phone, to adding cards to it on your tablet, to making checklists on your desktop – without breaking a sweat. One last thing: you can add cards and attach photos from any app that supports it, from the Share pane.

With the Trello app in your pocket, you can make to-do lists while waiting in line at the grocery store, assign tasks to your co-worker while you're on the train home, or upload a photo of that paisley couch from the store — it would look lovely in the living room, wouldn't it?
What's New in Version 3.0
TRELLO iOS 3.0

• Trello on the Watch has been touched up.

• Avatars are now friendly and round, as to be like faces – human, celestial, or otherwise.

• Trello iOS is proud to be available in Spanish, Portuguese, and German. With all these options, we considered removing English. (In the end cooler heads prevailed.)

. . .

TRELLO iOS TOOK FOREIGN-LANGUAGE NIGHT CLASSES.

Trello iOS would drive home from work and then – just like that – it would be out the door again, arms laden with homework and cassettes. Whenever this became tiring, whenever driving through rush hour so many times in one night wore thin on the soul, it would think back to the first day.

The first day: The teacher, who was kind but also horridly boring, was one of those people who believed in ice-breakers. So each app was made to stand and make introductions and say what it hoped to "get out of the experience." It was a very general prompt, designed as to provoke maximum anxiety in each student.

Trello iOS, sitting at the front, spoke first. "Hello everybody. I'm Trello for iOS." It paused, casting for words.

1. Its mother would spend summer nights walking along the Mallorcan coast. She would bring Trello iOS along sometimes, and when she did they held each other's hands while she murmured poetry to keep mosquitoes at bay. At first the buzzing would prompt Trello iOS to tug her hand. An unspoken fear; an ask for the warmth of home. But Mama she would smile, shake her head, and whisper her sonnets. They watched as the mosquitoes flew high into the air to become stars and contrails.

2. Trello iOS spent an afternoon in La Gruta do Lago Azul. At one point it grazed the water, and it gasped. All the cerulean was rushing out of the grotto, leaving the water crystal white, and into its fingers. It happened without time for thought. And when Trello iOS found a sink, despite persistent washing, its hands remained faintly tinged and warm, a marker of this singular theft of color. Years passed; in the end, the hue faded only when the memory did.

3. Think of all the warmth there could be between two people in Dresden, and there were. The two walked past a street vendor that sold squat glass bottles with fat cork stoppers. Following the current of the universe, they tried to buy a bottle for that fleeting moment were in. Some moments are worth fighting for. After rummaging through all his wares, the vendor – a man as tall as his mustache was wide – emerged with only with a frown and an apology. Earlier that morning he had seen such a bottle (he swore it) but it was gone now. They laughed, paid him anyway, and the moment was let go.

Trello iOS thought about a life lived and forgotten and re-remembered, in different places with different languages. Yet the most important pieces had not required any words at all.

The class was waiting still. Trello iOS cleared its throat. It strung together a sentence about hobbies and meeting people and looking forward to reading App Store reviews written in different languages. The class murmured in agreement, and then it was the next student's turn.

. . .

'3.0' is Bororo Proper for 'cognate.' We have attempted to fix an extremely unfortunate bug where the diving bell icon for the notifications menu would periodically become a butterfly. No more butterflies. As always, follow the app on its infrequently updated @steveplustrello Twitter account.
Apple Watch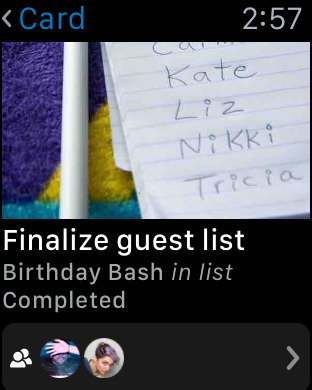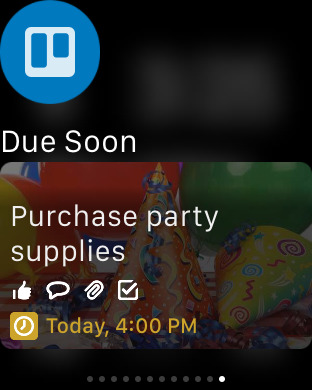 Customer Reviews
Ótimo, gente! Parabéns!!! Trello iOS's adventures in language acquisition
(Oh, screw it. My Portuguese ain't good enough for a whole review.)

I have never laughed so much reading a "What's New" post in the Updates section of the App Store. Ok, so I admit I haven't read very many What's New sections, however I am new to Trello, so I thought I better check it out. I'm glad that I did because it was really funny. I looked at the bottom for the Share This to Facebook button, but it wasn't there. 😏

But back to Trello for iOS, this app is wonderful in any language! (I assume the "any language" part, I've only studied four languages, other than English). As a prescription-taking member of the ADHD world, it's already looking like Trello will be my salvation. It helps me calm and get a grip on the frenetic pace of my thinking, and helps me figure out what I need to do first. It gives me a great place to store some of the fantastic ideas I have every couple of minutes, so that I can stop thinking about them and get back to what I need to do. If any of those fantastic ideas still look good after a couple of days, I can go back and put them on my to do list.

Making lists on paper to help deal with my ADHD never worked very well because I would always lose the paper. Having Trello iOS on my phone is, therefore, life-changing, because I have not yet lost my iPhone and my computer, so my lists are safe.

Bravo, Ragazzi! Bravo!
Trello has made things so much easier to manage
I have been using trello for about four months now and it has made organizing my personal and professional life so much better. Especially the ability to share with those to whom I need to delegate and with my partner. If you integrate it with Sunrise and IFTTT, I can email or text myself something to do and then schedule a due date, delegate to a subordinate, comment on shared tasks, etc. I especially enjoy the update notes when the OS is updated. It would be nice if they could integrate the trello task due dates with the native reminders or another to do list or task app, which is why I give it 4 out of 5 stars. But otherwise I am very happy with the utility and functionality.
Trello is fantastic and so are the release notes
I've been using trello for a long time now to help coordinate a long distance team working on a large project and its been fantastic, and for that alone I'd give them 5 stars. But in all honesty I'm taking the time to write a positive review because whoever does their app release notes should also get 5 stars. So these stars are for you release note person.
View In iTunes
This app is designed for both iPhone and iPad
Offers Apple Watch App for iPhone
Free

Category:

Productivity

Updated:

May 15, 2015

Version:

3.0

Size:

63.0 MB

Apple Watch:

Yes

Languages:

English, German, Portuguese, Spanish

Seller:

Fog Creek Software, Inc.
Compatibility: Requires iOS 8.0 or later. Compatible with iPhone, iPad, and iPod touch. This app is optimized for iPhone 5, iPhone 6, and iPhone 6 Plus.
Top In-App Purchases
One month of Trello Gold$4.99
One Year of Trello Gold$44.99