TrialPad - Organize and Present Evidence
By Saurian
Open iTunes to buy and download apps.
Description
Organize and access all your evidence more efficiently, and present more effectively with the top rated litigation app on the App Store: TrialPad! TrialPad has set the bar for the best in litigation apps, garnering awards for innovation and ease of use. TrialPad has been featured by Apple, and is loved by lawyers.

TrialPad is a full-featured courtroom presentation tool on an iPad. TrialPad makes it easy to callout sections of documents, highlight text, compare documents side-by-side, edit and show video clips, add exhibit stickers to documents, search document text, and much more. Don't spend thousands of dollars on complex desktop software and hardware when you can have an iPad app that's just as powerful, far easier to use, and a fraction of the price.

Watch our videos on Vimeo: https://vimeo.com/litsoftware

(Also check out TranscriptPad, another award-winning iPad app to review, search, issue code, and summarize transcripts; and DocReviewPad, an easy-to-use iPad app to review documents, assign Bates numbers, generate reports, and create production sets.)

TrialPad has been honored with numerous awards, such as "The Best Trial Presentation App" with an A+ TechnoScore by LitigationWorld.

Feedback:
"The short review. Wow."
"TrialPad offers the best parts of a full blown laptop/desktop trial presentation system in a simple-to-use package at a fraction of the cost."
"These are incredibly sophisticated and useful apps that are in many ways more powerful than PC software costing hundreds of dollars more."
"For anybody doing any amount of trial work...TrialPad is a must have application."
"TrialPad is the perfect case organizer and presenter."
"TrialPad is one of the most complete and high tech presentation systems designed for lawyers and it is available right on your iPad."
"...given the attention to detail in the user interface, highlight readability, split screen feature, multi-callout functions, and the rest, [it's] certainly worth the cost of the app."
"What's really important is that TrialPad's maker, Lit Software gets [lawyers]..."
"[TrialPad's video editing] is a killer feature…"
"TrialPad...is the industry leader."

Read published news and reviews here: http://www.litsoftware.com/inthenews/

• QUICK FEATURE SUMMARY •

• Full electronic courtroom presentation capability on an iPad
• Present wirelessly with Apple TV
• Add bookmarks to jump to specific pages
• Make multiple callouts from documents or depositions
• Highlight, annotate, redact, and zoom in on your documents
• All the important tools found in a desktop presentation program, but also easy to use
• Search for documents, or words within documents
• Compare and present documents side-by-side
• Easily add exhibit stickers to documents
• Create reports of all your evidence
• Edit video clips, or take snapshots of frames of surveillance video
• Create Key Docs with saved annotations and callouts
• Have your expert mark up an exhibit and save it as a Key Doc for closing
• Easily create separate case and witness folders
• File formats supported: Adobe Acrobat PDF, JPG, PNG, TIF, Multi-Page TIF, TXT, and all audio and video file formats supported by iPad


• EASILY ORGANIZE AND PRESENT EVIDENCE •

Easily import multiple files at once, keeping your file and folder structure intact, via Box, Dropbox, Citrix ShareFile, WebDAV, or directly connected to your computer using iTunes File Sharing. Also import documents from email, Photos app, or from other iPad apps. Then simply plug-and-play to present at mediation or trial via VGA, HDMI, or wirelessly using Apple TV and AirPlay!

Pre-annotate and organize evidence into witness or issue folders. Add exhibit stickers and mark documents as admitted. Create highlights and annotations on-the-fly, zoom in on important areas, create multiple callouts on-the-fly, or compare two documents side-by-side.

Email: support@litsoftware.com
Twitter: @LitSoftwareApps

Proudly designed, coded, and supported in the United States.
What's New in Version 4.6.1
New in 4.6.1:
• By popular demand, the Bookmark feature has now been added to Key Docs! You can now add a bookmark to any Document or Key Doc page, give the bookmark a custom name, then tap on the name to go directly to that page.
• Stability improvements while importing files into TrialPad.
• Addressed an issue with the Undo button causing a crash after closing a document.
• Addressed an issue that would prevent Snapshots from being shared.
• Addressed an issue creating folders while the Documents list is filtered (e.g. Custom, Admitted, Exhibit #, or a search term).
• Improved how "Show Document Thumbnails" is implemented in the Settings app.
• Addressed an issue in iOS 9 where choosing "Support Website" or "Videos" from the Help menu would cause a crash.
• Improved memory usage while zooming documents, reducing the chance of running out of memory from zooming in too far.
• Many other minor new features, improvements, and fixes.

NOTE: There is a known issue in iOS 10 where loading or rendering PDF files may cause a crash. This issue affects many apps, including TrialPad, and is fixed in Apple's forthcoming iOS 10.2 update. If you are running iOS 10.0 or iOS 10.1 and experience a crash after importing files into TrialPad, turn off "Show Document Thumbnails" under "TrialPad" in the Settings app. This will allow you to identify and remove any imported documents which cause a crash.

New in 4.6.0:
• BOOKMARKS! You can now add a bookmark to any page, give the bookmark a custom name, then tap on the name to go directly to that page.
• Jump To Page! Tap on the Page X of Y button and type in a page number to jump directly to that page.
• Added option in Settings to Remember Document Position so that when you switch between long documents you'll always come back to the same page (defaults to On).
• Addressed an issue where launching the TrialPad from the App Store app would require a force quit.
• New and updated User Guide within the app, and available as a PDF with bookmarks and hyperlinks on our website.
• Many other minor new features, improvements, and fixes.
iPad Screenshots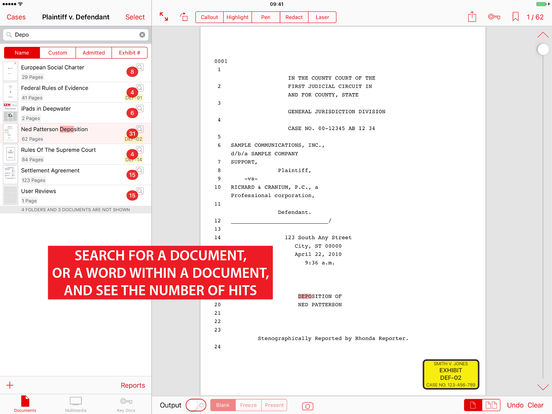 Customer Reviews
4.6.1 Glitched
On the eve of trial and the app is too bugged to use. The best feature is the ability to store, annotate, and screenshot documents. The result is a blacked out document and an unusable visual aid. I've emailed the company and not been acknowledged.

I've loved TrialPad up until now. Unfortunately, I'm not in a business that tolerates unreliable support.
My Secret Weapon
Like many others, I've used this app extensively in depositions as well as TranscriptPad. Last week I finally worked up the courage to rely on TrialPad in trial. The case involved voluminous records (thank you for letting me organize key docs by witness) and numerous audio and video clips ... and given this federal judge's reported dislike of courtroom technology, I needed the presentation of my audio and video evidence to be seamless. TrialPad worked perfectly and I now consider it my secret weapon.
DO NOT BUY THIS VERSION
I have been TrialPad's biggest version for over two years but the latest version has a major bug that makes exported copies of the exhibits unusable (certain pages appear completely black or blank). I planned to use this program in a trial on Monday but when I reached out to the company, I didn't get a response and have had to purchase new products to get me through. I can't express how disappointed I am in TrialPad and the assistance I received from the company.
View in iTunes
$129.99

Category:

Business

Updated:

Dec 13, 2016

Version:

4.6.1

Size:

102 MB

Language:

English

Seller:

Saurian Communications, Inc.
Compatibility: Requires iOS 9.3 or later. Compatible with iPad.