TumbleOn HD - Photo viewer for Tumblr images.
By Pocket Sized Giraffe, LLC
This app is only available on the App Store for iOS devices.
Description
#1 paid Tumblr app on iPad! Top 10 in US Social Networking! TumbleOn is the most popular image viewer for Tumblr. This quick and powerful app makes discovering new content and revisiting your favorite Tumblr photo blogs easy. Happily get lost exploring images in this beautiful, native interface.

TumbleOn is great even if you aren't a regular Tumblr user. We built TumbleOn on top of Tumblr because of the amazing images that are constantly posted by the huge community. With TumbleOn, you can view any Tumblr photo blog, even without a Tumblr account. The app features more than 100 hand-picked photo blogs in the "Staff Picks" section to get you started.

What the press is saying

• "...the app is pretty impressive, and if you've been looking for a way to browse Tumblr's photos, look no further than TumbleOn." - The Next Web, 2012
• "TumbleOn to the best of Tumblr photo blogs! If you are a Tumblr fan, and looking for an app that makes it easy to follow your favorite photo blogs (or find new ones), TumbleOn might be just what you have been looking for." - iPhoneLife Magazine, 2012
• "Sometimes an app just really works without you needing to think about it. TumbleOn is one such tool." - Tap! Magazine, 2012

Explore and discover great photos
• Swipe through high resolution pictures from your favorite blogs.
• Find great photo easily by searching with tags (such as our favorite: #business cat).
• Analyze a blog to discover new blogs to follow.
• Log in to Tumblr to see images from your Tumblr dashboard, likes, followers and all of your blogs.
• Bookmark blogs and tags to quickly find them again within the app.
• Create groups of blogs to view several blogs at once.
• Save time by seeing which posts are new since the last time you viewed a blog.
• View your favorite blog, group or tag in slideshow mode (iPad landscape mode only).

Share your favorite photos, easily
• Share images by reblogging, liking, emailing, or saving them to your device.
• Upload your own great photos from your phone's camera or camera roll.
• Add your own comments and tags to any photo you reblog or post.
• For reblogs and new posts, queue them for later or post immediately.
• Long-press controls from the photo stream allow you to quickly share images.
• Share images with your friends on Facebook and Twitter.

More great features
• View animated GIFs and multi-photo sets.
• View captions for posts in Safari or TumbleOn.
• Multi-account with following and follower support.
• Adjust the photo stream row preferences to customize the experience.
• Configurable HD image setting for slow networks.
• Password lock screen protects your privacy.

*NOTE: TumbleOn ONLY shows pictures from a Tumblr blog, so other media types such as text, html, or video posts are hidden in the image viewer.

*NOTE: To save photos to your device, or upload photos to Tumblr, you must grant photos access to TumbleOn in your device's settings app in IOS6+.

TumbleOn is made by Pocket Sized Giraffe, LLC. Pocket Sized Giraffe is a team of 3 based in Austin, Texas. TumbleOn and Pocket Sized Giraffe are not affiliated with Tumblr (the company, or the service).

This application uses the Tumblr application programming interface but is not endorsed or certified by Tumblr, Inc. All of the Tumblr logos and trademarks displayed on this application are the property of Tumblr, Inc.
What's New in Version 3.6.4
Bug fixes.
iPad Screenshots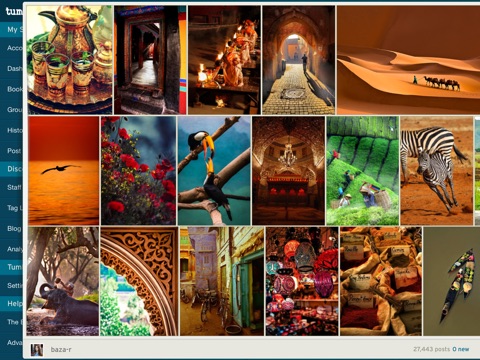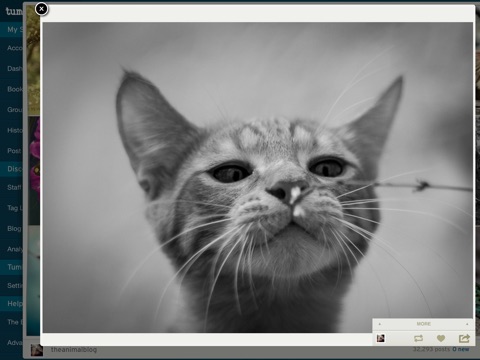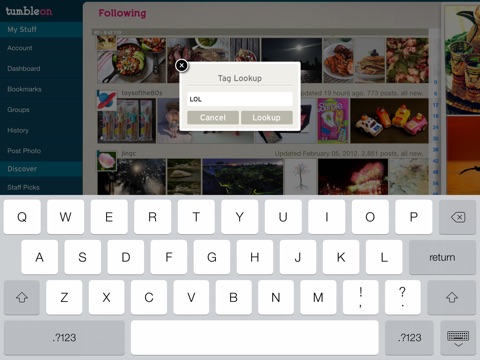 Customer Reviews
What can't I view all of my "Likes"?
I love the app, it's fabulous, makes it easy to view the pictures from my saved blogs. There are only 2 areas that need improvement. 1) It will not allow me to scroll through all of my saved LIKES. After about 30 or so pictures instead of it continuing on in my picture liked list it starts to repeat liked pictures that have already been seen and will not move forward in my list......2) If I leave the app the next time that I go into it instead of it allowing me to view pictures from where I left off it kicks me back to the very beginning and forces me to start over viewing pictures I have already seen. Both of those mentioned situation are very annoying and pretty much makes me just leave the app. Updating those items would greatly improve my picture viewing experience and also compel me to use the app more often.
Deal breaker though...
I love this app and in theory, is exactly what I need...BUT because there is no back button feature it is barely usable. For me at least. It makes me sad because I really do like it a lot but it's such an inconvenience not being able to go back to the page you were on that it outweighs whats good about the app. Especially when I am hopping from blog to blog. Please please please add this feature.

It would also be so amazing if there were more ways to discover new blogs. Also, can you update the list of staff picks because that list is really old. It would be cool if you added new trending blogs on a regular basis. discovering new blogs on tumblr Is half the fun.

Thank you. Love you. Please help. 🤗
Best Tumblr slideshow app
There are a few issues or perhaps wishlist features, i.e. I would love to be able to interact (like/reblog/back) with images during the slideshow or be able to browse the most recent slideshow cache upon "exit slideshow", but except for this app I would retire my last old ipad2.
View in iTunes
$1.99

Category:

Social Networking

Updated:

Jun 30, 2015

Version:

3.6.4

Size:

11.1 MB

Language:

English

Seller:

Pocket Sized Giraffe, LLC
Compatibility: Requires iOS 6.0 or later. Compatible with iPad.