U.S. Postage Stamps--First 100 Years
By Robert Schoenburg
This app is only available on the App Store for iOS devices.
Description
"Stamps – Volume 1" is a database management program for collectors that contains images, pricing and descriptions for all United States postage stamps covering the years 1847 to 1947. This era is generally defined as the "classic period" of American issues.
It was created for the use of collectors of all ages and backgrounds. Hobbyists as well as investors, dealers, and estate managers will find it to be a valuable tool in maintaining accurate information about a collection. Stamp prices have been compiled from a number of reliable sources, including price guides, dealer lists, and auction prices.
There are various means for choosing a stamp so that it may be added to your collection or placed on a Want List. Selecting the proper stamp condition will yield the suggested current market value of that item.
Multiple methods for selecting a stamp are available including the unique "Guided Search" function as well as a special category for Commemorative stamp sets dating from 1893 to 1945.
Note: An Internet connection is not required. All images, values and descriptions are contained in this application.

Features found in "Stamps – Volume 1":
- Add all stamps for a given year and condition at once.
– Creates a list of the stamps you own selected from our database of the first 1000 U.S. stamps, using intuitive, interactive entry screens.
– Determines the value of your stamps based on condition in up to eight collectible grades.
– Creates a Want List of stamps you wish to add to your collection — a handy tool for planning purchases.
– Re-evaluates your prices annually with our updates for the entire database as well as providing a new Grand Total of the value of your personal collection — useful for estate planning and insuring your collection.
– Displays a detailed listing of your stamps and the value of your collection and maintains this list for record-keeping purposes. Either the list of owned or wanted stamps can be emailed with a single click from within the application.
– Offers links to numerous apps, books and stamp supply dealers.

Collecting is fun, profitable and now made even easier and more accessible with Stamps – Volume 1 and your iPad!
What's New in Version 3.0.3
Bug fixes.
iPad Screenshots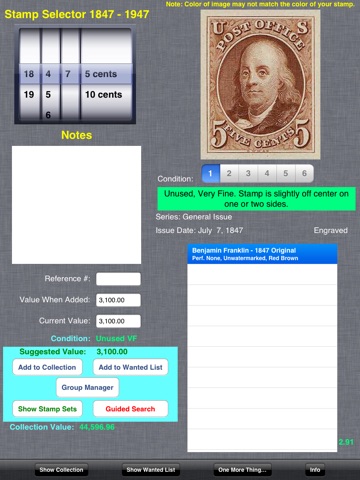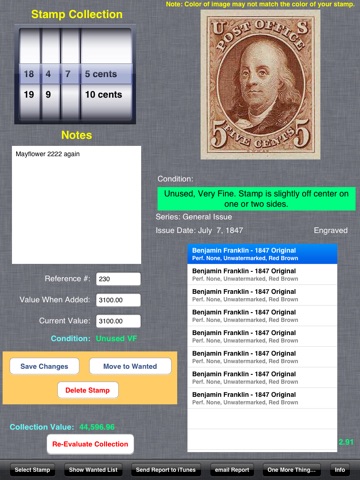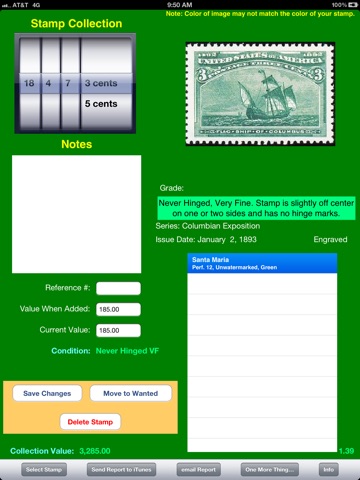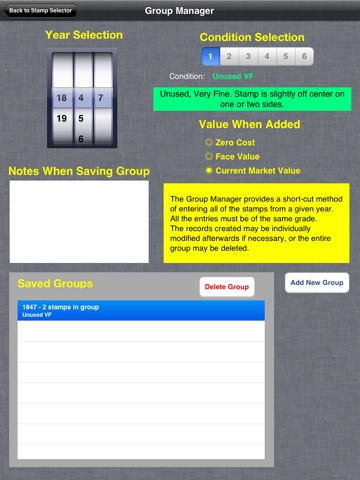 Customer Reviews
Couple of questions....
So far I like this app OK, but it seems a bit clunky, and I think it needs a little tweaking to become an excellent app. First, I wish you could use landscape orientation, as my iPad (like many) is in a keyboard case, and I can't easily use the portrait mode and type at the same time. Second, I would prefer to have a better stamp selector interface. Spinning the sections of a date wheel is not very easy. I'd rather have a mode with index where you could just tap on the stamp, or even better, Mystic Stamp catalog-type interface where you can page through and tap on the stamp picture! If I have a stamp and don't know the year... how do I find it in this app? Also, this version only goes through 1947. Then you have to buy v2, v3, v4 to get the rest of the years. I don't mind buying all of them, the price is not bad, but why not one big app that does all of the U.S. stamps?? If I buy the other versions, do they merge, or do I have to go into each app separately to work on my collection? The answer to that question would help me decide to buy the others...
Shows great promise
An excellent little app that keeps track of your stamps. Fields telling you the supposed value of the stamp when you bought it or entered it, and the ball park description of the stamp's condition. There are pictures of most stamps. The only export is being able to email your list to yourself which is useful although a CSV export feature would be nice. There are two modes: looking at your/a collection, and selecting mode for adding stamps to your collections. Stamps are chosen in three ways: select the year (a slightly awkward window where you choose the century, decade, specific year and then the price of the stamp); choosing preselected stamp sets; and guided search.

It is not clear to me how or whether this app syncs across other devices but it would be useful to be able to work in it on my computer and not just my tablet.

All in all I am enjoying working with Mr Schoenberg's app, one that shows great promise.
For a hobbyist, this is exactly what I wanted
Yes, the interface is a bit retro (read: clunky), but this does exactly what I want it to do.

The stamp information is in the app, so I just look a stamp up by year or subject (simple, one-word terms work best), and either add it to my collection or to my wishlist. Easy peasy.

Yes, the Scott Numbers info is NOT here (Scott has those copyrighted--you won't find them in ANY app), but there is a really obvious "reference number" space for you to add it yourself. This does mean you will likely want/need a stamp guide to go along with the app if you want to use them.

The creator claims these will be updated yearly--I hope so. I haven't had the app for a year, but that was one of the big pulls for me to get this.

My only real complaint is that these apps are split into four volumes. It would be awesome to have them all in one app, but I guess it just wasn't feasible?
View in iTunes
$2.99

Category:

Reference

Updated:

Jul 30, 2013

Version:

3.0.3

Size:

45.1 MB

Language:

English

Seller:

Robert Schoenburg
Compatibility: Requires iOS 5.1 or later. Compatible with iPad.
More iPad Apps by Robert Schoenburg