UltraTuner - Ultra Precise Chromatic Tuner for Guitar, Bass, Strings, Brass and More
By IK Multimedia
This app is only available on the App Store for iOS devices.
Description
ULTRATUNER - THE MOST PRECISE iOS TUNER EVER

UltraTuner features one of the fastest, smoothest and most responsive tuning engines of all the tuner apps on the market.

UltraTuner is precise to a 1/100th of a cent, far beyond human perception of pitch. In fact, it's 10 times more accurate than a mechanical strobe tuner (considered the "gold standard" of tuners). UltraTuner's accurate pitch detection is achieved through a proprietary dual-analysis processing engine, which allows it to get a much more accurate reading of the frequency from the incoming note than most other tuners. UltraTuner's fast response makes tuning a mechanical instrument a breeze. Its extreme precision also makes it the perfect app tuner for intonating stringed instruments like guitar or bass, as well as for calibrating electronic instruments like vintage synths.

UltraTuner's speed and precision provides players and engineers with a pocket-sized professional instrument tuner that's always with them. It offers two basic modes of operation: Stage and Studio.

Stage Mode

When in Stage mode, UltraTuner is a straightforward, ultra-accurate instrument tuner featuring a unique, simple interface that's easy to see in low-light conditions. It features a graduated flat and sharp display to indicate degrees from pitch. When the note is in tune, the display turns green. UltraTuner utilizes the entire device screen for tuning, so it is easily visible from a distance on dimly lit stages.

Studio Mode

In Studio mode, UltraTuner provides wave visualization that gives a qualitative feedback of the pitch deviation as a simple right/left motion of the real waveform of your instrument. A flat note will move the waveform to the left, while a sharp note will move it to the right. A note whose pitch is dead center is represented by a still waveform. Additionally, by simply tapping on the main studio display, it's possible to switch to the pitch-tracking visualisation.

The pitch tracking visualisation allows players to monitor pitch over time. This is especially useful in the studio for monitoring pitch of non-chromatic instruments like vocals, violin and brass etc., on recordings over time, and very useful for vocal and instrument pitch training.

Fast calibration

In the settings window, players can quickly calibrate the "A" note, set the temperament type, set the root key for tracking and adjust the audio sensitivity. UltraTuner can use the device's built-in microphone for audio input, and works with all analog or digital audio interfaces for iPhone, iPad and iPod touch, like IK's iRig HD, iRig PRO, iRig STOMP, iRig and iRig MIC.

Apple Watch compatibility

UltraTuner is now compatible with Apple Watch so that the Stage mode is mirrored on the watch's display for quick and easy reference. An additional, simpler "note only" mode is available swiping the Watch display.

UltraTuner features:

• Innovative engine that allows responsiveness and high accuracy (+/- 0.01 cent)
• Dual modes: Stage and Studio
• Large tuning indication visible at a distance (Stage mode)
• Tuning history to see tuning variations over time (Studio mode)
• Useful not only for tuning, but also for non-chromatic instrument training
• Audiobus and Inter-app audio compatible
• Compatible with Apple Watch in Stage Mode visualization
What's New in Version 1.1.2
• Fixed issue with Apple Watch communication
• General reliability improvements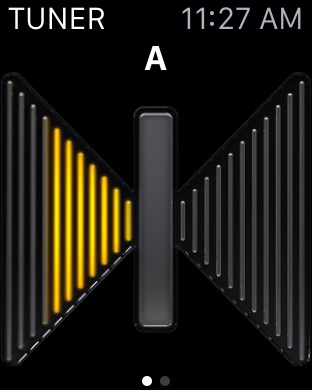 Customer Reviews
No good for Watch
Given the price and the reputation of this developer - I expected more. The tuner on the phone is fine (there are dozens available for less money or for free that are just as good) - but I chose this one because it included an app for the Watch. Such a disappointment. It's not so much an app for the Watch as it is using the Watch as a second screen for the phone. If I have to have my phone's mic out and close to my instrument when tuning - then what earthly good does it do to have it on my Watch.

Someone will create an app that uses the mic on the Watch, the processing power of the phone in my pocket, and the display on my wrist to make a killer tuner app - but this is not it.
Potential
I understand the limitations of a watch app as it stands now. It needs the microphone as well as the app from your phone. My beef is that at this point it opens the app on your phone and leaves it open even after you quit on your watch. If you don't pull your phone out and turn it off it will drain your battery. This sort of defeats the convenience nature of the watch app because you need to pull the phone out anyway. Here's hoping that the developers are quick to address concerns. All that being said, much potential with this app.
Could easily be 5 stars but...
This is the best tuner out there, as long as you only use your iPad in the vertical mode. Because that's the only way it works visually.
It will not rotate horizontally. So if you want to use it as part of a setup with Audiobuss, it's very disconcerting, as all the other apps using Audiobuss are set up to work horizontally. Which makes it very uncomfortable to use unless you use it as a stand alone. Get in the game guys !
View in iTunes
Offers Apple Watch App for iPhone
$9.99

Category:

Music

Updated:

May 14, 2015

Version:

1.1.2

Size:

13.6 MB

Apple Watch:

Yes

Language:

English

Seller:

IK Multimedia US, LLC
Compatibility: Requires iOS 7.0 or later. Compatible with iPhone, iPad, and iPod touch.
More iPhone Apps by IK Multimedia