Unstoppable Gorg
By Futuremark Oy
This app is only available on the App Store for iOS devices.
Description
Unstoppable Gorg is now 100% free. No ads, no in-app purchases, no restrictions.

DIE, PUNY HUMANS – Pocket Gamer review of Unstoppable Gorg

Space. The final frontier. Also, the place where you get to blow up evil aliens for the continued glory of your star-spanning imperialist overlords.

There's a lot to love about Unstoppable Gorg. The immediate impression is that it's a clever parody of 1950s B-movie science fiction, complete with black and white newsreel footage and bargain basement special effects.

That space rocket soaring through the stars? It's a toilet roll wrapped in tinfoil and suspended on a piece of string, complete with a sparkler hanging out the back.

This enticement may well be necessary to make you lower your guard and have a go at yet another tower defence game. The genre has been done to death, sure, but take the bait and you'll find a new approach that's actually pretty darn brilliant.

PLAN 9 FROM OUTER SPACE

So the aliens are attacking. Your job is to fortify key strategic locations in the solar system and repel the invading armies. This being deepest darkest space, however, there's a little thing called orbital gravity that you need to take into consideration.

Whatever your position - whether it's a planet or a space station or an asteroid - there are concentric rings around it, representing the gravitational field generated by the central mass of the object.

Into these fields of orbit you can slot satellites that will provide either defensive or offensive capabilities. But you can't just place these satellites anywhere. There are predetermined slots on each ring - for example, one at 12 o'clock and another at 4 o'clock.

When the aliens attack, they do so in waves from multiple directions, and with your satellites fixed in place you can swivel the ring around in a 360-degree circle to meet the threat.

The problem is that when fighting more than one wave at a time your offensive capabilities might be stretched too thin to provide adequate cover.

FORBIDDEN PLANET

Even on the ordinary setting, Unstoppable Gorg is a formidable challenge. After several stages of hand-holding and tutorials, it's around about the fifth stage that you'll find themselves floundering a little bit.

There are modifiers called 'research tokens', which allow you to upgrade your satellites, and you might want to go back and replay earlier levels to harvest more of them. That's because they can be redeployed at the beginning of every stage - the more tokens you have, the more options you have when formulating a strategy.

Regardless of the difficulty, it's worth persevering, if only because this is a fine, fully realised real-time strategy title with excellent production values.

The sci-fi plot has plenty of surprises in store, including new allies to befriend and enemies to fight. If you can make it all the way through to the end you're truly one of the greatest armchair generals in the galaxy.

One last thing: Unstoppable Gorg is a port of a desktop computer game (currently available on Steam), but the iPad version lacks none of the features from its bigger counterpart. With the touchscreen interface as opposed to a mouse control scheme, this is probably the best - and best value - of the two.

GOLD AWARD 9/10

Review by Bulent Yusuf | 25 January 2012
http://www.pocketgamer.co.uk/r/iPad/Unstoppable+Gorg/review.asp?c=37229


A quick word from Futuremark Games Studio:
--- Problems on iPad 1? Try restarting your device and the game should work normally.


In March 2012, Futuremark Games Studio was acquired by Rovio Entertainment, creator of Angry Birds.

http://www.rovio.com/en/news/press-releases/147/rovio-entertainment-acquires-futuremark-games-studio/
What's New in Version 1.0.4.19
- Overall balance adjustments, moderate difficulty is now easier.
- Adds new Game Center leaderboard for Arcade mode.
- One new Game Center achievement.
- Fixed chapter 21 to prevent leaderboard glitching.
- Scoring change - playing at higher difficulties now gives you more points.
iPad Screenshots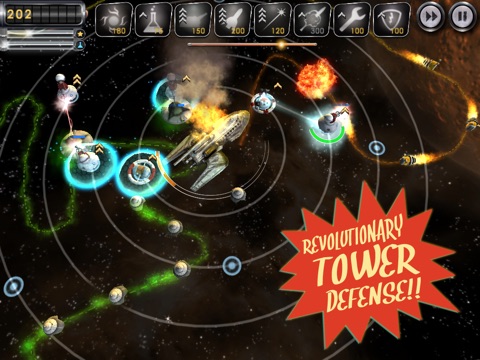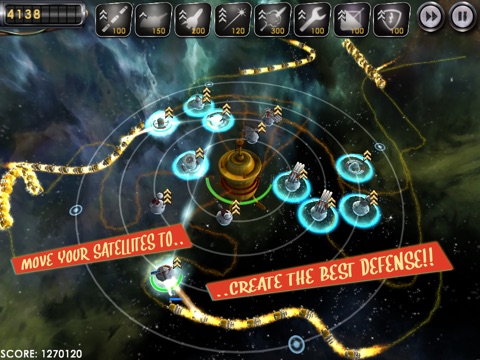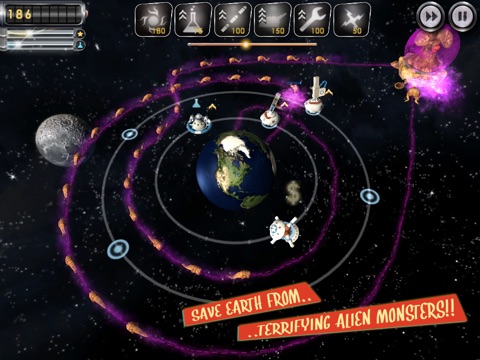 Customer Reviews
I usually hate tower defense games...
...but after playing just the tutorial, I'm pretty hooked on it.

Between the cool graphics, the B movie cut scenes and atmosphere, and the easy learning curve of the gameplay, I think I'm going to finish this tower defense game to completion.

I did mention that I really don't like tower defense games, didn't I.
Quite good!
I haven't had a tower defense game that I was this interested in for quite a long time. The art and style are amusing and I like the challenge of learning the unique orbital tower gameplay. Great work!
Fantastic and unique tower defense A++
This game should be featured by apple. It's delightful, a wonderfully done campy homage to the 50's. Great gameplay with hilarious cutscenes which have a lot of effort put into them, good art and production quality throughout, and none of the greedy IAPS which plague the TD genre. If you are looking for a top notch game, you've found it. I'm not even into the 1950's sci-fi thing and I found it compelling, try it and you'll be hooked too.
View in iTunes
Free

Category:

Games

Updated:

Feb 27, 2012

Version:

1.0.4.19

Size:

419 MB

Language:

English

Seller:

Futuremark Oy
Compatibility: Requires iOS 3.2 or later. Compatible with iPad.