Valentina Studio
By Paradigma Software
Open the Mac App Store to buy and download apps.
Description
=== 100% Free - The Best Database Management GUI for ===
=== SQLite, MS SQL Server, MariaDB, mySQL, PostgreSQL and Valentina databases ===

Valentina Studio brings you powerful, visual editors for your data including:
* Schema Editor (tree view and column view) - create and modify all schema objects of supported databases: Tables, Views, Fields, Enums, Links, Constraints, Triggers, Indexes, Stored Procedures, ...
* Diagram Editor - design new diagrams or do reverse engineering, e.i explore existing databases visually.
* Data Editor - easily browse table records in grid, modify records, inline edit of values, sort, filter records and save favorite filters, preview images, hex editors for binary values, ...
* Related Data Editor - easily learn and manage linked records of two tables, link/unlink records by a mouse click, do set operations over linked records, ...
* SQL Editor - with color syntax, auto-completion, recent and saved favorite queries, templates, console with error/warning reporting, ...
* Query Editor - build SQL queries visually using just a few mouse clicks
* Server Admin - where you can manage users, learn logs and other parameters of servers.

Open as many editors as you like at the same time for different databases/servers opened in tab-panels. You also get different DB related utilities, including: Import/Export, Dumps, Diagnose, Clone, Reindex, ...

MAS version of Valentina Studio uses iCloud to share bookmarks between your devices!


*** See also: Valentina Studio Pro ($199 only) ***

Get Valentina Studio Pro as an in-app purchase (pay only once) to get additional advanced pro-features such as:

* Report Editor - visual editor of Valentina Reports that can be saved into Valentina Project file (.vsp). Reports can use as datasource MS SQL, mySQL, PostgreSQL, SQLite, Valentina DB, ODBC.
* Data Editor - enables go to parent record function.
* Data Editor Layouts - save columns and their order as a named layout
* Data Transfer - copy data between different databases
* Diagram Editor - enables forward engineering - i.e. generation of SQL scripts for new/changed database objects.
* Dump Wizard - enables filter for tables to select them for dump.
* Error Lookup - search for error description by its code.
* Keyboard Shortcuts - enables ability to redefine the shortcuts and create own shortcut sets.
* Query Editor - enables ability to copy the generated query.
* Schema Cache - save and reuse the schema cache.
* Schema Snapshot - save and load schema in structured format.
* Source Control - develop database using any VCS.
* SQLDiff - find differences between two states of a databases and generate SQL script to move between these states.
* SQL Search - search of schema objects.
* SQL Editor - enables autocompletion for table aliases.
What's New in Version 7.0.2
New:
* [Application][PRO] Ability to modify keyboard shortcuts and create own shortcuts sets.
* [Application][PRO] Ability to save the database Schema Cache in file and restore it when you open this database the next time.
* [Application] German, Ukrainian and Russian localizations.
* [Report Editor] Show all parameters of report in the layout mode, ability to mark them as interactive and specify the type for a report parameter.
* [Report Editor] Show dialog with interactive parameters of reports, so user can make choice or input value.
* [Report Editor] Integration with JavaScript engine.
* [Report Editor] Each report control and area now can have own scripts executed during report generation.
* [Report Editor] Ability to use QR and Micro QR, Aztec, DataMatrix, Han Xin formats for barcode.
* [Data Editor][PRO] Ability to create several storable Layouts where you specify: which fields to show and their order in the main browser, related table, fields and their order in the related browser.
* [Data Editor][PRO] Go to a parent record by Option+Click on a value of the Foreign Key or ObjectPtr.
* [Source Control][PRO] Support of Database Continuous Integration - production of 4 scripts to keep in GIT.
* [Schema Snapshot][PRO] Ability to save and load a snapshot of schema in structured form.
* [Valentina] VARIANT field support in Valentina DB.
* [Valentina] KeyValue Store support in Valentina DB.
* [SQLite] SQLite to Valentina converter.

Improvements:
* [Report Editor] Controls have new size_type property, which allows to grow if the region grows.
* [SQL Editor] Improved work of auto-completion menu. Now it is shown in 2 colours: already typed part (yellow) and common part (red) for next chars if it exists. In this case press TAB.

Fixes:
* [Valentina] Fixed showing a locale for Valentina DB
* [MySQL] Don't show error messages if the user has insufficient privileges to get MySQL VIEW definition
* [SQL Server] Show approximate row count for big SQL Server tables
* [SQL Diff] Fix to add escape characters to table's comment
Screenshots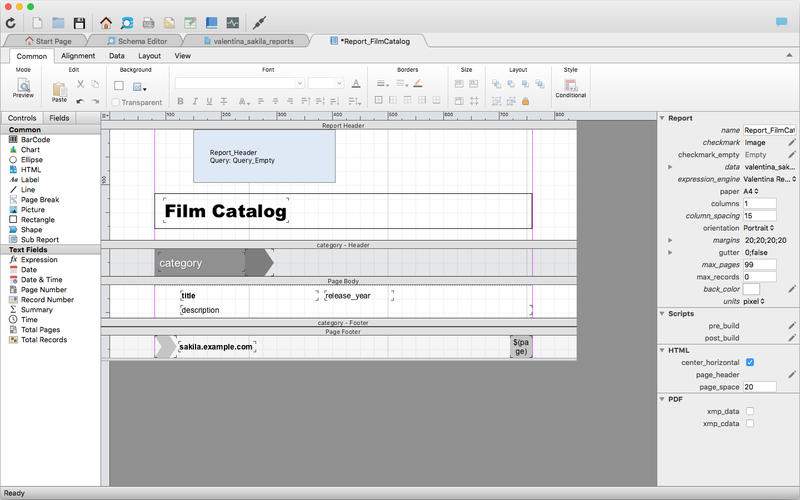 View in Mac App Store
Free

Category:

Developer Tools

Updated:

Mar 14, 2017

Version:

7.0.2

Size:

47.6 MB

Languages:

English, German, Russian, Ukrainian

Seller:

Paradigma Software
Compatibility: OS X 10.6.6 or later, 64-bit processor
Top In-App Purchases
Valentina Studio Pro$199.99