Vietnam...'65
By Slitherine
This app is only available on the App Store for iOS devices.
Description
It is 1965 and the US ground war in Vietnam is in full swing. As a US Army commander, wage a counter-insurgency (COIN) war to secure the Ia Drang valley, on the border with Cambodia.

In order to win the Hearts and Minds of the local population you will need to search for and destroy the Vietcong (VC) insurgents, who infiltrate from the Ho Chi Minh trail and destabilize the province by intimidating the locals, laying mines and ambushing your forces.

The insurgents also have a bigger brother, the North Vietnamese Army (NVA). This well trained, conventional army have much wider ambitions than the VC, they want to take total control of the valley, a stepping stone to unifying North Vietnam with the South under communist rule.

The NVA conducts operations from across the border, primarily aimed at supporting the insurgency and launching offensives when the time is right.

To carry out your COIN mission, co-ordination of ground troops, special forces, artillery, mechanized units, training of local forces (ARVN) and airmobile assets is essential, but of greater consequence is winning the support of the local population. With greater co-operation from the local inhabitants comes the reward of intelligence, a key factor in COIN warfare.

The war is not fought in isolation, so as the commander of the US forces, you will have the added complexity of managing the support for the war back home, should you the lose the Hearts and Minds of the American people, the war will also be surely lost.
This is a game that captures the true essence of the Vietnam War, where airmobile operations are paramount, fire support bases play a critical role and air strikes can save the day.

Rise through the ranks and watch your personalized uniform transform from a junior Lieutenant to General as you relive the Vietnam War.

Features

- Hearts and Minds victory conditions
- Political support model
- Full range of US units including transport helicopters, APC's, armor, Gunships, Engineers etc
- Firebases and artillery support
- Special Forces operations (Green Berets)
- Operational intelligence map
- Training of South Vietnamese Army (ARVN)
- Napalm strikes
- Medevacs and in field repairs
- Minesweeping and ambushes
- Full logistical model
- Road and base construction
- NVA offensives
What's New in Version 1.11
New features:
- Fog of war.
- New VO for various events.
- Custom game editor
- Hex tile grid can be toggled on and off.
- Vietcong units have new animation when disbanding after combat.
- Villages play effects when H&M changes.
- Combat bonuses and penalties for terrain, spotting and weather.
- Helicopters do not get defensive bonuses.
- Ambushed units do not get defensive bonuses.
- New units are given names.
- Names for units are customisable.
- Weather.
- M113 has detection when carrying friendly infantry.
- VC cadres are more evasive and reactive.
- Options - Player can choose whether units with current orders are included in the arrow cycling of units still to move
- Units withdirect fire are out of the arrow cycling unless there are targets within their range

Fixes:
- Rocks can no longer spawn under US bases in all cases.
- Fixed minor typos.
- Enemy units no longer sometimes move further than they should.

Changes:
- US units automatically gather intelligence if they start their turn in a village. No need to perform another action.
- Current game mode displayed on intelligence map.
- New effects.
- Movement rules for units adjusted slightly.
- Infantry are now better at moving through jungle than vehicles
- Vehicles are affected by poor weather more severely than infantry.
- Can now select all buildings.
- Emergency air resupply no longer carries fuel.
- Control and selection modifications.
- Can only supply drop on tiles with valid friendlies.
- Can only air strike on tiles with visible enemies.
- Audio updates.
- Tweaked camera bounds and parameters slightly.
- Damaged vehicles have wrench icon instead of red cross.


Fixed thumbnails sometimes drawing under labels on map
- Added stroke to zero in typewriter font
- Made H&M effects slightly bigger.
- Villages have portraits too.
- Names stay around with or without hex grid on map
- Swapped hex and menu button positions.
- Removed blocks from cia map texture
- Rains more on Veteran
- US units automatically gather intelligence when starting turn in village.
- Dead units will correctly clear fog.
- Fixed Howitzer shoot animation
- Minor UI fixes for continue mode user experience
- Fixed a number of exploits involving dying US units.
iPad Screenshots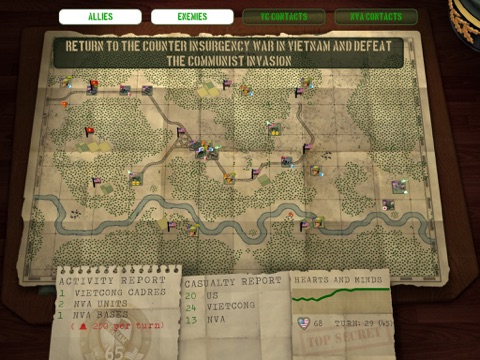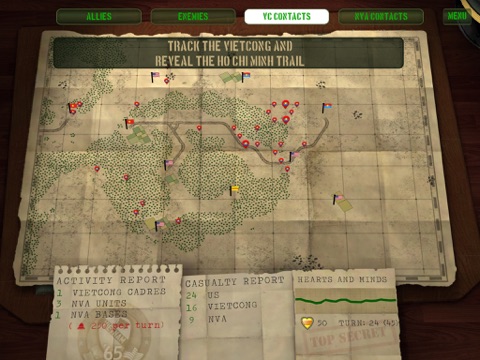 Customer Reviews
Flight of The Valkyries - Love update NEEDS PT BOATS!
This game is a great and the customization has made it better. They have finally introduced something that usually would only be on PC. I love playing Sim City and tearing down the jungle with engineers and introducing roads to "civilize" these VC savages. But I don't make it that far before Charlie comes and messes up my infrastructure. The complaint I have is that because every map is always separated by a river which makes it hard to link up to other villages we need PT BOATS to cruise up and down the river for firebase support and patrol it is a MUST. That or a faster way with engineer units to drop farther east and setup a network to link. PLEASE WE NEED PT BOATS!
Charlie don't surf (update)
One of the very few games that deal with COIN operations in a simple strategic level that actually make sense and feel authentic. My review is 4 and a half stars. Great job. Keep these coming.

UPDATE
Charlie still don't surf but man did the update make the game better. Would love to be able to punish a village for a hit to H&M but forced intel and the addition of medics. But as it is, it's a great game made even better.
This game is awesome!
So glad I bought this game. Would love to see more types of alternative missions and modes, more maps etc. The enemy spawns do seem a bit random at times, but other than that it's great. Keep up the good work!
View in iTunes
$9.99

Category:

Games

Updated:

Jun 01, 2015

Version:

1.11

Size:

230 MB

Language:

English

Seller:

Slitherine Software UK Ltd.
Compatibility: Requires iOS 6.0 or later. Compatible with iPad.
More iPad Apps by Slitherine