Viper SmartStart
By Directed
Open iTunes to buy and download apps.
Description
Start, locate and control your car from virtually anywhere with your iPhone, or Apple Watch!

"Making the cloud-connected car a reality"
- Edmunds.com

"The coolest thing at the Consumer Electronics Show"
- CNBC

"Without a doubt, one of the coolest apps I've ever seen"
- GIZMODO

The Viper brand created the connected car category for the automotive aftermarket with the launch of Viper SmartStart in 2009. With the release of its all-new 4th generation Viper SmartStart app, connecting with and controlling your vehicle is easier than ever – including control via your Apple Watch.

- Add a Viper SmartStart module to the Viper system in your car so you can start, lock and unlock your car from virtually anywhere. Receive push or text notification if your car alarm goes off.
- Add a Viper SmartStart GPS module instead, and you can also locate your car, share activity on Facebook (because your car needs friends, too), and set safety notifications if your car is speeding or goes where it's not supposed to go.
- For the ultimate connected car experience, install a complete Viper SmartStart Digital System and you'll also get notified if your vehicle sets a diagnostic code, along with direct feedback from the car databus for feature status. Check out the 60 Day Free Trial GPS Premium service that's included at no extra cost with these systems!
- For even more convenience, add a Viper SmartKey module and your car will unlock when it detects you approaching, and lock again automatically when you walk away.

Are you tired of carrying around another clunky remote control on your keychain, or finding yourself out of range when you really need to warm up or cool down your car before getting in? Now you can securely remote start, lock/unlock, or find your car just by pushing a button on your iPhone, iPad or iPod Touch, using the exciting new Viper SmartStart app from Directed, the leader in vehicle security and remote start.

The sleek, modern dashboard of Viper SmartStart 4.0 gives you fingertip control over the following features of your installed Viper remote start or security/remote start system:

- Lock/arm
- Unlock/disarm
- Remote car starter
- Trunk release
- Panic
- Aux channels

With Viper SmartStart GPS, locate your vehicle and add family-friendly features such as SmartFence and Speed alerts so you get notified if your kids go somewhere they aren't supposed to, or drive unsafely.

How do you get Viper SmartStart? Just follow these three simple steps:

1) Download the free Viper SmartStart app
2) Get SmartStart installed in your car (see viper.com/smartstart for more information and where to buy Viper SmartStart).
3) Set up your SmartStart account, and start using your SmartStart system.

That's all there is to it!

Free features: Viper SmartStart 4.0 also includes free Guest membership in the Viper Motor Club, providing convenient flat rate 24/7 access to our nationwide roadside assistance network. Just press a button in the app to get connected for towing due to breakdown or accidents, or assistance with a dead battery or flat tire. No hardware or service purchase required.

Download the free app and check it out.


FAQ's:
- Is my car secure when I remote start it? Yep, we've been doing this a long time. The car is started, but only you can drive it away.
- Can I control all of my cars with the same app? You bet, just install Viper SmartStart systems in your other vehicles and they will show up in the app automatically.
- What is Viper Motor Club? It's our roadside assistance program that is included with every SmartStart Secure service plan. Guest members sign up for free membership and pay only $79 per incident. Secure Plan subscribers get free roadside assistance included with their service plan.

http://www.viper.com/SmartStart
What's New in Version 4.2.2
Various bug fixes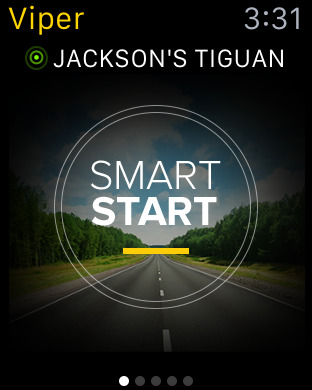 Customer Reviews
Growing frustrated.
Works, but cannot be counted upon. App doesn't show connectivity status. Frequently starts car but doesn't show it's started. How do you know? Revised interface was terrible. Glad they went back. Need to have even that more simplified though. Cell bars show. Start is pressed. Cell bars go away. Is the app connected to the vehicle or not? Confusing. Now that it is cold and wintry, your desire for a fairly costly option on your vehicle to work properly is much higher. When the Reliability is lacking though, the frustration levels kick in. Please devote some time to improving baseline performance. I wasn't even in a parking garage last night (with full bars of cell service) and it wouldn't start. Again, improve the basics instead of sending me enhancement requests about GPS locate garbage. Maybe I should've just bought a 2 way keyfob style starter 2 years ago instead. Please make improvements and win back my loyalty. Otherwise, my expletive tirade when hopping into a car in 6 degree temperatures when I thought the thing was started will continue. ...And they're all directed at you Viper. Help.
Several issues still remain ...
There are still 4 issues with it:

- When I get the SmartSchedule alert reminding me to turn on my car (iPhone 7), I 3D click the alert to use the option to start the car and it just doesn't do anything at all (same behavior either phone locked or unlocked) !!!

-The smart schedule function does not support Daylight saving times, when daylight saving time happens (in summer), I have to go into the SmartSchedule and change manually my schedules to 1 hour earlier for it to work properly at the time that I need them to work.
ex. If I need the car to start by 9 am I need to change the schedule to 8 am.

- The SmartSchedule functions, do not work on time, it either reminds me to start the car somewhere between 5 to 15 minutes before or after the scheduled time ... ex. If it is set for 8:45 am, one day it reminds me by 8:40, another day by 8:36, another day by 8:54, and in this day and age with GPS Time Synchronization hardware in every single phone (and/or NTP protocols on servers) I can't fathom why it behaves so erratically and out of time EVERY SINGLE TIME ...

- Notifications via email and/or SMS rarely ever work ... I have those set since almost a year ago and I have only received a couple of emails and 1 SMS message EVER ...
Works perfectly- just a little slow.
Had the Viper SmartStart installed this past weekend. Had to really figure out what parts of the app and activities do as there are no instructions relation to this most recent version (i.e., smartfence, lockdown, etc,).

Been using both the iphone and watch version. Phone version has been fantastic, though can be a little slow. I know some mention that there is no notification if it worked or not, but I can tell on my app, not necessarily on the watch. I do have to wonder if it depends on whether the alarm installed is 1-way or 2-way. Mine is 2-way, so I see the activity and that it is started and running.

The Watch app is slower. I imagine it has to relay info to the phone and then to the vehicle. However, in a pinch, it does work as well. I think I did see that my vehicle started, but them the watch face went to sleep, so will have to pay more attention to it. However, it did start my truck as well this morning.

I stopped using the FOB and only use the app and it's never let me down.
View in iTunes
Offers Apple Watch App for iPhone
Free

Category:

Lifestyle

Updated:

Dec 07, 2016

Version:

4.2.2

Size:

135 MB

Apple Watch:

Yes

Language:

English

Seller:

Directed Electronics, Inc.
Compatibility: Requires iOS 8.1 or later. Compatible with iPhone, iPad, and iPod touch.
More iPhone Apps by Directed