Viper SmartStart
By Directed
Open iTunes to buy and download apps.
Description
Start, locate and control your car from virtually anywhere with your iPhone, or Apple Watch!

"Making the cloud-connected car a reality"
- Edmunds.com

"The coolest thing at the Consumer Electronics Show"
- CNBC

"Without a doubt, one of the coolest apps I've ever seen"
- GIZMODO

The Viper brand created the connected car category for the automotive aftermarket with the launch of Viper SmartStart in 2009. With the release of its all-new 4th generation Viper SmartStart app, connecting with and controlling your vehicle is easier than ever – including control via your Apple Watch.

- Add a Viper SmartStart module to the Viper system in your car so you can start, lock and unlock your car from virtually anywhere. Receive push or text notification if your car alarm goes off.
- Add a Viper SmartStart GPS module instead, and you can also locate your car, share activity on Facebook (because your car needs friends, too), and set safety notifications if your car is speeding or goes where it's not supposed to go.
- For the ultimate connected car experience, install a complete Viper SmartStart Digital System and you'll also get notified if your vehicle sets a diagnostic code, along with direct feedback from the car databus for feature status. Check out the 60 Day Free Trial GPS Premium service that's included at no extra cost with these systems!
- For even more convenience, add a Viper SmartKey module and your car will unlock when it detects you approaching, and lock again automatically when you walk away.

Are you tired of carrying around another clunky remote control on your keychain, or finding yourself out of range when you really need to warm up or cool down your car before getting in? Now you can securely remote start, lock/unlock, or find your car just by pushing a button on your iPhone, iPad or iPod Touch, using the exciting new Viper SmartStart app from Directed, the leader in vehicle security and remote start.

The sleek, modern dashboard of Viper SmartStart 4.0 gives you fingertip control over the following features of your installed Viper remote start or security/remote start system:

- Lock/arm
- Unlock/disarm
- Remote car starter
- Trunk release
- Panic
- Aux channels

With Viper SmartStart GPS, locate your vehicle and add family-friendly features such as SmartFence and Speed alerts so you get notified if your kids go somewhere they aren't supposed to, or drive unsafely.

How do you get Viper SmartStart? Just follow these three simple steps:

1) Download the free Viper SmartStart app
2) Get SmartStart installed in your car (see viper.com/smartstart for more information and where to buy Viper SmartStart).
3) Set up your SmartStart account, and start using your SmartStart system.

That's all there is to it!

Free features: Viper SmartStart 4.0 also includes free Guest membership in the Viper Motor Club, providing convenient flat rate 24/7 access to our nationwide roadside assistance network. Just press a button in the app to get connected for towing due to breakdown or accidents, or assistance with a dead battery or flat tire. No hardware or service purchase required.

Download the free app and check it out.


FAQ's:
- Is my car secure when I remote start it? Yep, we've been doing this a long time. The car is started, but only you can drive it away.
- Can I control all of my cars with the same app? You bet, just install Viper SmartStart systems in your other vehicles and they will show up in the app automatically.
- What is Viper Motor Club? It's our roadside assistance program that is included with every SmartStart Secure service plan. Guest members sign up for free membership and pay only $79 per incident. Secure Plan subscribers get free roadside assistance included with their service plan.

http://www.viper.com/SmartStart
What's New in Version 4.0.1
New for Viper SmartStart 4.0

- Completely redesigned app with streamlined, easy access to key features and information.
- The controls you use most often are right at your fingertips, and other useful features are just a tap or swipe away.
- New swipe to start feature eliminates accidental remote start commands (modern dashboard).
- User-selectable dashboard and home page settings – now you can customize the app for the way you use it.
- Map page now integrates GPS and SmartPark features seamlessly, and provides quick access for programming location or movement alerts.
- Forget how long it's been since you parked your car at that meter? No problem, tap the Map icon and it'll let you know when you last locked your car.
- One-touch vehicle selection menu with integrated vehicle status page; pick your vehicle and get status updates at the same time.
- One-touch access to Alert history and new alert programming.
- Built-in tutorial videos, help overlay on key pages, and guided on-boarding process make getting to know SmartStart 4.0 easier than ever.
- Set up your own SmartStart account right from the app including picking your own personalized password (now required for users that have Bluetooth-only Viper SmartKey or VSM50BT systems; optional for new SmartStart cellular system owners).
- In-app management of your SmartStart vehicles and their associated service plans.
- Start, lock or unlock your car using your Apple Watch, or send other commands.
- Check your vehicle location from Apple Watch, with one-touch link to Apple Maps for getting directions or sharing the location.
- Receive alert notifications on your Apple Watch if vehicle alarm is triggered, or a SmartStart GPS alert is received.
- Swipe from SmartSchedule reminder (on iPhone or Apple Watch) directly to app to start your vehicle.

Known issues:

- No backup cell commands if Bluetooth link fails; must turn off Bluetooth Control and re-send command
- Map view selection and other map features coming soon
- Time, temp and location displayed for non-GPS systems (reflects details handset location instead of using vehicle location)
- Owners of Bluetooth-only (Viper SmartKey or VSM50BT systems with no cellular SmartStart device) must create an account after installing the app in order to access the dashboard controls and other features
- Images currently associated with your vehicles will have to be re-linked to them in the app after installing Viper SmartStart 4.0
iPhone Screenshot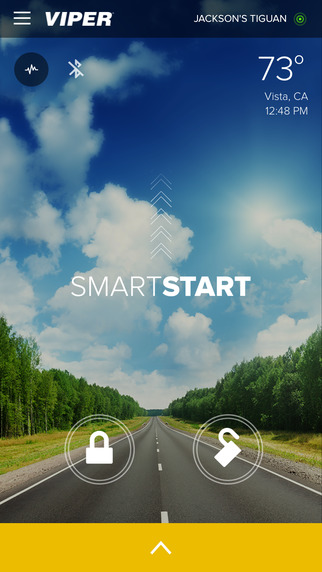 Apple Watch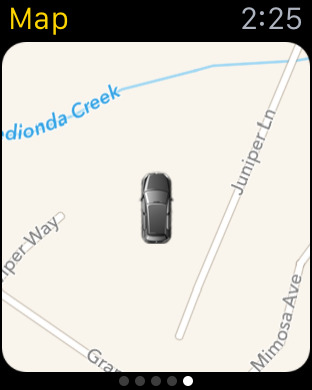 Customer Reviews
WHY CHANGE FEATURES for LOOKS???
I've had this app since it was originally released, have it on 3-cars, and have always given it good ratings until the past updates.
I purchased (and am paid through 2018) this whole system based on BASIC features that you have now removed for no reason, and without letting customers know they're now getting less than what they paid for.
1. Why is map view no longer able to be viewed as satellite or hybrid?
2. What happened to knowing direction of vehicle travel?
3. There's no longer a way to view speed of vehicle, or whether it's stopped now.
4. History of GPS is gone and therefore cannot be shown to my kids when asked where they were and were going etc.
5. Where did engine disable go, and why? If I were to hear my kid was at a party or something (maybe drinking), I don't have the option to lockout vehicle!

While some of these were features that aren't always used (4 & 5) or possibly needed for everyone, they were in fact part of the deal when purchased, and could certainly be useful in times of need. 1,2,&3 were used DAILY, and should be put back in place as these were key features for the app to do what I paid for it to do. DEI/Viper has ALWAYS been my #1 choice for vehicle security as the products have always been ahead of their time and very dependable. Why on earth are you going backwards all of a sudden???

VERY DISAPPOINTING TO SAY THE LEAST!!!
Works well with iPhone and Watch, but....
I wanted to really give 5 stars for this update, because it really works well on the phone, but there was one big feature that is clearly missing from the Apple Watch app. This will only affect people that use Viper Smart Start on multiple vehicles. You can not change what vehicle you are controlling using the Watch app like you can on the iPhone app. This is a must have to make the watch app fully useful like the phone app, and would be something simple to program in. For example, simply program the watch app so that when you use force touch, it changes what vehicle you have selected. I sure hope there is a update for this over site. I have already reached out to Viper about this, and this is their response:

Unfortunately you can only select your vehicle from the phone. There simply was not enough real estate available within the watch app.
Need support for multiple vehicles on Watch and want car logo back
The changes to version 4.0 are purely cosmetic and no easier. So you swipe upward rather than push a button, not important. But I liked having your selected vehicle pictured (logo or photo as you upload) on the home page.

And the Apple Watch for those of us with multiple vehicles is almost useless. You have to get out the iPhone to select the vehicle, and doesn't that defeat the purpose of the convenience of the Apple Watch? The argument that there's no real estate on the phone to select a vehicle is not true, many ways such as Shep37's suggestion to use Force Touch to open a selection menu.

It's also buggy, selecting the vehicle on the iPhone may or may not be reflected on the Apple Watch.
View In iTunes
Offers Apple Watch App for iPhone
Free

Category:

Lifestyle

Updated:

Sep 15, 2015

Version:

4.0.1

Size:

83.7 MB

Apple Watch:

Yes

Languages:

English, French, German, Italian, Japanese, Portuguese, Simplified Chinese, Spanish, Traditional Chinese

Seller:

Directed Electronics, Inc.
Compatibility: Requires iOS 8.2 or later. Compatible with iPhone, iPad, and iPod touch.