Viper SmartStart
By Directed
Open iTunes to buy and download apps.
Description
Start, locate and control your car from virtually anywhere with your iPhone, or Apple Watch!

"Making the cloud-connected car a reality"
- Edmunds.com

"The coolest thing at the Consumer Electronics Show"
- CNBC

"Without a doubt, one of the coolest apps I've ever seen"
- GIZMODO

The Viper brand created the connected car category for the automotive aftermarket with the launch of Viper SmartStart in 2009. With the release of its all-new 4th generation Viper SmartStart app, connecting with and controlling your vehicle is easier than ever – including control via your Apple Watch.

- Add a Viper SmartStart module to the Viper system in your car so you can start, lock and unlock your car from virtually anywhere. Receive push or text notification if your car alarm goes off.
- Add a Viper SmartStart GPS module instead, and you can also locate your car, share activity on Facebook (because your car needs friends, too), and set safety notifications if your car is speeding or goes where it's not supposed to go.
- For the ultimate connected car experience, install a complete Viper SmartStart Digital System and you'll also get notified if your vehicle sets a diagnostic code, along with direct feedback from the car databus for feature status. Check out the 60 Day Free Trial GPS Premium service that's included at no extra cost with these systems!

Are you tired of carrying around another clunky remote control on your keychain, or finding yourself out of range when you really need to warm up or cool down your car before getting in? Now you can securely remote start, lock/unlock, or find your car just by pushing a button on your iPhone, iPad or iPod Touch.

Viper SmartStart 4.0 gives you fingertip control over the following features of your Viper remote start or security/remote start system:

- Lock/arm
- Unlock/disarm
- Remote car starter
- Trunk release
- Panic
- Aux channels

Viper SmartStart GPS lets you locate your vehicle or get notified via alerts if your kids go somewhere they aren't supposed to, or drive unsafely.

How do you get Viper SmartStart? Just follow these three simple steps:

1) Download the free Viper SmartStart app
2) Get SmartStart installed in your car (see viper.com/smartstart for more information and where to buy Viper SmartStart).
3) Set up your SmartStart account, and start using your SmartStart system.

That's all there is to it!

Viper SmartStart also includes membership in the Viper Motor Club, providing convenient flat rate 24/7 access to our nationwide roadside assistance network. Just press a button in the app to get connected for towing due to breakdown or accidents, or assistance with a dead battery or flat tire.

Latest features:

- Convenient widget provides quick access to sending commands

- Two new dashboards added that allow you to pick the layout and features most important to you

- Enhanced remote start feedback: the app confirms the command and then follows it up a few moments later to let you know if the engine is running, or stopped (digital systems only). The details are provided right on the dashboard too, no need to check your status page all the time.

- Enhanced command feedback: Now when you send a command to your SmartStart system, the app provides the details for the command right on the dashboard and keeps them there in case you forget and want to check back later to confirm what happened. Doors locked at 8:30AM? Check! (all systems)

FAQ's:
- Is my car secure when I remote start it? Yep, we've been doing this a long time. The car is started, but only you can drive it away.
- Can I control all of my cars with the same app? You bet, just install Viper SmartStart systems in your other vehicles and they will show up in the app automatically.
- What is Viper Motor Club? It's our roadside assistance program that is included with every SmartStart Secure service plan (requires user to sign up via mysmartstart web site).

http://www.viper.com/SmartStart
What's New in Version 4.3.2
-Fixed a crash that some GPS users experienced when updating from a previous version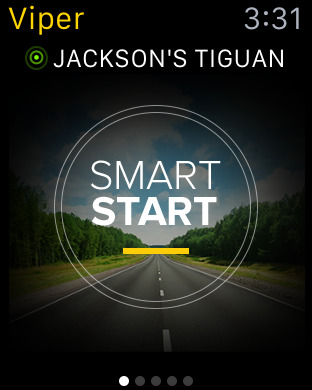 Customer Reviews
Updated Improvements; Proven better App
Since I purchased the product, there has been a few bumps in the road. As the updates keep rolling in, it has improved the overall App. Still, the product needs a lot of improvements, when up grading a product for a particular vehicle. Should not lose features from vehicle, should be an upgrade from the factory product. Need more version updates for current customers vehicles that have lost some important features from the factory product replacing. Overall, a good quality product, just needs of improvements. Example: transponders having opinions to set individual seating for driver seating ( only set for one transponder). After selecting SmartStart, depending on the temperature outside, the product cools or heats the vehicle before entering the vehicle ( without leaving the on/off button to on, for the A/C unit. Furthermore, at night, when approaching the vehicle after SmartStart, by pushing the button to unlock the vehicle, the exterior and interior lights are illuminated, to visually see outside and in the vehicle before opening the vehicle door. These features are not available with the upgrade of the VIPR. These features are factory settings for the LTZ. The tech had to run separate wires to allow some of these features to work, but not all.
Love it!
I recently had a viper alarm installed that works great with the app. You have the ability to lock & unlock the doors, it has a panic feature, remote start your car (although since my vette is stick shift I opted not to install this feature.) The app also gives you the peace of mind by keeping you informed at all times as to what is going on with your car by providing notifications via text and email whenever there's a triggering event. This app allows you to set up the type of notifications you want to receive as well as allowing you to customize what actions you want to be notified about, for example it will text you and/or email you each time the alarm is triggered, if the car is moved after activating "lock down" mode, or if the car leaves a certain are or enters a certain area (works great for valets, or lending your car to the kids.) Additionally, it comes with the ability to find your car via GPS, it gives you the exact location and travel speed should your car get stolen and you need to track it. I love it so far and would recommend it to anyone.
Need more work/updates
Basic features seem to work fine.

I continually have an alert in activity on dashboard but it is always the initial alarm from installer testing after installing, this was over two weeks ago. I clear all and it comes back within seconds. It will not clear off at all let permanently.

There are sections in app that aren't setup for cellphones. The ends of all the sentences/paragraphs are cutoff on the right side. There isn't a slider bar to scroll over to read, nor can you turn your phone for widescreen view.

Not a huge issue but the icon for my Jeep Wrangler is a Jeep Grand Cherokee, or what appears to be. Would be nice if could customize it to my type of vehicle and the color... especially after paying the cost for alarm, module, and installation.

Would also be nice to adjust settings on alarm like turn the horn honk off when arming/disarming and just allow the siren to chirp. Another item I'd like to have is that the doors automatically lock after I get to 5mph.... right now I don't have a central door lock
Inside because I have actuators on manual locks and if I press the lock key on remote it arms the alarm.... Last item I don't care for is that when I press the unlock button it unlocks all the doors. Would be great if it only unlocked the driver door and then press it twice for the other doors to unlock.

Wish I would have kept my other alarm system....
View in iTunes
Offers Apple Watch App for iPhone
Free

Category:

Lifestyle

Updated:

May 15, 2017

Version:

4.3.2

Size:

199 MB

Apple Watch:

Yes

Language:

English

Seller:

Directed Electronics, Inc.
Compatibility: Requires iOS 9.0 or later. Compatible with iPhone, iPad, and iPod touch.
More iPhone Apps by Directed