Virtual History ROMA
By Melazeta S.r.l.
This app is only available on the App Store for iOS devices.
Description
Mondadori presents a fantastic voyage to Ancient Rome, the capital of the largest empire in the ancient world, which has been reconstructed in virtual form and which you can explore in a "full-immersion" panoramic experience.

The format provides the viewer with an astonishing insight into Roman civilization, using innovative functions and multimedia content: from the spectacular digital reconstruction of the city's statues to breathtaking aerial views of the metropolis as it stood 2,000 years ago, from the manipulation of models of the legionaries, gladiators and war engines to the 3D exploration of monuments such as the Colosseum, the Circus Maximus, Hadrian's Mausoleum and many, many others. The reconstruction of their original appearance, as seen from various angles, is overlaid and compared with their appearance in today's Rome.

As if in a time machine, we can observe how the site of the Colosseum was transformed from the original marshy hollow, to the great fire and Nero's "Domus Aurea" (Golden House), and finally to the amphitheatre itself.
The virtual tour proceeds south to Pompeii, Ercolano and many other important Roman cities – in Europe and the Mediterranean – which are presented with 3D models, information pages and hundreds of superb quality images.

Previously-unpublished material includes a reconstruction of the original appearance of the "Court of the Gladiators" (part of which collapsed recently) as it stood in Via dell'Abbondanza in Pompeii.
Maps and introductory data sheets make it possible to make an in-depth study of the origins of Rome, its conquests and the fall of the empire, the Romans' extraordinary engineering feats, art, wars and public spectacles, profiles of the various emperors, and we can discover how much of Roman civilization has survived to the present day.

This is the first application to use 'bubble view' technology, which was conceived in Italy and patented in the USA. The system uses sensors built into the moving books (accelerometer and compass) to create a new generation of illustrations in digital bubble form.

The new digital book becomes a sort of telescope that can be used to examine a three-dimensional reconstruction of Imperial Rome. Future editions will present virtual reconstructions of other cities and many other imaginary scenarios.
What's New in Version 1.2
Bug fix and interface optimization
iPad Screenshots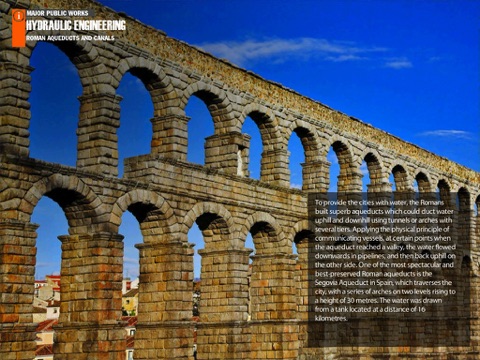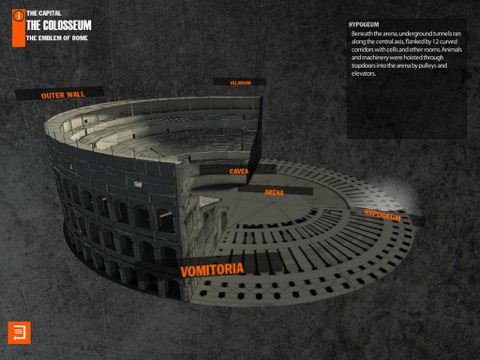 Customer Reviews
Good, but could be improved
I just bought this, and basically like it. But in just a few minutes of looking at it, I wanted to make some suggestions... I love the "bubble view" idea, but some other programs that make use of this technology also give you the option of disconnecting the picture from the compass and gyroscope so you can navigate the picture by touch. This would be a helpful addition to his program. When I'm sitting in my recliner to view a bubble scene, I don't want to have to stand up and turn around to see what is behind me.
Another frustration I've found with this program are the text boxes that slide into place when you open a picture. The text is helpful, but it sometimes covers up a third of the picture. I'd appreciate the option of hiding the text to better view the picture. With a few changes like these to provide a better user experience, this could easily be a FIVE STAR app.
Has potential only
I'm using the new Ipad Pro and it's menu system is very messed up: the bottom images don't load properly, or at all in most cases. The content is poorly written and the interface is choppy and ineffectual at best. I wanted this to be a great tool for my children but it is a major disappointment!
Virtual History Roma
This is a nice app - with the one major handicap that, after a while, it simply stops working. After I had first bought it, I was able to use all the features, and rather enjoyed it, even though it could go a little deeper in some of its features in terms of the information it provides. But then, when I recently tried to use it again, it crashed, every single time. When I went to app support I found an FAQ that informed me that the app might crash if one did not have enough memory (I have more than the amount indicated as necessary) or if one had an illegally purchased ipad!! That is really helpful. I have a legally purchased ipad and I paid for the app. I wrote to the address given in app support but never heard back from them. I strongly recommend against buying this app because it is obviously not supported at all! If it worked reliably I would give it four to five stars, but since it doesn't, one star seems to be too much still.
View in iTunes
$8.99

Category:

Education

Updated:

Aug 02, 2011

Version:

1.2

Size:

211 MB

Language:

English

Seller:

Melazeta srl
Compatibility: Requires iOS 4.2 or later. Compatible with iPad.