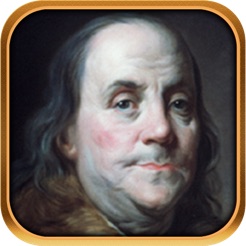 Description
***VIRTUES! The app that changed personal development by the man that changed the world!***

★★★★★
"To follow in the footsteps of Ben Franklin, using his exact 'science' for self-improvement, that is GENIUS! To have it on your iPhone? Well, that is BRILLIANT!"
★★★★★

BTW: Quick Thank you!
Appreciate you making The Habit Factor® The World's bestselling Productivity Dynamic Duo (app & book, iOS and Android). Note: FREE PREVIEW NOW: You can now find The Habit Factor® in iBook & Kindle format with free preview!

★★★★★
Editor's Pick! 9 out of 10! ~Appcraver.com

★★★★★
"15 Great iPhone Apps for Men" Top Blog ~Artofmanliness.com

Honor the man that changed the world with his unique self-improvement process. The best way to improve the world is to improve yourself.

****

What is VIRTUES?

Only the best way to refine your character - invented and proven by one of the most prolific men of all time!

Be like Ben... Here's what PBS.org said this about THE MAN.
"He was one of the most extraordinary human beings the world has ever known... He helped found a new nation and defined the American character. Writer, inventor, diplomat, businessman, musician, scientist, humorist, civic leader, international celebrity . . . GENIUS!"

******
"I hope, therefore, that my descendants will follow this example and reap the benefits."
~Ben Franklin referring to tracking his Virtues. (Autobiography)
******

Would you like to achieve more in life? Do you believe, as Ben did that you have much untapped potential?

Now, you can apply the very same technique- Ben's secret method, which he later revealed in his autobiography at the age of 79.

So, what was Ben's secret...? Simple, VIRTUES.

Largely in debt and known to be argumentative, Ben recognized a need to create a system that would help him refine his character. He believed the practice (daily tracking of his Virtues) was responsible for his remarkable achievements, success and happiness. He even commented, "I hope, therefore, that my descendants will follow this example and reap the benefits."

Virtues allows you to set up your own custom virtues or use Ben's original 13 "starter set." The daily tracking is very intuitive and fun. You can even set up target scores and keep daily comments!

If you're not sure what Virtue to activate and track, you can let the Universe decide for you with the unique "Select Random" feature.

With Virtues, you can do everything that made Benjamin Franklin great by developing the very same habit of daily tracking and refining your virtues. Plus, with Virtues you'll be able to do even MORE then Ben could have ever imagined!

• Use Ben's original 13 identified Virtues
• Create your own personalized Virtues
• Activate more than one Virtue for a period (not recommended at the beginning!)
• Customize your focus period -- whether one day, one week, one month or custom.
• Score yourself incrementally (by half points). Ben used water and cloth to erase!
• Establish target scores for your active focus period.
• Chart your progress against your goal target.
• Revisit historical progress through charting
• Activate an iPhone Badge reminder to make sure you keep your commitment to daily scoring/tracking.
• And much more!
-----

"If arguably the smartest man to ever lived believed this was so important (tracking his virtues), why wouldn't I give it a try?"
- Frank Bettger

See also; The Habit Factor®, Bucket List PRO, and Noble Paths all from Equilibrium Enterprises, the leader in interactive, personal development iPhone Apps.

---
Keywords: Virtues, Habit, Habits, Goals, Personal Development, Self-Improvement, Character Refinement, Productivity, Business, Mind Training, Brain Training, Eliminate Debt, Sales Training
Ratings and Reviews
error
once I tip the "track" button, it would go back to the home screen. Tried uninstall and install the software twice and it doesn't work. the system I use is ios 4.3.3
Abandoned
The problem with good apps is so many developers get tired of updating them. I wonder how many apps I bought that are now worthless? If you try to delete a virtue everything freezes. No updates since 2011.
Doesn't work! Please fix, or refund
I'm disappointed that I wasted $2. The app freezes when you try to customize habits.
Information
Seller

Equilibrium Enterprises, Inc

Size

1 MB

Category

Compatibility

Requires iOS 3.0 or later. Compatible with iPhone, iPad, and iPod touch.

Age Rating

Rated 4+

Copyright

© 2008-2012, Equilibrium Enterprises, Inc.

Price

$1.99
Supports
Family Sharing

With Family Sharing set up, up to six family members can use this app.