VLC Streamer
De Hobbyist Software Limited
Abre iTunes para comprar y descargar Apps.
Descripción
Sit anywhere in your house and watch movies or TV shows on your iPhone, iPod or iPad.
VLC Streamer streams movies from your computer to your iDevice. Winner *Best Entertainment App* Chip.de.

You can watch anything from your movie collection. No need for complex conversion processes. No need to manually transfer programs to your device.

"Can these guys do no wrong? Seriously, if only other app devs knew how to make apps as well as these guys, the world would be a better place. Or at least my device would be less buggy. I was just watching a Full HD copy of Avatar Extended Edition being streamed from my PC on my iPod Touch 2nd Generation and it looked and played amazingly."
- UK Reviewer

"…it's as good as having the original VLC player on your iOS device…"
- CallingAllGeeks.org

"…Setup is a snap and literally takes 2 seconds. You can browse through all your movies from your device and click any one to start playing. It even works if you have the movies stored on a USB drive connected to the host computer."
-The Times of India

"Took me seconds to setup to stream from a secondary drive in my home office. Going straight out to get a cable for my TV."
- USA Reviewer

"….This sucker can stream off the pc and plays virtually anything you throw at it. Download it now!"
- TaxiDriver at Blippy.com


There are a huge number of movie formats, and VLC can convert most of them - but it can't convert everything. If you have any doubts, then please try the free version of this application first.

• Features include •

- Free helper app gets you streaming quickly and allows you to browse local drives, and Windows network shares
- Stream over wifi directly from your computer
- Support for multiple resolutions and streaming quality levels
- Customisable gesture controls
- Live streaming of video after a few seconds of processing
(assumes a reasonably powered computer)
- Airplay support
- TV Out support for iPad and iPhone4
- Easy to copy movies directly to your device for watching on the plane or out of the house.
- Supports Windows, Vista, Windows 7 and Windows 8
- Supports Mac OS 10.5 and above

• System Requirements •

- VLC Streamer will not play DRM protected videos. Videos from the iTunes store do include DRM.
- VLC Streamer is designed to work on your local network, and the free helper app has to run on your Mac or PC.
- Supports Windows, Vista, Windows 7, Windows 8, Windows 10.
- Supports Mac OS 10.7 Intel and above.

• Response to feedback •

-If you do have any problems streaming movies, then please just check the help instructions in the app. Feel free to drop me an email (my personal mail is in the app) if you need help.

Enjoy!
Novedades de la versión 5.71
Everyone gets the new setup helper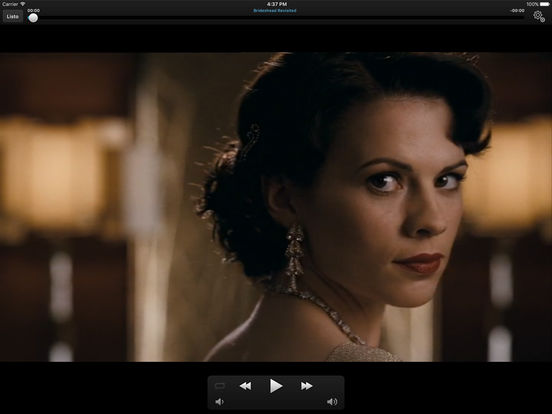 Reseñas de usuarios
Works like a charm.
I've been using this app on my iPad to view movies I have on my computer and connected storage device. Earbuds plugged in and sharp little screen is a convenient way for me to privately watch movies. Choosing "High Quality" and "Watch" works well for me. You can pause anytime without problems but going backward or searching around would only work if you choose "Download" (but that is a slower process).
You do have to add a helper to your computer that is a free download. Has never given me a problem on my MacBook Pro. Nice little added feature is sliding up or down on the screen to change volume.
Handy
Works quite well with the latest update. Basically lets you use your pc to handle the actual processing requirements for VLC while running the video on your tablet. And if you're going to be away from your network, it lets you download the processed video to the tablet.

Does well with almost all formats I've tried, and can handle multiple audio and subtitle tracks.

Fair warning, the processing end does require a fair amount of PC power.
Great app
Amazing app but it has an issue when, for some reason, a part of the video stops and the only way to continue is reopen it and skip that scene (about 2 mins of playback) fast before it stops again. Deleting and adding the video again on PC doesn't solve the problem - the pause will be in the same place.
Ver en iTunes
Esta App esta diseñada para el iPhone y el iPad
Ofrece la app para Apple Watch para iPhone
$2.99

Categoría:

Entretenimiento

Actualizado :

18/01/2017

Versión:

5.71

Tamaño:

82.4 MB

Apple Watch:

Sí

Idiomas:

Español, AfriKaans, Albanés, Alemán, Bokmål noruego, Búlgaro, Catalán, Checo, Chino, Chino simplificado, Croata, Danés, Eslovaco, Esloveno, Estonio, Finés, Francés, Griego, Hebreo, Húngaro, Inglés, Italiano, Japonés, Macedonio, Malayo, Neerlandés, Noruego, Polaco, Portugués, Rumano, Ruso, Sueco, Turco, Árabe

Vendedor:

Hobbyist Software Limited
Compatibilidad: Requiere iOS 8.0 o posterior. Compatible con iPhone, iPad y iPod touch.
Más apps de Hobbyist Software Limited