Volume Master
By BahnTech
Open iTunes to buy and download apps.
Description
Volume Master will provide an integrated music and volume control interface; all in one app! Volume Master also provides a master volume control with enhanced granularity over the physical volume button on your device. You can also control your iPod player from within this app! i.e. You can Play, Pause/Stop, and go to the Next Track without leaving Volume Master!

-Tested and Works Great on iOS 4 and iPhone 4
-Works with pandora Internet Radio
-Works with most internet music sources

Your device's volume control has 16 increments, this makes it hard to play music very soft or loud because the 1/16th steps take the volume from too soft to too loud, or from too loud to quiet in one step. Volume Master gives you 100 steps which is one order of magnitude greater precision than the standard iPhone/iPod volume control.

Volume Master also gives you two volume adjustment methods, a large step and a fine step, so you can quickly dial in the perfect volume every time!

Volume Master allows you to create 4x Volume Presets, to remember your most common settings.

Features:
=======
-Enhanced Volume Adjustment Granularity :
1. Default iPhone/iPod Increments = 16 (this allows a 1/16 increment change in volume)
2. Volume Master Increments = 100 (this allows almost infinite volume adjustment)
-Volume Presets : Volume Master provides 4x Volume Presets to make recalling the perfect volume for a specific application easy.
-Quick Mute : Volume Master provides a Quick Mute, to allow you to quickly mute audio. This feature is handy if someone wants to ask you a question, or you hear an intercom / public address and you just need to mute for a few seconds.
-iPod Control : Play, Pause and Next Track
-Preset Launch Volumes :
1. At app launch set the volume to the System Volume
2. At app launch set the volume to the last Sessions Volume
3. At app launch set the volume to Preset 1
-High Resolution Graphics

To set Volume Presets:
1. Set volume to desired level.
2. Hold Preset button down for 3 seconds.

*Please note that Volume Master allows you to reach maximum volume levels by increasing the volume granularity, so you can gradually reach the loudness you desire without getting too loud. Volume Master can not and does not increase the absolute maximum hardware volume of the iPhone, iPod, or iPad hardware.

BahnTech Corporation's privacy policy can be found at http://bahntech.com/documents/privacypolicy.htm
What's New in Version 1.2
-Fixed bug: Vol Gauge Display not set when loading from some presets.
iPhone Screenshot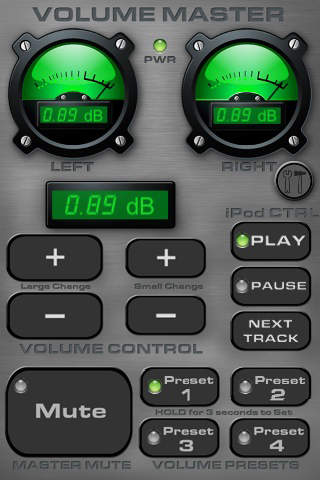 Customer Reviews
It DOES what THEY SAY IT DOES
I don't get all these neg reviews. There is no way an app will get you more volume than the device is capable of--duh. And if you need that much volume you are likely already suffering hearing loss, people! Turn it down!

I was looking for a solution to a problem--I have super sensitive hearing but I love listening to music. Seriously even the lowest volume on my iPhone is too loud in a quiet environment. I needed a way to step down more incrementally and THIS IS IT.

This app offers TWO sets of buttons for controlling volume. The larger set controls the standard preset 1/16 increments on the device--the SMALLER set is for precision 1/10 tuning. For me, this makes a HUGE difference in control.

If you just want LOUD, you probably don't need this app. Grow a brain. I'm so sick of people with unrealistic expectations who clearly cannot read.
Crap
I was expecting greater sound and sound volume. Really doesn't do much at all versus what the iPhone 4 presets and volume offers already.

This company's advertisement got me. Bet there raking in the money as we speak. I WOULD NOT recommend this application to anyone. Don't buy it despite the high reviews. My message to this company: STEP IT UP!!! and include some statement in your description about the lack of volume increase as a potential feature . Be fair to the consumer.

I would like my money back. I erased it shortly after experimenting with it only to find that it was not worth it.
Help!!
Okay. I bought this app. And I tried to the hold the preset for three seconds and all that jazz. I bought this to work with Pandora Radio. And for the life of me, I cannot get my settings to work when I open PR. Please throw some advice out there for me! Thanks Much =P
View In iTunes
$0.99

Category:

Utilities

Updated:

Jul 19, 2010

Version:

1.2

Size:

1.3 MB

Language:

English

Seller:

BahnTech
Compatibility: Requires iOS 3.1.2 or later. Compatible with iPhone, iPad, and iPod touch.