W.E.L.D.E.R.
By Ayopa Games LLC
Open the Mac App Store to buy and download apps.
Description
***The hit iOS word game is now on Mac. Achieved #1 DOWNLOADED GAME ON iPAD, iPHONE GAME OF THE WEEK. Looks and plays stunning!***

5 stars - The best word game out there.
5 stars - Haven't been so addicted since Angry Birds.
5 stars - Awesomely done. I CANNOT put it down.
5 stars - I would give this game 10 stars if I could.

W.E.L.D.E.R. is the leading word puzzle game created by hit former Rockstar NY developers – addiction guaranteed! Worldwide awards and accolade:

• TOP iPAD GAME of 2011 from Associated Press, Yahoo, Fox, Huffington Post, PadGadget, Daily Journal and many, many others!!!
• TOP 10 iPHONE GAME of 2011 from the NY Times, AppAdvice and many, many others!!!
• TOP 10 iOS APP of 2011 from Mashable and the Daily Telegraph!!!
• "The iPad's most addictive word game, a clever combination of 'Bejeweled,' 'Boggle' and 'Scrabble.'" - Associated Press
• "Great new twist on crossword puzzles." - Apple iTunes iPhone Game of the Week

• "If Boggle, Scrabble and Hangman had a baby, the end result might come close to being as good as W.E.L.D.E.R., a word game lover's delight for iPad and iPhone." - Mashable
• "Start it, and watch the hours fly by." - NY Times
• "Word puzzle fanatics are in for an addictive treat with the terrific W.E.L.D.E.R. ... a highly polished word puzzle game that gets my highest recommendation. It's a blast, and I can't stop playing it!" - Apple Gazette (5/5)
• "W.E.L.D.E.R. gets a score of 5 out of 5." - The App Shack
• "This intriguing word game is ... unique and will activate your brain." – TouchArcade (4/5)
• "Players looking for the next great word game should check W.E.L.D.E.R. for sure." – 148Apps
• "This iOS game takes Bejeweled, Boggle, and Scrabble and smelts them into one mining-themed word puzzle." - Tested.com (App of the Day)

DESCRIPTION
Weld words in the word machine! Create clever combos and multiply your score using gem and gold tiles. Increase your vocabulary using the built-in dictionary – discover definitions of words you never even knew existed! Earn powerful special abilities like Group, Reverse, and Jump Swaps, and complete particularly tricky terms with blank wooden pieces. Potentially unlimited gameplay!

UNRIVALED FEATURES
• Adds addictive word game play to classic pattern matching.
• Use special reverse, group, and jump swaps to form words and clear broken tiles.
• Use multiplier tiles to score more points and gain more swaps!
• Brand new modes including Sandbox and Broken Challenge.
• Undo your last move and have another go!
• Use "Apocalypse Swap" to wipe the board once per level and get a new set of tiles.
• Combine multipliers in a single word for thousands of points and tons of swaps!
• Look up words you form via the built-in dictionary.
• Use Gigawatts to pump up your game; earn them purely through playing the game or take advantage of in-app purchases to get them. It's up to you!

- Note: Requires OS X version 10.7 or above!

We are listening to all of your amazing suggestions, and working hard on more updates coming soon! Thank you to all of our happily obsessed fans!
What's New in Version 1.21
Fixes issues that some users are having on older devices!
Screenshots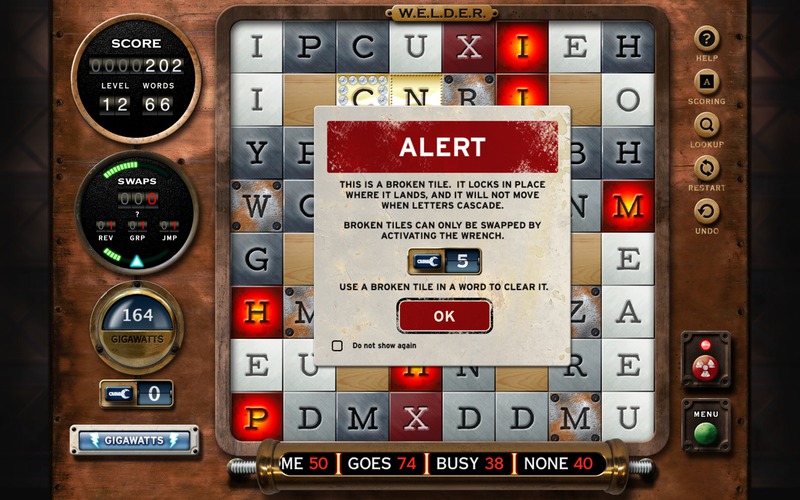 Customer Reviews
W.E.L.D.E.R.
I gave this ONE star because, I have this as an app on my iPhone and iPad and absolutely love it — So, I decided to see if it was available for my MacBook air and voila it was to PURCHASE. Every time I open the app my computer freezes and can't do ANYTHING!!!! I have to shut down the whole thing — I see many other similiar posts and I pray you can find the time for those of us who love the game and PAID for it, to fix the issues that are causing our computers to freeze. When you fix the issue I wil gladly change my rating.

If you are thinking about buying welder for your Apple based computer, don't bother — it won't work — this message was left on March 9, 2015. Find another game until they can fix the issue and you see more positive ratings. Hope this helps future purchasers, I wouldn't have bought this if I knew there was still an issue.
Great Until It's Not
Imagine playing this game all the way up to level 99 and then it crashes and refuses to open again. Got to level 99, added in an "E" to make the word "REST", it froze and I had to hard reboot my MacBook because nothing would respond (mouse, keyboard). I've since tried re-opening the game several times and it just sits there, refusing to load. As a software engineer myself, I'm betting the game state file/db is corrupted and the game gets stuck trying to restore to that state. May I suggest to the authors that, if the game state can't be restored, at least restore to a new game within the same level.
Unplayable now!
REDLEW! REDLEW! That's "WELDER" backwards. Yes, because that's what the game is now…BACKWARDS! Needs to repent. It has mysteriously quit working on my macbook pro—just like everyone else is complaining. The torch shows up but the game's home platform does not load at all. I even uninstalled and re-installed but all to no avail! It used to work just fine and was one of my favorite games to play. I would have given 5-Stars but 3 is all I can give because of how long this problem has continued to be ignored by the developer. AYOPA needs to fix this ASAP! Please turn REDLEW back around to the WELDER we all knew and loved. I'll then give back the 2 stars I removed.
View in Mac App Store
$2.99

Category:

Games

Updated:

Aug 06, 2014

Version:

1.21

Size:

54.4 MB

Language:

English

Seller:

Ayopa Games LLC
Compatibility: OS X 10.6 or later, 64-bit processor
Top In-App Purchases
Recharge of 250 Gigawatts$0.99
Recharge of 2,000 Gigawatts$4.99
Recharge of 35,000 Gigawatts$29.99
Recharge of 4,500 Gigawatts$9.99
Recharge of 8,000 Gigawatts$14.99