Walk Up Alarm Clock - smart anti snooze wake up
By Ricky Ho
This app is only available on the App Store for iOS devices.
Description
The Walk Up Alarm Clock Makes You Walk Up to Stop It.

| Featured in TIME
| An alarm clock that's impossible to ignore
| bit.ly/WalkUpTIME

| Blogged by The New York Times
| Requires you to get up and walk around
| bit.ly/WalkUpNYT

| Covered by Mashable
| A trump card for the ol' snooze button
| bit.ly/WalkUpMash

Also Featured on AOL.com, UrbanDaddy, Lifehacker, Brit+Co, AppAdvice, and More!

>> Current Version Includes <<
• New & Improved Defenses to Prevent Cheating
------------------------------
NO Shaking, Muting, or Turning Off
------------------------------
• 10 to 100 Step Range
• Dramatic Alarm Sounds
• *New* Mercy Mode for Sounds (Choose Music)
• Epic Animated Themes
• Doomsday Countdown Customized to Each Theme
• Optional Evil Mode (No Snoozing Allowed)
• Repeat Your Alarm Time Daily
• Progressive Volume Settings
• Simple Tutorial that can be Replayed
• And More Features Always in the Works!

~~ Support ~~
We are dedicated to offering great support. If you have an issue or feature request, please contact us by email: WalkUpAlarmClock@gmail.com or through our site: http://www.NamoApps.co

- Please provide us -
1) iPhone version (3GS/4/4S/5)
2) iOS version (5.0/6.0)
3) Description of the issue
What's New in Version 2.3
| Ability to Reset the Alarm Before It Sounds
| New HALLOWEEN SOUNDS Pack - Trick or Treat!
| More Bug Fixes!

And More on the Way! Thank You for Your Support.

Please continue to tell us what you think: WalkUpAlarmClock@gmail.com
iPhone Screenshots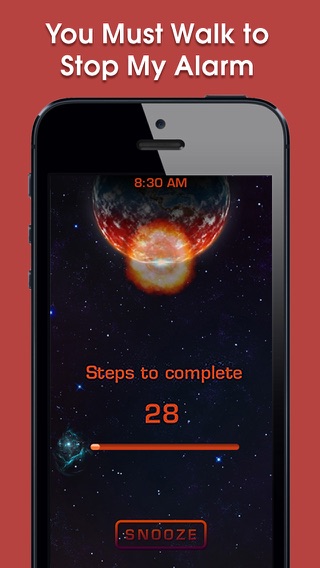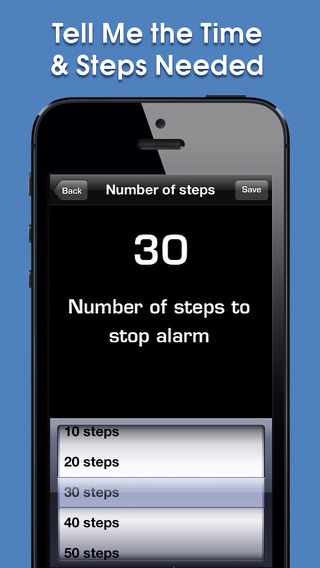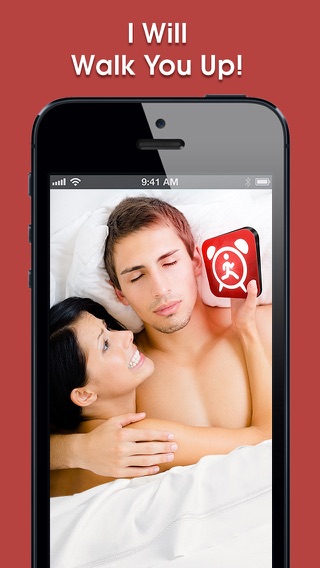 Customer Reviews
I give it 4 stars because it saves my behind
Normally I love this app. Not much can wake me, and I used to turn off my other alarms while asleep. I never buy things in apps, but $0.99 to play my own songs instead of having screams of bloody murder ringing through my dorms sounded fine to me. For over a year, it's been doing its job perfectly (albeit "perfectly" is incredibly obnoxious when I turn on the app at midnight to set the alarm and have to walk 30 steps with a blanket around my hand to muffle the noise).

But every time my phone dies, I have a heart attack because the app makes a loud noise it scold me for trying to escape. Again, I try to avoid my phone dying. But today I noticed that 30% of my phone's battery went into 2 minutes of the app being open and 11.5 HOURS of background activity. Fine, I'll risked taking 30 steps and close the app in the background. Then my phone starts buzzing every 5-10seconds to scold me for "cheating myself". The only way to stop it is to open it up again.

I try not to complain about how the phone prevents me from turning it off while I'm asleep, but my battery is gone! Over the past 6 days, it's been on my scream for 12 minutes and in the background for 92.5 hours and used 34% of my total battery. That's the most battery usage out of any app I have, including games and Facebook.
Crude but Effective
Of all the alarm apps available that I know of, I prefer this one. The walking feature gets you up and moving, you can program up to 100 steps, and there is really no way for my sleep-muddled brain to disable it before I have a chance to get up, which had been a problem for me. Effective.

This app still needs some serious work. Judging from the date the app was last upgraded, I question whether that will ever happen.

Unless you pay for the in-app purchases, your only alarm choice is a screaming person - and that's not cool. My partner has an anxiety problem and I'm afraid the alarm could negatively affect him (although he assures me its not a problem as long as I leave the room immediately). It's also embarrassing because it's loud enough for the neighbors to hear in the next apartment. I can cope with the alarm but I'm sure there are people out there who would have serious issues with it.

Second, the sheer number of in-app purchases leaves a bad taste in my mouth.

I also had an issue when I set the alarm in "repeat" mode - since you can't disable the app once the alarm is set, I could never shut the app off and it was a major drain on my battery. If you use this app, I recommend you do NOT use "repeat" mode.
Not worth the headache...
If I could describe this app in a small phrase, it would be "simply awful." I was delighted to see that the app was free, but this is facade for several fees to come. What you already know is that you need to pay for your own music, and you probably know that the music doesn't work. But what you don't know is that it doesn't allow you to choose any of your alarm tones! So if I want to wake up to the iPhone's marimba or something similar, I'm not allowed to do that on the app. If I have a funny ringtone or custom jingle, I'm not allowed to use that in the app. And if you exit out of this "lifesaver," it sends you constant nagging alerts, which means that I can't go into power saving mode and my phone is always burning juice! I was one of the poor suckers who got this app thinking it was great. If there are some serious updates, it might be great someday, but as for right now, I wouldn't even look at this app unless you like to wake up to bloody murder and love having a phone with no battery. DO NOT GET!
View in iTunes
Free

Category:

Productivity

Updated:

Oct 18, 2013

Version:

2.3

Size:

30.6 MB

Language:

English

Seller:

Ricky Ho
Compatibility: Requires iOS 5.0 or later. Compatible with iPhone, iPad, and iPod touch.
Top In-App Purchases
Mercy Mode (Song Choice for Alarm)$0.99
Premium Sounds$0.99
Halloween Mode$0.99
Premium Alarm Skins$0.99