War Robots
By Pixonic LLC
Open iTunes to buy and download apps.
Description
War Robots is an action-packed multiplayer game with 6 vs. 6 team battles in real-time! Join the ranks of the Mighty Warriors!

"Saddle up, pilot! It's time for some mechanized, armor plated, missile firing, machine gun shooting, nuclear powered fun."
- Technologytell

"War Robots is a fun online multiplayer zone capture game with energetic robot battles."
-Engadget

"This one could break big, so educate yourself now."
- AppSpy

"A mechanized MMO battler with some teeth."
- 148apps.com

"If you like Robots and real-time PvP battles, the game will be your best choice."
- 2P.com

It's a time of war, pilot! Are you ready for surprise attacks, intricate tactical maneuvers and the many sneaky tricks your rivals have in store for you? Destroy enemy robots, capture all the beacons, and upgrade your weapons to increase combat strength, speed, and durability of your battle robot. Prove yourself in each map and use different strategies and tactics to emerge victorious from battle!

MAIN FEATURES:
– 24 battle robots with different strengths;
– more than 20 weapon types, including ballistic missiles, energy and plasma guns. What will you choose?
– many possible combinations of robots and weapons. Create a war machine to fit your own play style;
– create your own clan and lead it to glorious victories;
– join epic PvP battles against rivals from all over the world;
– complete military tasks for bonuses and earn the Best Pilot title.

Onward, soldier! Victory is yours!

You want to talk about the game or find allies?
Then join us on Facebook: https://www.facebook.com/walking.war.robots
or follow us on Twitter: @WWR_by_Pixonic
and YouTube: https://www.youtube.com/user/WALKINGWARROBOTS

Important note: This application requires a stable internet connection. In case of any problems, please contact us at wwr_support@pixonic.com so we can work on a fast resolution. Enjoy the game!
What's New in Version 2.4.1
Christmas event, Dec 20th - Jan 5th
— Fight battles to collect special Snowflakes and use them to open chests with valuable prizes
— Fill the event progress bar to win a guaranteed golden item
— Give Snowflakes to your clanmates
New three-robot pack: Wild West
Each robot is equipped with a new ability: Quick Draw.
Note: robots can only be purchased with Snowflakes during the Christmas event
— Jesse (light)
— Doc (medium)
— Butch (heavy)
What else:
— Added new paintjobs for Gepard, Boa, Rhino, Lancelot
— Enabled Facebook sharing on the following screens: post-combat, player profile, 3D view
— Fixed description for several long-range weapons
— Minor bug fixes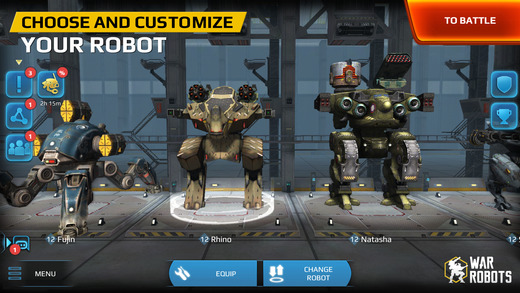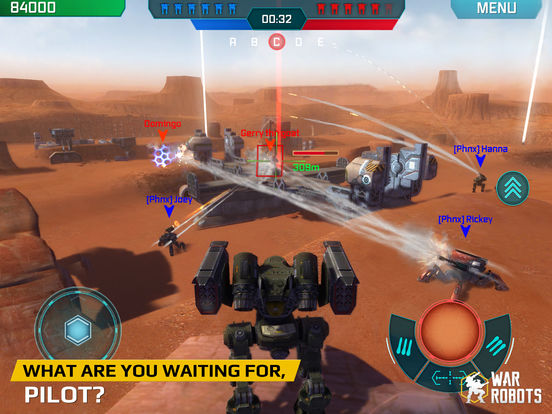 Customer Reviews
Very addicting game
I've been playing this game for almost two years and find it very amusing and addicting. It's not true that you have to pay to win, yeah I've spent a couple bucks but almost nothing compared to other players. You have to find a strategy and gain skill in order to succeed in your matches. Yeah you might not win very often but it also depends on the team that you're paired up with or the one that you're against. And in order for you to actually gain those robots, you have to save up your gold, yes it's little by little and I get that some of you have very busy lives, but you can't just easily play your way to the top. It also depends on the level of your robot; If you have one level nine robot with the rest being level four, you're gonna be put into a match with other high level robots. Take the time to understand the game and have patience because not every game is gonna be simple and easy to win. I personally love the game and have no intentions of deleting it any time soon. Keep it up Pixonic 😁
Honest review+ideas
Review:
Graphics quality:good
Gameplay:can be very competitive
In game currency:silver is easy to get,gold can be accumulated over a large amount of time
Robot design:robots' designs are flawless besides the Geopard
Prices:some items may need an in-game purchase to be purchased
Overall the game needs some more work on balancing certain robots and granting better gold earnings after battles but the gameplay is good.

Ideas:
Charge:a power used by a robot that grants an uncontrollable but extreme speed boost for a few seconds. If enemy robot is hit with charge it will deal damage to the target.

Flying type robot: a robot able to slowly hover in the air and vehicle height can be adjusted with a slider next to the control stick. A flying type robot would be extremely useful for certain situations.

New weapons: an explosive type heavy weapon could be used as a crowd control tool because it could deal damage to a wide radius.

Buffs and nerfs: buff the Raijin because the shield can be easily destroyed and it's extremely weak to air attacks so while it's shield isn't deployed it could be used as an umbrella from air attacks. Nerf the geopard because it is extremely overpowered and with the speed and what weapons can be attached to it can be a very hard to destroy robot.

I hope you guys at pixonic reads this and at least nerf/buff some robots and add some new stuff. I'll be playing your game and enjoying it I'm looking forward to seeing a new update soon.
This game getting worst with every passing day
I have a question: How come my team always have one player less (5 instead of 6) and other teams always 6? Days after days I been complaining about this. 6 out of 10 games my team has 5 players!?!? That is ridiculous. I will tell you: Game is set up that way that you are on loosing strike constantly until you pay money to win! Another question: My wining percentage was 48%. I lost tonight 8 out of 10 matches so my percentage stayed 48%?????. Simple math tells you that this is not possible. That tells me that this game is set up to make you think you are doing fine while you are really loosing so many games in favor of other players. This game is total cheating mess with 5 stars only because negative reviews are purged like its some Iron Curtain communist country. You will most likely make same mistakes like other nice games that people liked until they realized its cheating mess. I'm at the point to say good by to this once nice game. It's too much. Making me frustrating to the point when I wanna puke how unbalanced and unfair this game is.
View in iTunes
This app is designed for both iPhone and iPad
Offers Apple Watch App for iPhone
Free

Category:

Games

Updated:

Dec 21, 2016

Version:

2.4.1

Size:

477 MB

Apple Watch:

Yes

Languages:

English, Dutch, French, German, Indonesian, Italian, Japanese, Korean, Polish, Portuguese, Russian, Simplified Chinese, Spanish, Thai, Traditional Chinese, Turkish, Vietnamese

Seller:

Pixonic LLC
Compatibility: Requires iOS 7.1 or later. Compatible with iPhone, iPad, and iPod touch.
Top In-App Purchases
1200 pieces of gold bullions$9.99
500 pieces of gold bullions$4.99
2500 pieces of gold bullions$19.99
Small box of flakes$0.99
Premium Gold$9.99
Small box of pumpkins$0.99
Resources starter-pack$4.99
6500 pieces of gold bullions$49.99
14000 pieces of gold bullions$99.99
Premium Silver$4.99