watermark PRO
By cf/x
Open the Mac App Store to buy and download apps.
Description
Add Text, Logos, Maps and QR-Codes to your photos, resize and rename - in bulk! Then save your watermark designs to quickly apply it to more photos later.

NOTE: watermark PRO is FREE FOR YOUR EVERY DAY USE. Larger batches and some advanced features require an in-app purchase to permanently enable that functionality.

Built like a drawing app, watermark PRO allows you to quickly add text, logos, maps and QR-Codes to your photos in mere seconds. Drop a bunch of images into the tray, position and set up the watermarks, hit go - easy as that.

NEW: 16 bit image support! If your original uses 16-bit deep colors, the watermarked image can be saved as 16-bit image as well.

NEW: Change or set Copyright/Author metadata

watermark PRO can simultaneously add complex watermarks, convert to a different file type, resize and rename your photos in a single pass.

Sporting more high-end features than you can shake your mouse at, watermark PRO is still simple to use. All watermarks can be individually configured.

Watermarks general features
- Intuitive object-oriented editor with advanced features and smart alignment help
- Add as many watermarks (text, logo, map, QRCode) as you like
- All watermarks (text, logos, maps, QRCodes) can be positioned anywhere, freely resized and rotated
- All watermarks support transparency, shadow, and blend modes
- Save your designs for later use

Text Watermark
- Auto-resize for easy editing
- Any font, color, style, background color
- Smart text support (see below)

Logo Watermark
- Use any image as a logo
- Automatic crop modes

QRCode Watermark
- Up to 4000 characters, self configuring
- Instant updates

Map Watermark
- Automatically loads location from GPS data embedded in photos
- Visually displays direction camera was facing (when heading information is available)
- manual and Mac-location supported (requires access to location services enabled)
* Note: Currently uses non-Apple Map Services

Line Art
- Choose from 6 standard pre-sets to place line art over your images

Smart Text
Text, QRCode and Export can access meta data. Add time stamps or other dynamic information (e.g. Artist, Aperture, Modification Date, Lens or Camera) to your photos

Export Module
- Use file naming rules to simultaneously watermark, resize and rename your photos
- Highly flexible file name scheme that can access EXIF and other metadata
- Convert to file formats: JPG, JPG2000, PNG, PDF, PSD, BMP, GIF, TIF
- Save as 16-bit image if source was 16 bit
- Resize using the following units: percent, pixel, inch, cm
- Can create single multi-page PDF
What's New in Version 1.7.1
- fixes a bug where smart text counters could count differently
- fixed possible crash when using GPS maps as first watermark item
- made sure 'loading' spinner is turned off correctly when done reading an image
Screenshots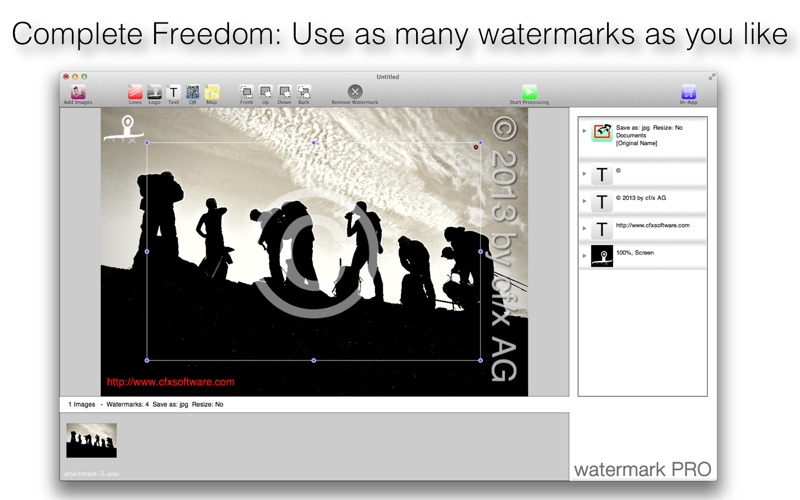 Customer Reviews
Not the best, but it will work
For a free watermarking application, it is good enough for me. I have plenty of time on my hands to sit down and individually watermark each photo that I want to. The free version only lets the user to watermark five photos at the most, and even then it tends to get a bit sketchy. They won't let users change between photos on the screen and edit the watermarks individually. Lastly, the quality of the text in the program is not the best and should be double checked after export.

This is fine for me since I have a lot of time on my hands and it is only one of very few programs that is free So if you want a really nice application that allows you to more photos at once and not have to worry about sketchy work, this is not the program for you.
Works Great
I had another app that I used for awhile, but it didn't always allow me to put my watermark exactly where I wanted it, so I switched to this one. I did purchase the unlimted tray in-app purchase as I do like to batch edit. It rarely crashes (but has a couple of times) and when I discovered how to save a template, I was much happier with it. I would give it 5 stars, but I don't like the preview in this app. In my other app, the preview was the full photo and I could see exactly how it was going to look. In this app, you right click on the image in the tray, and it gives you a small preview. It really needs a full-size preview. Other than that, it does what I need it to do.
Crashes and the watermarks do not stay in the right place and transparency does not seem to work
Every time I try to remove pics from the tray or slide them around it doesn't work and crashes. SO every new batch I have to input my settings again. When I do get it to process the pic I find out that the watermark is covering the subject of the photo instead of being alongside it where I placed it, and it is no longer transparent so it looks gaudy and draws too much attention away from the pic :|
View in Mac App Store
Free

Category:

Utilities

Updated:

Mar 16, 2016

Version:

1.7.1

Size:

44.0 MB

Language:

English

Seller:

cf/x AG
Compatibility: OS X 10.7 or later, 64-bit processor
Top In-App Purchases
Unlimited Tray$19.99
16 Bit Color Watermarks$4.99
Set/Add EXIF copyright tag$3.99