WaterMinder® - Water Hydration Reminder & Tracker
By Funn Media, LLC
Open iTunes to buy and download apps.
Description
Loved by thousands of users all over the World.

Get help with WaterMinder®, an easy, intuitive app to track your water intake. Based on your body weight (or your personal goal), WaterMinder® will remind you to drink water to reach your daily goals. By seeing current water fill visually and in percents you will instantly know how well you are hydrated!

"This app has changed my life. I never think of drinking water and often end up dehydrated. Thanks to the watch complication I'm always aware of how much is left to drink and filling the ring has become a game to me. This is the app I use most on Apple Watch. The difference with other apps in the category? The app stayed simple and not bloated with unnecessary stuff, the watch complication is a circle which fits perfectly next to the activity rings. This app is exactly what an Apple Watch app should be: fast, simple, useful, good looking, and upon all not doing too much. Five stars is the least you deserve!"

"A must have - I love this app!!! It reminds me to drink water all day with such a hectic schedule I forget sometimes and this is just a little reminder of how much water you're supposed to drink my skin looks better I feel better must have app!!!"

"Went beyond my expectations - Usually I download these apps and they hardly ever have long shelf life's, but this app is a keeper. The reminder really helps and motivates me to drink water. I also love how visual the accomplishment is. Definitely worth looking into and happily satisfied."

"PERFECT - I absolutely love this app!!!! It really helps if you have kidney problems. I was having bad kidney pains because I wasn't sure how much water to drink in a day so I was only getting about 1/2 if what I was supposed to be getting until now. To the creators., THANK YOU"

"Amazing App! - This is an amazing app. I'm someone who has trouble remembering to drink fluids during the day, I'm more of a snacker. But I found this really helpful since I'm generally dehydrated. I like that it has reminders & how you can see your progress."

"Awesome -Great for the breast feeding mom."

"Great app - Clean and simple!"

"Love this - Super simple and easy to use, FANTASTIC way to keep up with your hydration, which is oh so important. Plus cool facts to keep you informed and further motivated. Thanks guys!!!"


Keeping track of your daily water intake needs and making sure your body is well hydrated is not an easy task in todays busy world. Let WaterMinder® help you!


◆◆◆ Main Features ◆◆◆
● Clean visual view of your current water fill
● Simple, quick and easy to use interface (just tap on 1 icon and a menu opens with your options to log/track your water intake)
● Pre-defined cups for quick tracking
● Create custom cups
● Create unlimited custom reminders
● History and Graph, see your progress
● Badge icon displaying your goal or current water fill
● US oz, UK oz and ML units
● Free guide to drinking water

Stay healthy, and drink more water - hydrate yourself!



Note: HealthKit integration is to capture weight, gender and date of birth as well as share Water data to Apple Health app.

NOTE: WaterMinder is not a medical app. Suggested water intake goal is just an estimate based on your weight. Please consult your health provider if you want to use it for medical purposes or to obtain specific hydration needs.
What's New in Version 3.1
New and exciting features!
• Other Drink types - track other drink types like tea, coffee, juice and more!
• Fitbit integration - now synch your records to your Fitbit account
• Notification improvements
• iPad Landscape mode
• Added more haptic love to the History and Achievements screens
• Added article about Hydration and Other Drink Types on Settings screen

As usual thank you for using our app!
Help us make the app even better by emailing us or leaving a review on the App Store!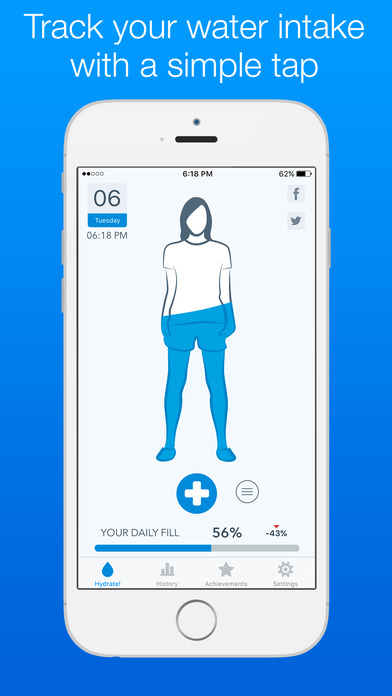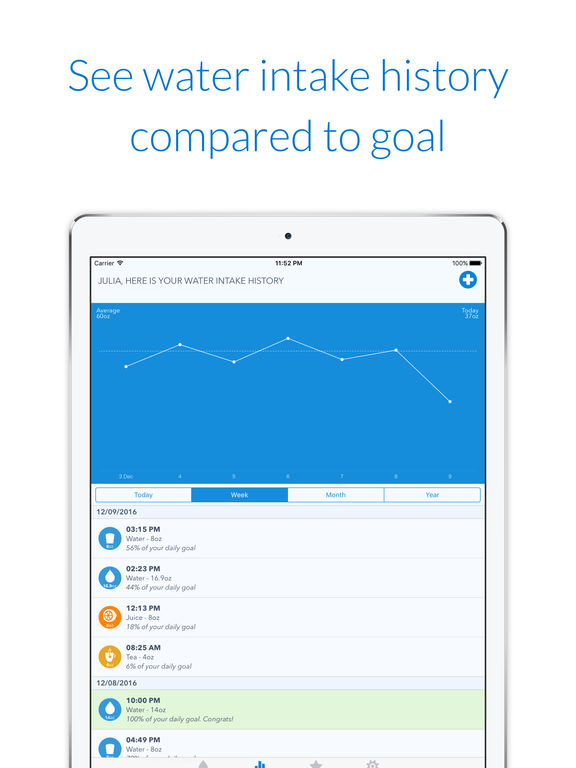 Customer Reviews
A Great Water Tracking App
For years, I had been drinking water on a regular basis, but with this being my second water tracking app, this one has proven to be extremely useful. Because of its ease of use, whether on the iPhone or the Watch, that is why I've been using it. Also, the UI is very streamlined, and we (the end users) can easily use it to track not just water, but other types of beverages too, such as juice, milk, and more.

Best of all, when I first started using it, I saw that it had some "starter" literature that gave detailed accounts of why we should drink water, which made me use it all the more. As a result, I'm using this every time that I drink something. Now, if Apple could modify their "Water" setting in the Health app to show other beverages you are drinking (instead of all your liquids, no matter what type they are, ending up under the Water category!), then we will have a more complete picture of our health. Other than that, this app is definitely useful in tracking liquid intake!
Pretty good actually
This app is pretty good. I don't usually get apps like this, but I decided this time why not, it's free and my girlfriends been getting on me about drinking more water (which I'm happy for). I have absolutely no problems with it, just have a recommendation/Suggestion. I would love it, (and I'm sure other would too) if you could choose your default drink. Like I know it's supposed to be water, but whenever I drink tea (which is a lot) I don't want to have to guess and hope I'm getting the right amount when I put it in the slider. Basically what I'm asking is to put numbers on the slider so I can see how much my custom drink is. But other then that this app is really great, thank you for bringing it to us and helping 😊
Great way to set goals
I wasn't sure what to think of this app, going into it. I already track my food on myfitnesspal, but never fracked how much water I'm drinking. Luckily, this app makes it super easy, and isn't a pain like tracking my food can be. My parents buy 17oz ice mountain water bottles, and 17oz is already preset into the app, so all I have to do is select it when I'm done drinking one. I generally only drink 2 a day, when I should be drinking 4 per my stats. I'm thinking about buying my own gallons of spring water and using refillable water bottles to try to meet my goal for once!!!!!! I have coworkers who made it their "new year resolution" to drink a gallon a day, and they said they feel better than ever!!! Hoping the same for me!!!!!
View in iTunes
This app is designed for both iPhone and iPad
Offers Apple Watch App for iPhone
$2.99

Category:

Health & Fitness

Updated:

Dec 14, 2016

Version:

3.1

Size:

90.3 MB

Apple Watch:

Yes

Languages:

English, Dutch, French, German, Italian, Japanese, Korean, Polish, Portuguese, Russian, Simplified Chinese, Spanish, Traditional Chinese, Turkish

Seller:

Funn Media, LLC
Compatibility: Requires iOS 8.0 or later. Compatible with iPhone, iPad, and iPod touch.