Weather Line - Forecast Graphs + Dark Sky Weather
By Off Coast LLC
This app is only available on the App Store for iOS devices.
Description
Your brain processes images 60,000x FASTER than text. SEE your forecast.

⁕ Featured by Apple "Apps we Love"
⁕ #1 Weather app in 44 countries
⁕ "My primary weather app" – John Gruber of Daring Fireball

⊘ We never track your location in the background.

VISUAL LINE - Built for quick glances. Bold colors quickly show temperature, condition, and precipitation. See 48 hours, 8 days, or 12 months. Available Worldwide.

SUPER ACCURATE - Dark Sky super accurate weather data (19 different sources!) and hyperlocal rain prediction.

HYPER LOCAL RAIN PREDICTION - State of the art rain forecasting down to the minute in the US, UK, Ireland, parts of Canada, and Puerto Rico. Powered by Dark Sky.

MONTHLY AVERAGES - Average temperatures, precipitation, rain days, snow days, and more for any location in the world. Perfect for travel planning.

SEVERE WEATHER WARNING REPORTS - NOAA severe weather alerts in app, in US & UK only (not push notifications).

DATA
▸ Worldwide
▸ Cities, zip codes, or airport codes
▸ "Feels Like" temperature
▸ High, Low, and Average temperatures
▸ Humidity
▸ Chance of Precipitation (rain, snow, or sleet)
▸ Wind speed and direction
▸ Dew Point (not avail on 5/5s/SE)
▸ UV Index (not avail on 5/5s/SE)
▸ Sunrise time
▸ Sunset time

MONTHLY
▸ Avg High and Low temp for each month (plan your vacation!)
▸ Average Total Rainfall for each month
▸ Average Daily rainfall for each month
▸ Monthly Snow days (skiing!)
▸ Monthly Dry days
▸ Monthly Fog days

BATTERY AND STORAGE OPTIMIZED
▸ Save space on your phone - super small app size (0.0016 GB)
⊘ NO background location tracking. Ever.

Email with any questions!
What's New in Version 1.8.5
We're back already with speed improvements — about 2.2x faster GPS locating and weather data downloading.
iPhone Screenshots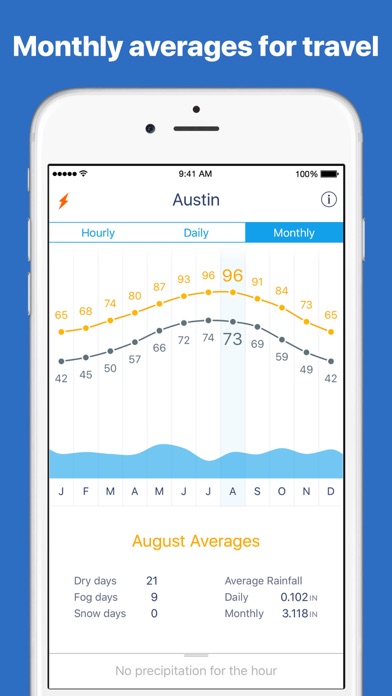 Customer Reviews
Very good weather app
The double line concept works very well and is this apps top feature. Other apps just give the high and low temperatures, maybe with a single bar, but they don't indicate if the low is in the early am or at later that night. This app shows the high and low lines separately so it's easier to see the temperature trends and when they occur.
This app would greatly benefit from just a few things: larger fonts and icons would be much better. There is a lot of wasted space on this app's display so increasing the fonts and size of the weather icons would be easy and beneficial. Please don't use the grayish or lighter colored text - it's harder to read at a glance or outside in brighter light. Also, a dark background option would be nice.
Favorite weather app, hands down
I've been using WeatherLine for a couple years now as my go to weather app. I use it alongside DarkSky but WeatherLine, which uses the same data is much cleaner to assess outlook at a glance. I still keep DarkSky on hand for it's excellent alerts. WeatherLine has no extras (like a weather map) to clutter the interface and no subscription or add-ons you have to buy, which is rare in 2017.

I would like the option to also add dew point to the temperature graph since that could really be useful.
Great app. Needs iPad version!
I use Weather Line as my daily weather app, and I'm really happy with it. Super accurate, easy to digest. So of course I want more 😉

- iPad version (I run it on my iPad anyway, and it looks terrible stretched out like that, but I still need weather no matter which device I pick up).

- Better rain summary icon algorithm (if it's 0% precipitation all day and 50% at 11pm, that should not warrant a "rainy" icon in the week forecast, and other "technically accurate yet not actually useful" summary results).

- Longer optional forecast (I know it gets exponentially less accurate, but sometimes when I'm packing for a 15 day trip, I could use even an educated WAG over my own un-educated one. Not to replace weekly, but to maybe add a "well, better than total guesswork here" tab?).

- Option to show C° as well as F° (like we get mph and kph on speedometers). How are we Americans ever going to learn Celsius without exposure?).
View in iTunes
$4.99

Category:

Weather

Updated:

Jun 20, 2017

Version:

1.8.5

Size:

7.0 MB

Language:

English

Seller:

Off Coast LLC
Compatibility: Requires iOS 10.0 or later. Compatible with iPhone, iPad, and iPod touch.