WebMD Pain Coach
By WebMD
Open iTunes to buy and download apps.
Description
WebMD Pain Coach™ offers a holistic approach to balancing lifestyle with chronic pain conditions to help inspire a better day. WebMD's new app is a mobile companion to help you through daily health and wellness choices so you can better manage your chronic pain. Enjoy a personalized experience as physician-reviewed tips related to your specific condition are delivered daily to you. WebMD Pain Coach™ puts you in control of your lifestyle choices so you can review personal patterns to understand triggers, set goals, and easily share progress with your physician.

588 Tips – 293 Articles – 86 Goals – 25 Videos – 21 Slideshows – 5 Quizzes

WebMD Pain Coach™ is specially designed and customized for people with the following chronic pain conditions:
- Back pain
- Neck pain
- Nerve pain
- Fibromyalgia
- Migraine
- Osteoarthritis
- Rheumatoid arthritis

If your chronic pain condition is not listed above, you can still use the app to track pain, set goals, and get pain management tips, articles, slideshows and videos.

When you first download and use WebMD Pain Coach™, you are asked to select your chronic pain condition(s), as well as symptoms, triggers and treatments that apply to your condition(s). If privacy is important, the option to set a four digit PIN will keep your information secure. WebMD's drug look-up allows you to search and select over-the-counter and prescribed medications, and record the dosage of each drug selected.

WebMD Pain Coach™ is organized into four easy-to-use sections:
- JOURNAL
The Journal section allows you to quickly and easily record your day. A separate Journal screen exists for each day. Once entries are created for multiple days, flip back to see your pain history. Turn your phone sideways to generate your Pain Coach™ Report: a historical chart that plots your general well-being against your pain levels while listing your most common symptoms, triggers and treatments. Tap on a day to view a snapshot of your pain history and export your Pain Coach™ Report to PDF and email it to yourself or your physician.
• Record how you generally feel each day by sliding the Pain Coach™ 'Well Being Belt.'
• Log a pain entry to track details surrounding pain: pain level from 1-10, symptoms, triggers, treatments and notes.
• Reminder to log a pain entry by receiving a Pain Coach™ notification once a day.
• View a new Daily Tip that is personalized to your condition(s), triggers and treatments.
• If you set goals to better manage pain, tap 'Today's Goals' to check off achieved goals.

- Goals
The Goals section allows you to browse and select physician-approved goals from five lifestyle categories related to your pain condition(s): Food, Rest, Exercise, Mood, and Treatments. You can also create your own goals. Each related tip can be viewed before selecting a goal. The goal duration can be set from one day to one year.
• The green ribbon at the top of the Goals screen indicates the percent completion rate for active goals.
• Once a goal is selected, tap 'My Goals' to view Goal Activity for active and completed goals.
• If you have more than one chronic pain condition, the goal that is suggested for a specific condition is indicated.

- Library
The Library section contains all of the critical, physician-approved content relevant to your condition(s) and pain management. The Library contains hundreds of articles, videos, slideshows and quizzes. All articles are available for offline reading.
• Library content contains links to WebMD's mobile website.
• The Library is searchable.
• Share all Library content via email, Facebook or Twitter.

- Tips
The Tips section features hundreds of 'bite-sized' tips that are matched with goals and organized into the same five lifestyle categories: Food, Rest, Exercise, Mood and Treatments. Each goal has between 3-10 supporting tips.
• Search for a specific tip.
• After reading a tip, view the goal related to the tip, or view related Library articles.
What's New in Version 1.3.1
Performance enhancements and bug fixes
iPhone Screenshot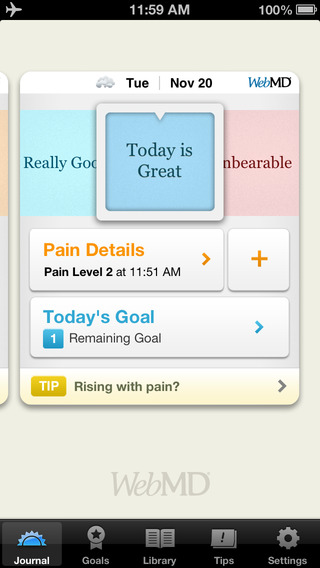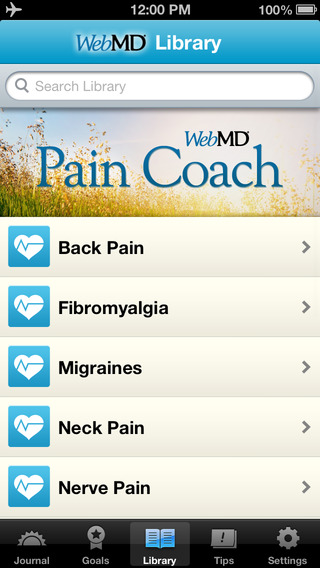 Customer Reviews
Could be better...
I LOVE the functionality of this app! I have dealt with CRPS, a form of chronic pain, for 20 years and just recently found this app. And it is very easy to use. Very simple. My biggest issue is that I am unable to log for each specific day ON that day. It won't allow me to log until the next day. After I have slept (or attempted to sleep) and my body has reset. I still have the same pain. But the intensity is different each day. I'd like to be able to log each day at the end of the day instead of waiting for the next day.
Also, on the advertisements on the app, CRPS/RSD are listed. Yet when you go into the app, neither is listed as a condition. Or have related information for it. CRPS is its OWN chronic pain condition. Different from anything else. I wish there were a bit more about CRPS. I'd even be willing to help find the appropriate information to share if developers would like some help!
I would rate this app a 5-star without hesitation if these two recommendations were taken into consideration. Thank you for user friendly!
App has potential
I agree with other reviewer, this app should include a goal's journal. It's not a big leap to have a hard copy journal, but it's a pain if you're on the go and want to work on goals. I think the app has potential -- just needs more development. Crashed on me too when trying to enter info on med info.
ADDITIONAL COMMENT: While some features need tweaking, I've been using the App for about 3 weeks and it is helping me manage my pain. BEST THING. I showed the history to my doctor during my last appointment. She was so impressed that I'm trying to manage my pain that she re-engaged in treatment. First time that's happened.
LATEST VERSION. downloaded to my IPhone 6 and it's crashed every time I use it. What's up with that?!?
Trending is key.
This app is great. Some have complained about the calendar being wrong during daylight savings time, this seems like an easy fix, but that is a trivial issue. From a medical standpoint the date doesn't matter. The important information is the trending from day to day (changes), what makes pain better and worse, and the quality and severity of the pain, and pretty much everything else they ask for. The exact day in which something occurs is irrelevant. This app makes tracking information simple and it even reminds the perpetually busy and/or absent minded.
View In iTunes
Free

Category:

Health & Fitness

Updated:

Nov 19, 2014

Version:

1.3.1

Size:

23.3 MB

Language:

English

Seller:

WebMD Health Corporation
Compatibility: Requires iOS 7.0 or later. Compatible with iPhone, iPad, and iPod touch. This app is optimized for iPhone 5.