WebReaver
By WEBSECURIFY LIMITED
Open the Mac App Store to buy and download apps.
Description
WebReaver is an elegant, easy to use and fully-automated, web application security security testing tool for Mac OS X. It is suitable for novice as well as advanced users. WebReaver allows you easily test any web application for a large variety of security issues.

WebReaver is powered by Websecurify's latest security testing engine, which comes with over 70 generic vulnerability checks ranging form SQL Injection, Expression Injection and Cross-site Scripting to Session Management issues, Information Disclosure and many others.

This tool detects numerous critical vulnerabilities including but not limited to:

• Shellshock (CVE-2014-6271, CVE-2014-7169)
• Expression Language Injection
• SQL Injection
• Cross-site Scripting
• Local And Remote File Includes
• XML Injection
• Command Injection
• CRLF Injection
• Weak Session Management
• Insecure Cross-domain Policies
• Open Redirect
• Response Splitting
• Session Security Best-practices
• Insecure SOAP Services
• Path, Username and Source Code Disclosure
• Insecure File Upload
• Vulnerable WordPress themes and plugins
• Many more

Check out https://www.websecurify.com/overview/vulnerabilities.html for more information on the types of vulnerabilities WebReaver can help you discover.

---

WebReaver saves you time and money by automating a tiresome and very technical process used by experts to find scary security vulnerabilities.
What's New in Version 2.1
• Bug fixes and performance improvements
• App Store ratings integration
Screenshots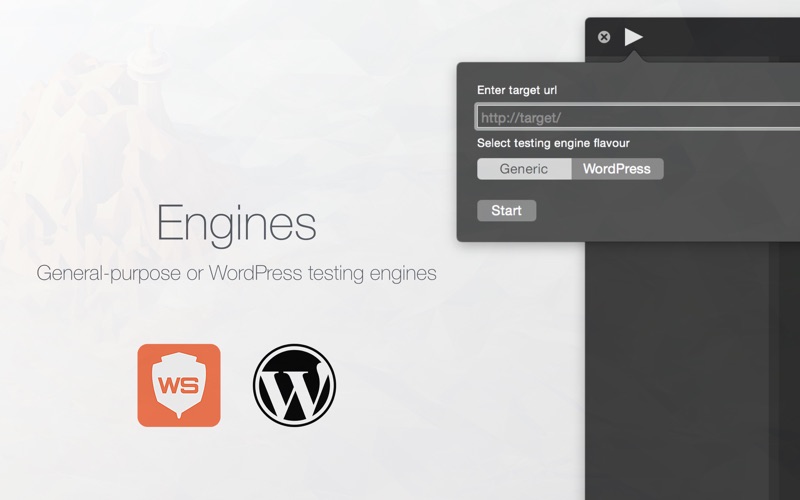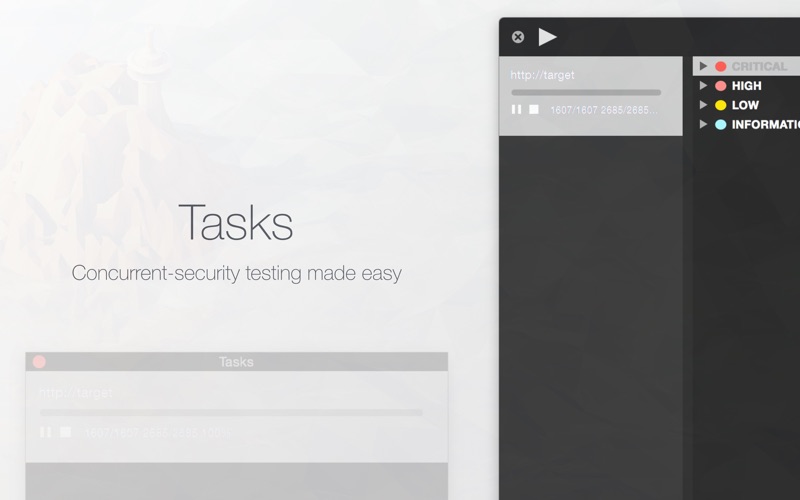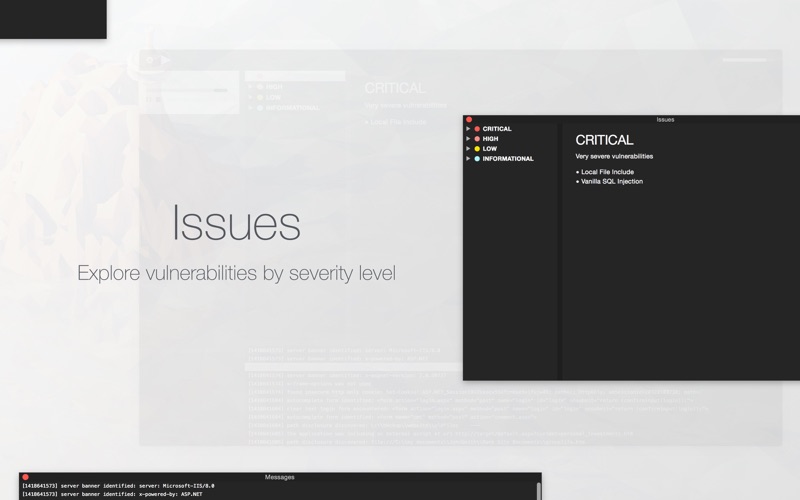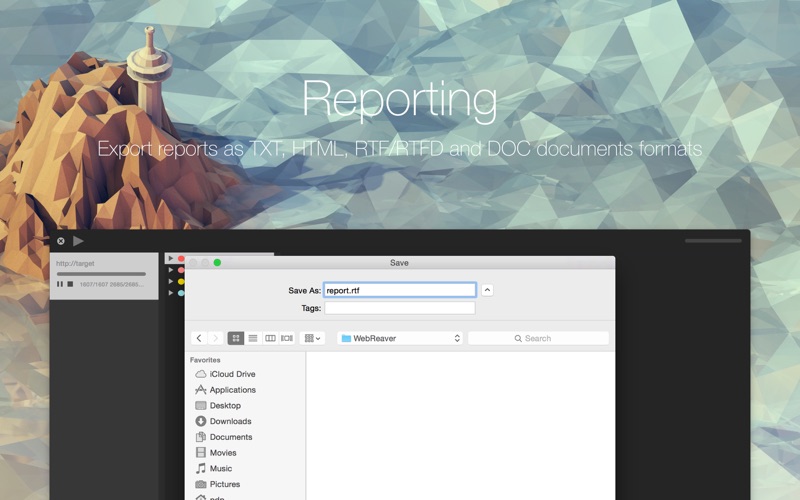 Customer Reviews
Great value for money! 😊
I purchased this web scanner for $14.99. For this price, one can't fault it. The GUI is both elegant and intuitive. I run a security consultancy, and our engineers use WebReaver amongst other tools when conducting application pentests. This helps us ensure that we aren't missing any obvious vulnerabilities.

Since WebReaver can be used by those with no security-testing skills, it's ideal for developers aiming to spot low-hanging-fruit issues before a proper pentest is carried out by a third party.

As a feature request, I would welcome the ability to export results as XML documents.

Great work, everyone at Websecurify! 👍
broken - total ripoff
All scans get stuck at 1% and the following lines show up in error console.

8/13/15 4:21:31.069 PM WebReaver[41860]: ------------------------------
8/13/15 4:21:31.069 PM WebReaver[41860]: [JS Exception Type]: TypeError
8/13/15 4:21:31.070 PM WebReaver[41860]: [JS Exception Line]: 16
8/13/15 4:21:31.070 PM WebReaver[41860]: [JS Exception Message]: Invalid array length argument
8/13/15 4:21:31.070 PM WebReaver[41860]: [JS Exception Stack]: Uint8Array@[native code]
_emitData
onload
8/13/15 4:21:31.070 PM WebReaver[41860]: ------------------------------
8/13/15 4:21:31.073 PM WebReaver[41860]: ------------------------------
8/13/15 4:21:31.073 PM WebReaver[41860]: [JS Exception Type]: TypeError
8/13/15 4:21:31.073 PM WebReaver[41860]: [JS Exception Line]: 16
8/13/15 4:21:31.073 PM WebReaver[41860]: [JS Exception Message]: Invalid array length argument
8/13/15 4:21:31.073 PM WebReaver[41860]: [JS Exception Stack]: Uint8Array@[native code]
_emitData
onload
8/13/15 4:21:31.073 PM WebReaver[41860]: ------------------------------
8/13/15 4:21:31.200 PM WebReaver[41860]: ------------------------------
8/13/15 4:21:31.200 PM WebReaver[41860]: [JS Exception Type]: TypeError
8/13/15 4:21:31.200 PM WebReaver[41860]: [JS Exception Line]: 16
8/13/15 4:21:31.200 PM WebReaver[41860]: [JS Exception Message]: Invalid array length argument
8/13/15 4:21:31.200 PM WebReaver[41860]: [JS Exception Stack]: Uint8Array@[native code]
_emitData
onload
8/13/15 4:21:31.200 PM WebReaver[41860]: ------------------------------
8/13/15 4:21:31.201 PM WebReaver[41860]: ------------------------------
8/13/15 4:21:31.201 PM WebReaver[41860]: [JS Exception Type]: TypeError
8/13/15 4:21:31.201 PM WebReaver[41860]: [JS Exception Line]: 16
8/13/15 4:21:31.202 PM WebReaver[41860]: [JS Exception Message]: Invalid array length argument
8/13/15 4:21:31.202 PM WebReaver[41860]: [JS Exception Stack]: Uint8Array@[native code]
_emitData
onload
8/13/15 4:21:31.202 PM WebReaver[41860]: ------------------------------
8/13/15 4:21:31.318 PM WebReaver[41860]: ------------------------------
8/13/15 4:21:31.319 PM WebReaver[41860]: [JS Exception Type]: TypeError
8/13/15 4:21:31.319 PM WebReaver[41860]: [JS Exception Line]: 16
8/13/15 4:21:31.319 PM WebReaver[41860]: [JS Exception Message]: Invalid array length argument
8/13/15 4:21:31.319 PM WebReaver[41860]: [JS Exception Stack]: Uint8Array@[native code]
_emitData
onload
8/13/15 4:21:31.319 PM WebReaver[41860]: ------------------------------
8/13/15 4:21:31.320 PM WebReaver[41860]: ------------------------------
8/13/15 4:21:31.320 PM WebReaver[41860]: [JS Exception Type]: TypeError
8/13/15 4:21:31.320 PM WebReaver[41860]: [JS Exception Line]: 16
8/13/15 4:21:31.320 PM WebReaver[41860]: [JS Exception Message]: Invalid array length argument
8/13/15 4:21:31.321 PM WebReaver[41860]: [JS Exception Stack]: Uint8Array@[native code]
_emitData
onload
8/13/15 4:21:31.321 PM WebReaver[41860]: ------------------------------
8/13/15 4:21:31.403 PM WebReaver[41860]: ------------------------------
8/13/15 4:21:31.403 PM WebReaver[41860]: [JS Exception Type]: TypeError
8/13/15 4:21:31.403 PM WebReaver[41860]: [JS Exception Line]: 16
8/13/15 4:21:31.403 PM WebReaver[41860]: [JS Exception Message]: Invalid array length argument
8/13/15 4:21:31.403 PM WebReaver[41860]: [JS Exception Stack]: Uint8Array@[native code]
_emitData
onload
8/13/15 4:21:31.404 PM WebReaver[41860]: ------------------------------
8/13/15 4:21:31.663 PM WebReaver[41860]: ------------------------------
8/13/15 4:21:31.663 PM WebReaver[41860]: [JS Exception Type]: TypeError
8/13/15 4:21:31.663 PM WebReaver[41860]: [JS Exception Line]: 16
8/13/15 4:21:31.663 PM WebReaver[41860]: [JS Exception Message]: Invalid array length argument
8/13/15 4:21:31.663 PM WebReaver[41860]: [JS Exception Stack]: Uint8Array@[native code]
_emitData
onload
8/13/15 4:21:31.664 PM WebReaver[41860]: ------------------------------
8/13/15 4:21:31.672 PM WebReaver[41860]: ------------------------------
8/13/15 4:21:31.672 PM WebReaver[41860]: [JS Exception Type]: TypeError
8/13/15 4:21:31.672 PM WebReaver[41860]: [JS Exception Line]: 16
8/13/15 4:21:31.673 PM WebReaver[41860]: [JS Exception Message]: Invalid array length argument
8/13/15 4:21:31.673 PM WebReaver[41860]: [JS Exception Stack]: Uint8Array@[native code]
_emitData
onload
8/13/15 4:21:31.673 PM WebReaver[41860]: ------------------------------
8/13/15 4:21:31.692 PM WebReaver[41860]: ------------------------------
8/13/15 4:21:31.692 PM WebReaver[41860]: [JS Exception Type]: TypeError
8/13/15 4:21:31.693 PM WebReaver[41860]: [JS Exception Line]: 16
8/13/15 4:21:31.693 PM WebReaver[41860]: [JS Exception Message]: Invalid array length argument
8/13/15 4:21:31.693 PM WebReaver[41860]: [JS Exception Stack]: Uint8Array@[native code]
_emitData
onload
8/13/15 4:21:31.693 PM WebReaver[41860]: ------------------------------
8/13/15 4:21:31.767 PM WebReaver[41860]: ------------------------------
8/13/15 4:21:31.767 PM WebReaver[41860]: [JS Exception Type]: TypeError
8/13/15 4:21:31.767 PM WebReaver[41860]: [JS Exception Line]: 16
8/13/15 4:21:31.768 PM WebReaver[41860]: [JS Exception Message]: Invalid array length argument
8/13/15 4:21:31.768 PM WebReaver[41860]: [JS Exception Stack]: Uint8Array@[native code]
_emitData
onload
8/13/15 4:21:31.768 PM WebReaver[41860]: ------------------------------
8/13/15 4:21:31.790 PM WebReaver[41860]: ------------------------------
8/13/15 4:21:31.791 PM WebReaver[41860]: [JS Exception Type]: TypeError
8/13/15 4:21:31.791 PM WebReaver[41860]: [JS Exception Line]: 16
8/13/15 4:21:31.791 PM WebReaver[41860]: [JS Exception Message]: Invalid array length argument
8/13/15 4:21:31.791 PM WebReaver[41860]: [JS Exception Stack]: Uint8Array@[native code]
_emitData
onload
8/13/15 4:21:31.791 PM WebReaver[41860]: ------------------------------
8/13/15 4:21:31.989 PM WebReaver[41860]: ------------------------------
8/13/15 4:21:31.989 PM WebReaver[41860]: [JS Exception Type]: TypeError
View in Mac App Store
$29.99

Category:

Developer Tools

Updated:

Jan 23, 2015

Version:

2.1

Size:

3.1 MB

Language:

English

Seller:

WEBSECURIFY LIMITED
Compatibility: OS X 10.10 or later, 64-bit processor
More by WEBSECURIFY LIMITED