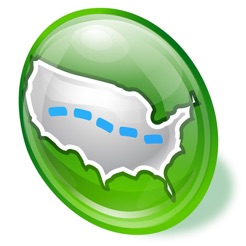 Description
WhereWuz turns your phone into your own personal location history tool!

What if your phone could show you on a map exactly where you were at any specific time in the past? What if you could also see the exact path that you took between any given dates and times? What if you could also get a list of all of the dates and times that you were at any given place, or know for sure if you were there or not?

Now all this is possible with WhereWuz. WhereWuz is more than just a GPS location device. WhereWuz is your own personal location history application. WhereWuz is an unobtrusive and innovative GPS application that enables your iPhone to securely store the actual path that you take as you move around through life. WhereWuz then allows you to search your path history in useful and interesting ways.

With WhereWuz you can answer questions like:
• Where exactly was that restaurant we went to on Dad's birthday?
• What were the dates that I was on that skiing trip to Colorado?
• What were all of the times that I arrived and left work in June?
• How many hours did I spend traveling on the freeway last month?
• Where exactly did I park my car in this giant parking lot?

WhereWuz is great for:
• Concerned parents who want to know where their teens were
• Travelers who want to know exactly where they visited and when
• Outdoor enthusiasts
• Business owners with employees that travel
• Keeping track of business mileage
• Countless other uses

With WhereWuz you can:
• Disable path recording at any time for privacy
• Recall precisely where you were by time and date
• Find the exact times and dates that you visited any specific location
• Display the entire path you traveled for any day in your path history
• Find out the distance and speed you traveled for any part of your path
• Track your fitness progress such as routes, distances, and average speeds
• Share pictures of your path history via email, but only if you choose
• Save any path under your favorites for quickly accessing and reviewing

Your life is special. The places that you go and the times that you were there are unique to you alone. Do not let these memories be forgotten. With WhereWuz you can now have a perfect memory for place and time.

There is little doubt that you will grow to love and depend on the incredibly useful and helpful features of WhereWuz.

Note that the continued use of GPS running in the background can decrease battery life.

Ratings and Reviews
Good and Bad
If this app didn't crash it would be a 5-star app. I guess that's like saying if this car's engine would just run it would be a great car! So the bad...the app crashes at the exact same place every time. That leads me to think it would be SO fixable, and I've emailed the details to the maker, so I wish a fix would happen. But I didn't even get an acknowledgment back. And furthermore, the version of the app is 1.0 after a couple years, so I think the maker moved on. Too bad. Because otherwise it's the best 'where was I' app I've used. The good? It works how you'd want it, a map feature that plots where you were, a slider that moves a little dot on the map showing your path travelled as you slide the time slider. Also the other way around, pick a spot in the map, zoom in/out to define a region, and it will tell you when you were in that region! A good tool. So why explain how good it is if it crashes each time you use it (and why not 1 star)? I guess in case the maker reads this and wants to fix it. Plus there aren't any reviews for this app now, so I wanted to explain more than just "it crashes", because it's so close to being a great app! But...it crashes...so it isn't!! [iPhone 5s, iOS 7.0.4].
Not practical
Only works when you turn tracking on which drastically reduces battery life, making it impractical to use when traveling which is when you would want it--I won't be using it.
great, but battery drain limits use
The app does what it claims: it offers the extremely useful ability to pick a spot on the map and see when you were last there or pick a time interval and be able to visually trace your path by freely moving a time slider forwards or backwards, all this and it presents the data wonderfully in interactive google style maps.
The downside, it drains your battery like crazy, because it's always on, using the power hungry gps chip (unless you manually disable tracking).
I just hope the developer plans to make the gps usage smarter so it consumes less power. I expect they will, but I hope they can solve the problem soon. Until they do, I will only turn on tracking specifically when I want to record my location data. Of course it would be better to be able to have it on all the time so you don't run the risk of forgetting to turn it on when you wanted to.
Note on operation: when you hit the clear all points button, all the position data clears from the map, but when you hit the import button, you retrieve all your past data. So, it does not appear that 'clear all' actually destroys data, it just clears the map and clears out the data in the app until you import all your data again.
Comment: the clear all points should probably be a button in the map view rather than the prefs, since the latter implies you are destroying data, while the former implies it's just clearing the current map view of points, which is the actual action of the button. Also, it's annoying that when you hit Clear, it not only clears the map, but clears data, so you can't do any new searches until you reload all your data, which can take a while. Why don't you just keep the data in memory, and just clear the map?
Question to developer (please include answer in app description if possible): a HUGE concern to address is data security, so what does this app do to make sure the location data is secure? Also, related to that, where is the data imported from when you hit import button? Is it stored locally, or from a remote server? I noticed that you cannot import or search any location data when phone is in airplane mode (3G and wifi disable). The "import" term implies it's stored remotely, which makes me nervous, and I don't want my location data stored on a server (unless I specifically choose to, and even then I would want to know if the data security measures are adequate. At least let the user choose.).
Lastly, a feature request: I would like the ability to permanently delete location data for a specified time interval.
It would also be nice to be able to store backups of location data to a pc (either via iTunes, or via emailing a file which could later be imported to the phone)
Information
Seller

Sunny Day Software Inc

Size

1 MB

Category

Compatibility

Requires iOS 3.0 or later. Compatible with iPhone, iPad, and iPod touch.

Age Rating

Rated 4+

Copyright

© 2010 Sunny Day Software

Price

$2.99
Supports
Family Sharing

With Family Sharing set up, up to six family members can use this app.