White Noise Free
By TMSOFT
Open the Mac App Store to buy and download apps.
Description
White Noise Free provides 50 HD ambient sounds of the environment to help you relax or sleep. Do you find yourself waking up in the middle of the night? Are you in a hotel and miss the familiar sound of your fan? Need a full screen digital clock on your nightstand? Includes high quality looping noises such as waves crashing on a beach, crickets chirping at night, and the soothing sound of rain fall.

Relax. Sleep better. Feel better.

FEATURES
- 50 New HD Perfectly Looped Sounds!
- Beautiful photos in a cover flow interface allows you to swipe to your favorite sound.
- Mix sounds together with our revolutionary mix pad and create new unique sounds.
- Download new sounds for free from our White Noise Market ( http://whitenoisemarket.com/ )
- Digital Clock is the perfect bedside sleep companion. Swipe left or right to change colors. Drag up and down to adjust brightness.
- Sound timers that slowly fade audio out so you don't suddenly awake.
- Multiple alarms that slowly fade in so you wake up feeling refreshed.
- Full screen mode supported.
- On-screen media and volume control.
- Create custom playlist of sounds and mixes with different playback durations.
- Favorites view for quickly accessing your preferred sounds and mixes.

SOUND CATALOG

Air Conditioner, Airplane Travel, Amazon Jungle, Babbling Brook, Bathroom Fan, Beach Waves Crashing, Blowing Wind, Blue Noise, Boat Swaying in Water, Box Fan, Brown Noise, Camp Fire, Cars Driving, Cat Purring, Chimes Chiming, City Streets, Clothes Dryer, Crickets Chirping, Crowded Room, Dishwasher Rinsing, Evening Lake, Extreme Rain Pouring, Frogs at Night, Gentle Waterfall, Grandfather Clock, Gray Noise, Hair Dryer Blowing, Heartbeat, Heavy Rain Pouring, Light Rain Pouring, Ocean Waves Crashing, Oscillating Fan, Pink Noise, Rain on Car Roof, Rain on Lake, Rain on Metal Roof, Rain on Tent, Rain Storm, Running Shower, Running Water, Singing Birds, Stream Water Flowing, Thunder Storm, Tibetan Singing Bowl, Train Ride, Vacuum Cleaner, Violet Noise, Water Dripping, Water Sprinkler, White Noise

UPGRADING
If you like what you hear in the White Noise Free version then upgrade to the following features:
- Full Stereo HD Sounds
- Create custom White Noise color sounds with Generator
- Convert sounds with our White Noise Creator tool
- More alarms that slowly fade in so you wake up refreshed!
- Unlimited sound imports from the White Noise Market
- No ads!

White Noise is also available for iPhone, iPod touch, and iPad. Click the Web menu to find out more details!

Visit our website at http://www.tmsoft.com/white-noise/

Support and FAQ info at http://www.tmsoft.com/white-noise/support/

Download new sounds at http://whitenoisemarket.com/

White Noise was first created for the original iPhone in 2008 by TMSOFT and has been continuously updated with new features. Join us on Facebook and Twitter and let us know how we can improve.

Like us on Facebook at https://www.facebook.com/WhiteNoiseApp

Follow us on twitter at https://twitter.com/whitenoiseapp

Thanks for using White Noise by TMSOFT!
What's New in Version 7.0
White Noise 7 for Mac adds search, drag and drop support, and lots of UI improvements! Check out the list of new features:
1. Search bar added to top of application for quickly finding a sound or mix to play. You can also drag items from the search results into the Mix Pad or Playlist to add a sound.
2. Drag and drop support added for importing new market sounds that you download from whitenoisemarket.com. Just drag the WNA file into the White Noise app and it'll automatically import.
3. Drag and drop support added for rearranging sounds in the Sound, Mix Pad, and Playlist side catalog.
4. Mixes that are imported with missing sounds support searching the White Noise Market for a match.
5. UI improvements for Mix Pad sounds, catalog of sounds, various dialog popups, and menu items.
6. Major improvements to importing of new sounds.
7. Fixed music alarm not reaching full volume. Improved support for older versions of macOS.

Thanks for using the White Noise Free app for Mac. If you have any problems with this version please contact us by using Help / Send Feedback or e-mailing us at support@tmsoft.com.
Screenshots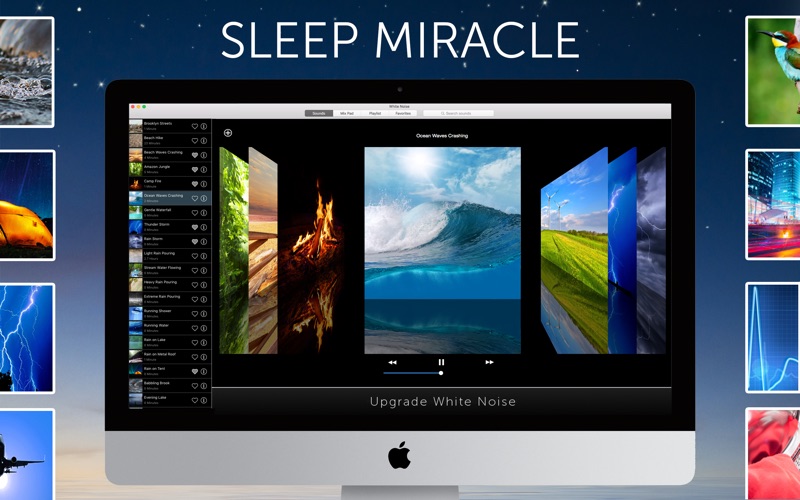 Customer Reviews
Helps me sleep in noisy environments
I use this when I'm visiting a hotel/Airbnb where there is street noise, and it is the only thing that seems to help me sleep. Some of the noise options seem strainge (why would I choose street noise to listen to when that's what I'm trying to cover up?) but there are plenty of options.
Ads woke me up in the middle of the night
The concept of the app is great- I like being able to mix sounds and they have good things to draw from.
That said, being woken up at 3AM by ads for medication is really not what I had in mind- going to have to quit using this. I have to think they are trying to force me to purchase the upgrade...
***** 5 STARS *****
This app is seriously amazing. You can place yourself in so many places. Its perfect for sleep but I have also found it useful for certain meditation.

Thank you!!!
View in Mac App Store
Free

Category:

Health & Fitness

Updated:

Oct 12, 2016

Version:

7.0

Size:

39.4 MB

Language:

English

Seller:

TMSOFT
Compatibility: OS X 10.7 or later, 64-bit processor