White Noise
By TMSOFT
Open iTunes to buy and download apps.
Description
Do you have trouble going to sleep? Are you traveling on a plane and need a quick power nap? Does your newborn baby wake up in the middle of the night? There are numerous benefits to using White Noise:

• Helps you sleep by blocking distractions
• Relaxes and reduces stress
• Pacifies fussy and crying babies
• Increases focus while enhancing privacy
• Soothes headaches and migraines
• Masks tinnitus (ringing of the ears)

Even when you're asleep, your brain is constantly scanning and listening for sounds. If it's too quiet, unwanted noises such as faucet drips or police sirens can interrupt your sleep. White Noise generates sounds over a wide range of frequencies, masking those noise interruptions, so you can not only fall asleep, but stay asleep.

SOUND CATALOG

Air Conditioner, Airplane Travel, Amazon Jungle, Beach Waves Crashing, Blowing Wind, Blue Noise, Boat Swaying in Water, Brown Noise, Camp Fire, Cars Driving, Cat Purring, Chimes Chiming, City Streets, Clothes Dryer, Crickets Chirping, Crowded Room, Dishwasher Rinsing, Extreme Rain Pouring, Frogs at Night, Grandfather Clock, Hair Dryer Blowing, Heartbeat, Heavy Rain Pouring, Light Rain Pouring, Ocean Waves Crashing, Oscillating Fan, Pink Noise, Rain on Car Roof, Rain Storm, Running Shower, Running Water, Stream Water Flowing, Thunder Storm, Tibetan Singing Bowl, Train Ride, Vacuum Cleaner, Violet Noise, Water Dripping, Water Sprinkler, White Noise

APPLICATION FEATURES

• 40+ perfectly looped sounds with additional free sounds from the White Noise Market at http://whitenoisemarket.com/
• Apple Watch integration for controlling audio playback
• iPhone 5, 6, 6+ Retina display support with high resolution photos. Portrait and Landscape orientations.
• Record and professionally loop sounds without being an audio engineer!
• Revolutionary Mix Pad editor for creating new soundscapes like a DJ with support for adjusting sound position, sound variance, volume, and pitch of each individual sound in the mix
• Upload and Share your recordings and mixes with the White Noise Market app
• Audio plays in background so you can use other apps while listening
• Full screen digital clock with multiple colors and brightness controls makes it the perfect companion for any nightstand
• Advanced alarm and timer system that slowly fades audio in and out so you awake naturally feeling more refreshed
• On-screen media player and volume controls with swipe gesture support for navigating sound collection
• Heart favorite sounds and mixes in the sound catalog for quick access using the Favorites view
• Use iPod Music as alarms that slowly fade in so you wake refreshed
• AirPlay sounds to Bluetooth devices or Apple TV
• Remote media controls on lock screen and headphones
• Advanced controls for volume, balance, pitch, mixing with iPod music, looping the playlist, custom alarm snooze times, and more
• Generate custom color noises with Generator In-App Purchase

PRESS REVIEWS

White Noise has been featured by popular TV shows (Dr. Oz, Today Show, FOX&Friends, Jimmy Fallon), major media outlets (NBC News Today, Health Magazine, The Washington Post, NY Times, CNET, Esquire, PC Magazine), and raved about by millions of satisfied customers.

DR. OZ SHOW: 13 Miracles of 2013
"Revolutionary Sound App!"

THE WASHINGTON POST: Smartphone Puts Newborn to Sleep
"For the next four months, the infant slept with his father's phone in his crib and White Noise tuned to 'air conditioner.' The monotonous buzz kept the baby sleeping soundly and his parents happy."

CNET: Apps that can improve your life
"Trouble falling asleep at night? A little White Noise might do the trick."

HEALTH MAGAZINE: "Help you turn off your brain, fall asleep faster, and get the rest you desperately need"
What's New in Version 7.2
French language support added. Settings screen now includes descriptions. Various improvements made to the Sound Details screen. Apple Watch app improvements. Audio graph added to Generator IAP Lots of additional fixes and stability improvements. Thanks for being a White Noise user and supporting small business! If you like this free update, please update your review on the App Store. If you find a problem with the app please give us the opportunity to fix it by tapping Settings / Send Feedback. We respond to every e-mail and love hearing from you! Cheers, TMSOFT

p.s. We have also been adding new visualization videos of our popular sounds on YouTube ( http://bit.ly/tmsoft-youtube ) and Amazon video ( http://bit.ly/tmsoft-amazon ). Download our free White Noise Market companion app for quick access to new visualizations and free White Noise sounds.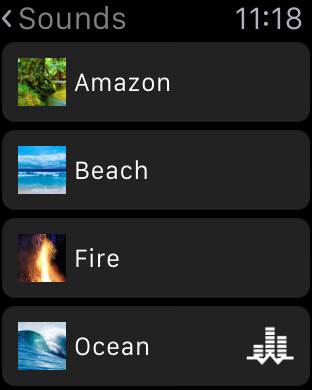 Customer Reviews
Makes Me Sleep Like A Baby
I used this app during a two month vacation to China where I didn't have a fan to sleep to, the brown noise in the app sounds just like my fan at home, wasn't sure if the paid version was needed (since this sound is available in the free version) but I'm happy I did. The free version doesn't let you use the sounds while browsing different apps, the sound will stop as soon as you switch to a different app. The paid version allows you to look at other apps while the sound is playing, which is needed if you are sharing this with a spouse who may still be sleeping while you want to check emails, etc. great App!
Lulls me to sleep
I love this app! It was worth it to buy the paid version to access a treasure trove of sounds and have the sounds continue after exiting the app. I have enjoyed using the high quality recordings to make my own soothing mixes. I look forward to trying to make my own recordings in the future! Especially when I am away from home, this has helped me and my youngest sleep. She is also entertained just trying out all the sounds and music. It's also very easy to use- no problem for non-techies to mix sounds. I highly recommend it!
Great for Travel
I started using a sleep conditioner (forced air) back in college to drown out the noise and have used it for last 30 years. My wife has become accustomed to the noise. I travel frequently and instead of taking the one from home, I use the White Noise app. Even better, I've recorded sounds from home, like the sleep conditioner and an electric fireplace fan and the app will play those as well. My personal favorites are the Air Conditioner and Airplane, although there is a distracting background noise on the plane. A little too realistic.
View in iTunes
This app is designed for both iPhone and iPad
Offers Apple Watch App for iPhone
$0.99

Category:

Health & Fitness

Updated:

Apr 25, 2017

Version:

7.2

Size:

44.1 MB

Apple Watch:

Yes

Languages:

English, French, Spanish

Seller:

TMSOFT
Compatibility: Requires iOS 8.0 or later. Compatible with iPhone, iPad, and iPod touch.
Apple TV:
Yes
Top In-App Purchases
Generator$0.99