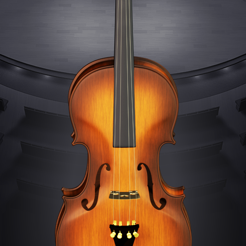 WI Orchestra™
4+
Free
Offers In-App Purchases
Description
***** TOP #5 MOST DOWNLOADED MUSIC APP IN OVER 25 COUNTRIES *****

WI Orchestra is a full orchestral library and composition tool for iPhone and iPad.

You can now create and record your own orchestral music on the iPhone, layer by layer, using the instruments and built-in recording features of WI Orchestra. Choose between a full range of orchestral strings, brasswinds, woodwinds, saxophones and percussion.

When starting WI Orchestra for the first time, press the "play" button to listen to the included demo song, which was made with the WI Orchestra app in only a few hours!

WI Orchestra features a velocity sensitive keyboard (requires iOS 4.0 or higher) allowing you to play different dynamics by touching the keyboard harder of softer. The simplest way to use WI Orchestra is to choose one of the dynamics presets (pp, p, mp, mf, f or ff) and play only using the keyboard.

You can work on as many as 98 different projects at a time, and export your songs to your computer, as *.wav files, via the "Apps" tab in iTunes (requires iOS 4.0 or higher). iOS devices with less than 256 MB RAM are capable of 1 minute length projects (iPhone 3GS and earlier) while iPhone 4 and iPads are capable of 5 minute length projects.

For those who are unfamiliar with orchestral music, each instrument in WI Orchestral comes with a picture and description of the instrument.

For the brave, you can also choose to use the microphone as a breath controller!

WI Orchestra is a universal iOS app, with a native full-screen iPad version and beautiful high-resolution graphics on iPhone 4 retina displays.

Five amazing instruments from the different sections of the orchestra are included for free, Violins, Trumpet, Flute, Tenor Saxophone and Timpani!

TIP: For first-time users on iPhone/iPod Touch, in order to access the keyboard you need to press the "Play!" button!

WI Orchestra now also support CoreMIDI, for input via external MIDI devices (requires iOS 4.2 or higher).


ABOUT IN-APP PURCHASES
--------------------------------------
Please note, you are never charged twice for WI Orchestra's instrument package (they are non-consumables). If you have already purchased a package and want to download again on a second device, simply click "Buy now" to redeem it. Please make sure you are using the same iTunes account!


TECHNICAL SPECIFICATIONS
--------------------------------------
All wind instruments in WI Orchestra are based on the WIVI technology, an additive synthesis/behavioral modeling pioneered by Wallander Instruments with the professional music production software WIVI.

Strings and percussion in WI Orchestra uses a new patent-pending filtering technology by Wallander Instruments, that allows seamless dynamic changes of any sampled instrument in real-time.

WIVI technology is used on a daily basis for producing music for movies, TV and writing classical scores, by composers all over the world.


CONTENTS (Instruments marked with * are included for free)
--------------------------------------

STRINGS
- Violins*
- Violas
- Cellos
- Double Basses
- Violins Pizzicato
- Violas Pizzicato
- Cellos Pizzicato
- Double Basses Pizzicato

BRASSWINDS
- Trumpet*
- Piccolo Trumpet
- Trombone
- Bass Trombone
- French Horn
- Wagner Tuba
- Tuba
- Cornet
- Flugelhorn
- Euphonium

WOODWINDS
- Flute*
- Piccolo
- Alto Flute
- Bass Flute
- Recorder
- Clarinet
- Bass Clarinet
- Oboe
- English Horn
- Bassoon
- Contrabassoon

SAXOPHONES
- Sopranino Saxophone
- Soprano Saxophone
- Alto Saxophone
- Tenor Saxophone*
- Baritone Saxophone
- Bass Saxophone

PERCUSSION:
- Timpani*
- Harp
- Mixed percussion (Bass Drum, Toms, Bongos, Castanets, Triangle, Cymbal, Gong, Snare, Tambourine, Wood block, Tam-tam)
- Glockenspiel
- Xylophone
- Marimba
- Vibraphone
- Celesta
- Piano
- CoreMIDI support for MIDI input
Ratings and Reviews
Good samples.
Good app that sounds great. The add on packs are a little pricey but you get what you pay for here. The recording is linear so no fast forward to punch in parts to a song. Just hit record and go when you stop the track auto returns to the start and you can add your next part. There is one,one,undo step so be careful if you mess up and switch to the next track(press record again)you are stuck with that track. Great if you are a pro. Bad if you like to edit ;). I really am growing to like this app more and more every time I open it. With the addition of core midi the options are open now as it speeds up recording since you can use more keys(obvious). The only glaring issues I have are one,the price...the app,to complete the full set is going to run you upwards of $20! The next is,the app,it's monophonic. The samples themselves are heavily voiced but the mono key press thing gets me every time. I always am going for chords to get the full sound im after and it just isn't having it. If you can spare the change I say pop for the sets. I really think they are high quality samples. Thumb jam quality or better. Have fun.
Poor sound + One note at the time
This App is not free, and judging by the quality of the samples the full version should cost $5 instead of $15 (for a full orchestra sound bank).
The developer forgot to mention a very important detail:
You cannot play two or more notes at the same time. This is a "single note" virtual instrument, like a 1980 Casio keyboard.
It is unbelievable that you cannot play chords with this app. Neither two notes at the same time as you would do with a real music instrument.
The limitation of one note has no justification. Any other virtual instrument app on the AppStore offers multiple note play and 16-24bit samples.
Wi-Orchestra features low quality samples. The entire brass library plays a weird high pitch noise along with the instrument sound (bad compression artifacts), which makes any recording sound like cheap midi track.

Once you download this "free app" you will be asked to spend $15 to have the missing music instruments. The free version only come with 4 low-fi basic music instruments.
I don't suggest to spend any dime unless the developer offers an upgrade with:
- multiple note play keyboard
- hi quality samples (without compression noise)
- a slider to choose the right amount of reverb (instead of on/off)
- and possibly a notation tab

Overall this app simply requires a bit more love.
If fixed it could be a 5+ stars app.
Very good;other review erroneous
This app is very good. On my iPad, the sounds are excellent, especially the trumpet, for which most other synthesizers produce sad attempts. The app responds well to MIDI input, including breath control.

I would be using it for performance, but there is an audio output bug in connection with the Alesis ioDock that makes it, temporarily I hope, unusable with my equipment. Hence the missing star. I would recommend it to MIDI performers who don't have the ioDock.

A minor inconvenience is that the orientation is unchangeable and is upside-down for use with the ioDock and the Apple folding iPad cover.

Previous reviewers have written erroneous statements about this app which need to be corrected:

1. Additional instruments do NOT cost $3; that is the charge for an entire orchestral section, e.g., strings, brass, woodwinds.

2. The sounds are NOT of poor quality; please try playing them through some decent speakers.

3. Flutes do NOT have reeds. Flutes. Do. Not. Have. Reeds. If you have an instrument with a reed, it is not a flute. Look it up.

To calibrate the above, I have been a musician for 59 years, have played woodwinds and brass, have a pro-level digital studio, and perform on an electronic wind instrument and electric bass.
Information
Seller

Wallander Instruments

Size

36.3 MB

Category

Compatibility

Requires iOS 3.0 or later. Compatible with iPhone, iPad, and iPod touch.

Age Rating

Rated 4+

Copyright

© Arne Wallander 2006-2011

Price

Free

In-App Purchases

Strings Instruments Pack

$2.99

Brass Instruments Pack

$2.99

Percussion Instruments Pack

$2.99
Supports
Family Sharing

With Family Sharing set up, up to six family members can use this app.