WiFi Scanner
By AccessAgility
Open the Mac App Store to buy and download apps.
Description
Using WiFi Scanner you'll see nearby wireless access points and their details, including channels, signal levels (RSSI), noise, channel width, and MAC address, signal quality, maximum data rate, encryption, and much more. Also includes upload and download speed testing to quickly measure and analyze WiFi Internet performance problems.

"…your wireless router is fighting for spectrum with its neighbors, potentially slowing you down and making your Internet experience less pleasurable. ...WiFi Scanner helps you solve this problem by showing you all the access point(s) nearby, and suggesting the best configuration settings to get the most out of your router." -- MacWorld

Simple, fast wireless network discovery of 802.11 a/b/g/n/ac access points. WiFi Scanner is great for determining the best position for an access point at home or in the office. After selecting the best position, the optimal channel to use can be determined by selecting the least used channel resulting in improved WiFi speeds.

Key Features

▪ Simple, fast wireless network discovery of 802.11 a/b/g/n/ac access points.
▪ Connect to detected networks using join button
▪ Full support for both 2.4 and 5 GHz networks
▪ Support for all channel bandwidths (20, 40, 80, and 160 MHz)
▪ Display detailed wireless network parameters: network name (SSID), signal level (RSSI), MAC address (BSSID), signal quality, channel, maximum data rate, encryption, etc.
▪ Display changes in signal level over time in graphical form.
▪ Filter list of detected wireless networks by specified parameters (SSID/network name, channel, channel band, signal strength)
▪ Display wireless connection statistics in the form of graphs and tables.
▪ Give each access point a custom label
▪ Export results to comma separated value (CSV) files
▪ Generate summary reports in HTML format

WiFi Speed Testing

▪ Upload and download WiFi speed testing
▪ Use speed testing feature to troubleshoot WiFi networks
▪ Auto run speed test when client roams to different access point
▪ Auto repeat speed test with wait time between tests

"Who's On My Network" (IP Scanner)

▪ Fast IP scanner that detects unknown devices connected to your WiFi network.
▪ Detects hostnames, determines the MAC address, and in some cases can auto-detect device type (phone, laptop, router, etc).
▪ Configured icon for discovered devices is saved for future scans.
▪ Scanning results can be saved to CSV file via menu export option.
▪ Great for finding WiFi "Piggybackers".

Advanced Features (supported by some access points)

▪ Display access point name if configured by network administrator
▪ Display number of devices connected to each access point
▪ Display channel utilization
▪ Display if 802.11r is enabled and type
▪ Display if WiFi protection mechanisms are enabled

Help and Support

▪ Included Help clearly explains features and all app screens
▪ Email: support@accessagility.com
▪ Twitter: @accessagility

WiFi Scanner is the most feature rich and complete WiFi scanning app on the app store and is a great tool for personal use and for IT professionals. All features available on 10.7 and later (Lion, Mountain Lion, Mavericks, and Yosemite). Use WiFi scanner to find WiFi dead zones and select the best configuration for your WiFi access point / router to prevent video buffering.

For questions, feature requests, or support please email support@accessagility.com or contact us via Twitter @accessagility.
What's New in Version 2.7
- performance improvements
- bug fixes

Use IP Scanner feature to detect unknown devices that are connected to your WiFi network!

If you have reviewed a previous version, please update your review for current version (v2.7).

Positive Reviews are the number one way we get recognized as app developers and really help! Please consider leaving a review. If you have any issues please contact us at support@accessagility.com
Screenshots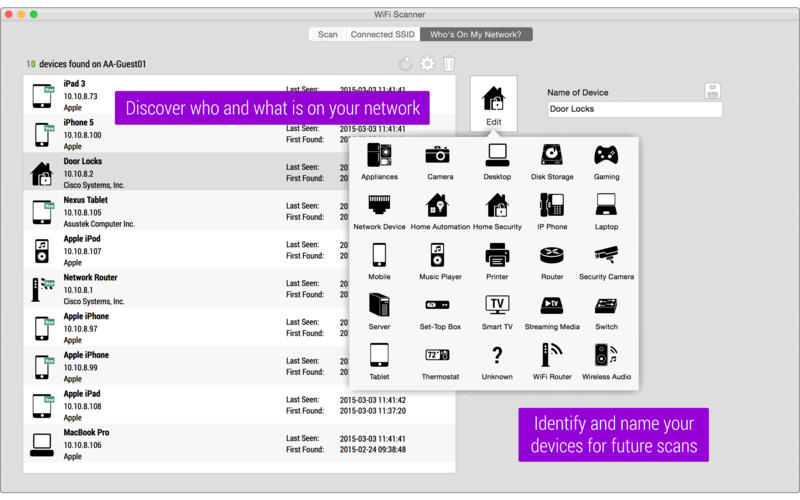 Customer Reviews
Works Really Well
I used this to help trouble shoot WiFi at home. It's amazing how many WiFi spots you an see in your neighborhood. I used this to help move my WiFi channels away from my neighbors to minimize interference and improve signal quality. Definitely worth it, an essential tool to have. I would love to have a copy on my iPad of mobile troubleshooting.
I absolutely love this app!!!
It gives me useful wireless data about my networks and those in the area. This is a great down and dirty, get to the point, simple wifi diagnostic tool.
awesome BUT never closes (shady alert!)
this is a great program that provides awesome info! it doesnt take up a lot of system resources and is consistant. also, easy to use. simple and clean UI.
*BUT*
the program has a bug that casses it to stay open! it wont close - no matter how you try to close it. it happens 85% of the time. SO FRUSTRATING IT! it acts like malaware or bugged software.. so aggravating. makes me wonder -_- 'why' wont it close… hmmm…

anyway
i DONT recommened this. there are other programs that you can buy, that although may be more $, CLOSE lol.
fix that and its 5 stars
View in Mac App Store
$14.99

Category:

Utilities

Updated:

Mar 17, 2015

Version:

2.7

Size:

7.7 MB

Language:

English

Seller:

AccessAgility LLC
Compatibility: OS X 10.7 or later, 64-bit processor