Wordflex Touch Dictionary
By Schematix Ltd.
Open iTunes to buy and download apps.
Description
With more than 2 million language nodes for you to explore, the Wordflex Touch Dictionary is the next step in the evolution of the English dictionary+thesaurus. Developed exclusively for iPad – in association with the Oxford University Press – this fun, fascinating app offers the first truly tactile, interactive reference for word lovers of all ages.

Follow the support link for video demo !

Now more than 50% OFF for a limited time (originally $24.99) !

✓ Featured in Apple's 'New & Noteworthy', 'What's Hot' and 'iPad App of the Week' in nearly 100 countries
✓ #1 iPad educational title in many countries
✓ Only 5 star reviews


RAPTUROUS REVIEWS:

'One of those "wow" apps…' – Karen Freeman, AppAdvice

'Truly an app worthy of iPad … stunning' – Nate Adcock, iPhoneLife

'Visually stunning and aesthetically satisfying, Wordflex has taken the English Oxford Dictionary to the next level'- Asam Shah, TheNextWeb

'Caution: If you're a word geek, it's easy to spend hours… its design, reflecting on concepts of mind mapping and natural physical behavior married with premium content by Oxford University Press, make it truly stand out' – The MacTrack


MORE FUN TO USE, EASIER TO NAVIGATE:

Online dictionaries force users to scroll for what they want. Wordflex offers a more compelling, intuitive approach, combining structure and play to maximize learning. By manipulating word-trees physically, unlocking content at will and rearranging the onscreen 'workspace,' users experience language as an interactive adventure – and find what they're looking for more quickly.


DISTINCT FEATURES:

• For iPad only – the ultimate dictionary for the ultimate tablet
• Tree-based view with realistic physical behavior for easy navigation of complex entries
• Gesture-based interaction; moving nodes around, tapping, scrolling, pinching/spreading enable strongly interactive play with words – mimicking the elemental, tactile, fun of learning language
• Advanced technology, combining rich educational content with immersive experience; dynamic interface driven by a physics engine and a highly efficient, tree-structured database
• Highly aesthetic UI with retina HD graphic for crystalline text and visuals
• Ability to share 'word posters' via e-mail, Twitter, Facebook, or printed hard copy
• Multiple Oxford's dictionary/thesaurus titles in one app
• Direct expansion of word nodes allowing jumping from one tree to another
• Complete audio pronunciations in U.K./U.S. English; tailor-made illustrations
• Content-rich (nearly 1GB) installation – no network needed to use (except for sharing)
• Flexible search with matches, hints, relatives and real-life sentences
• Smart bookmarking marks exact point of interest
• Bird's-eye auto-zooming/centering
• Smart-expansion feature keeps work area tidy and offers attractive auto-unfolding of word trees
• Random 'flying through language' feature


FOR PEOPLE WHO:

✓ use language creatively
✓ are looking for just the right word
✓ are learning/studying English
✓ want to enrich their vocabulary
✓ are 'word nerds' digging deep into linguistic complexities
✓ find traditional dictionaries insufficient or too static


COMPREHENSIVE LINGUISTIC CONTENTS:

The following fully integrated titles are powered by Oxford's extensive language research program, including the Oxford English Corpus which contains over 2 billion words of real 21st century English.

• Oxford Dictionary of English (ISBN 9780199571123)
The foremost single-volume authority on the English language; includes 355,000 words, phrases and definitions, 12,000 encyclopedic entries, and 68,000 examples selected by best language experts in the field.

• New Oxford American Dictionary (ISBN 9780195392883)
Similar in extent and scope to the title above, this is Oxford's flagship dictionary of U.S. English.

• Oxford Thesaurus of English (ISBN 9780199560813)
The gold standard of comprehensive synonym and antonym resources.
What's New in Version 1.2
• Completely redesigned bookmarking system with new options, tag labels and email export. Your legacy bookmarks will no longer be visible but you may always export them from within the Bookmarks dialog.
• 200 000 new language nodes added with new synonyms and word groups. Wordflex now comprises more than 2,2 million language nodes for you to explore.
• Support for latest iOS 6 and devices - iPad (4th generation), iPad mini (looks gorgeous on iPad mini).
• Native social networks integration (where applicable) including Chinese Sina Weibo.
• "Expand all" function accessible via node's context menu on double-tap.
• "Top 1000" English words added to the predefined bookmarks (next to Illustrated words).
• Many other smaller fixes, UI and functionality improvements reported by users.
• THANK YOU FOR YOUR GREAT CONSTRUCTIVE FEEDBACK AND SUPPORT!
iPad Screenshots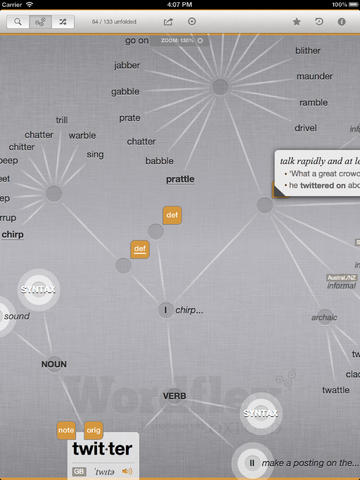 Customer Reviews
Everyone with an iPad needs this app
I've used this app since it came out in 2012. It's become such an important resource that I go to quite often. It's not only simple to use, I think it's kinda fun too. The amount of information is humongous and the unique way it's displayed on screen is sheer brilliance! Every-time I use this, I come away with greater understanding of a word because it's presented graphically with all it's associations branching out. This could be a perfect way to teach children words using simple, minimal graphic representations.

So, does it sound that I really like this app?
Fabulous
I do love this app. It's great fun. I use it in my writing and find it a fun way to thesaurize my vocabulary. I guess I could wish that I could select a web with a cursor/lasso tool and pull it into the app as a sticky note, so as I am doing the writing I didn't have to flip back and forth between apps....but it doesn't diminish it, since you can't multi-task any apps on an iPad. Nice job. It's expensive but I pay to avoid ads anyway. I'd buy this one again.
Would be perfect if
I truly wish this app would go back to actual words upon expansion (instead of Roman numerals describing the part of speech). It has gone from one of my most-employed apps to an app that I click every once in a while to see whether they've made the change back.

As it stands, it's extra steps (sometimes many), and downright unpleasant to use.
View In iTunes
$11.99

Category:

Education

Updated:

Dec 03, 2012

Version:

1.2

Size:

832 MB

Language:

English

Seller:

Schematix Ltd.
Compatibility: Requires iOS 4.0 or later. Compatible with iPad.